The big day has arrived, TownStar by Gala games is gearing up today to become a play-to-earn game that will reward players with TownCoins.
TownStar is a farm and town-building simulation where players are challenged to develop a farm from scratch in weekly events.
Every week, the game resets its progress, and the players are required to start all over. While this might not sound appealing to many players, the way the game is played requires frequent wipes as a player has to figure out the quickest growth process to climb in the leaderboard.
One thing for sure is that TownStar's P2E Economy will serve as the basis for all the upcoming games of the Gala Ecosystem.
Gala Games was founded by Eric Schiermeyer, Co-Founder of the popular gaming company, Zynga, which created FarmVille on Facebook and Zynga Poker.
Play To Earn in TownStar
The earning philosophy wants players to complete daily quests and challenges to earn TownCoins. In addition, using TownStar NFTs will boost the earnings of the TownCoins allocation.
As mentioned by Gala Games, the number of TownCoins generated by the NFTs is based on the on-chain rarity of each in-game asset.
The max supply of TownCoin is Quadrillion (1,000,000,000,000,000) and in the future, players will have to buy season passes.
In addition to the play-to-earn mechanics, the top 400 leaderboard players will receive extra rewards.

The following image offers a first glimpse of the current TownCoin rewards based on the NFTs.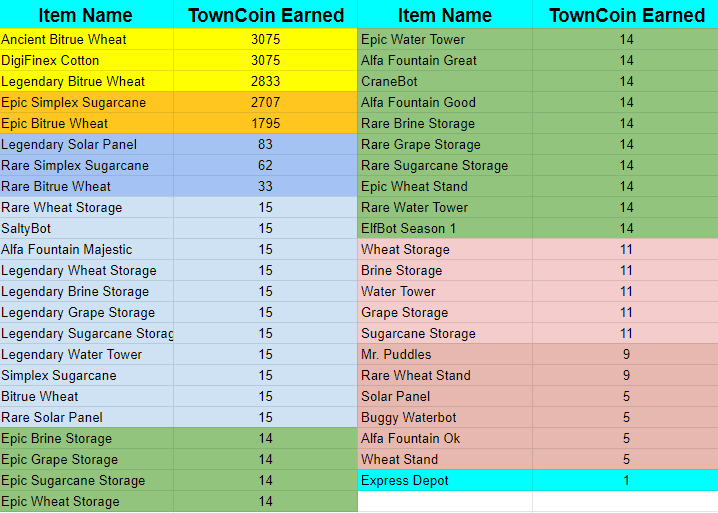 Keep in mind that players can't use unlimited NFTs in the game. The allowance has to do with the Gala Power of each account which is a combination of Gala and Town Coins. This is done to ensure that bots will not reap the rewards and every player to reach level one must own at least 1 Gala token or 0.5 TownCoin token.
The Gala Power equation is the following: Gala Power=Gala Coin + (TownCoin*2)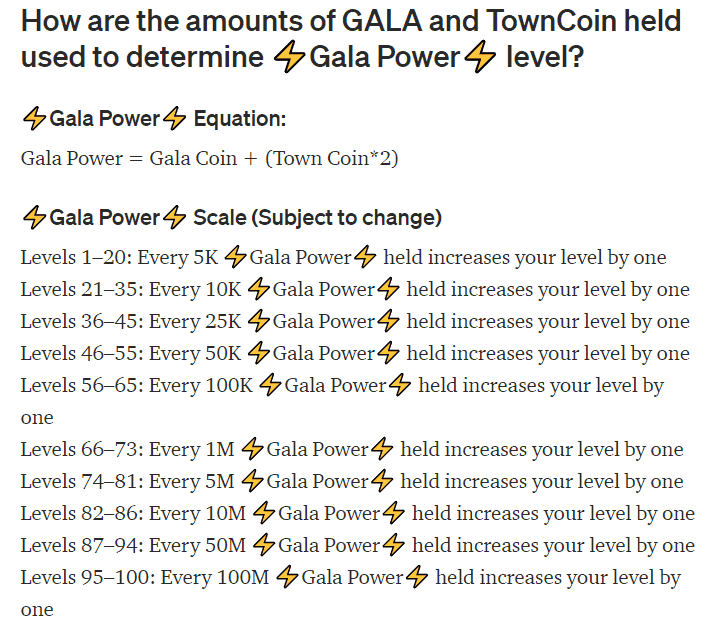 In addition the the above graphics, there is a sheet with the prices of each Town Star in-game product that players can sell. (not real money)
Tips to Jumpstart your TownStar Game.
We have been playing TownStar for some months and here are some tips to follow in order to avoid restarting your game progress.
Plan your economics, don't spend a lot, every facility and worker requires a "daily payment."
Do not sell wheat or other cheap products, place a production mill and start producing flour.
Selling flour will bring enough to create a factory for producing gasoline before you run out of it.
Place a bakery to craft more expensive products based on what you produce like flour, eggs etc.
Gasoline is very important, if you run out of it it's game over.
When you create your gasoline factory, DO NOT activate it until everything is ready, that will save you a lot of money in daily wages.
Gasoline needs a factory, industrial water (From building), a storage, oil exactors and windmill for power.
Once you have enough money, you can delete your windmills and build a power plant.
Place your wheat in areas where there are not other buildings nearby, and close to water source.
Buildings produce pollution, keep your farming activities away from industrial buildings.
Place your mill somewhere open-air so it produces quickly.
Happy TownCoin Farming! We will be playing TownStar, so if you have questions, jump over our telegram or discord and feel free to ask.
Disclaimer: We use affiliate links to monetize our content.