An unfortunate incident took place today 13/12/21 midnight time as a hacker (or a group of people) have managed to exploit the servers of Vulcan Forged ecosystem and got access to to the private keys of 96 wallets holding over 4,5 million $PYR tokens worth over 144 Million at that time.
The incident was made known on the Vulcan Forged discord server today at 1:52 AM Athens time as the CEO of VF asked everyone to move their PYR/LAVA tokens to a new Metamask wallet.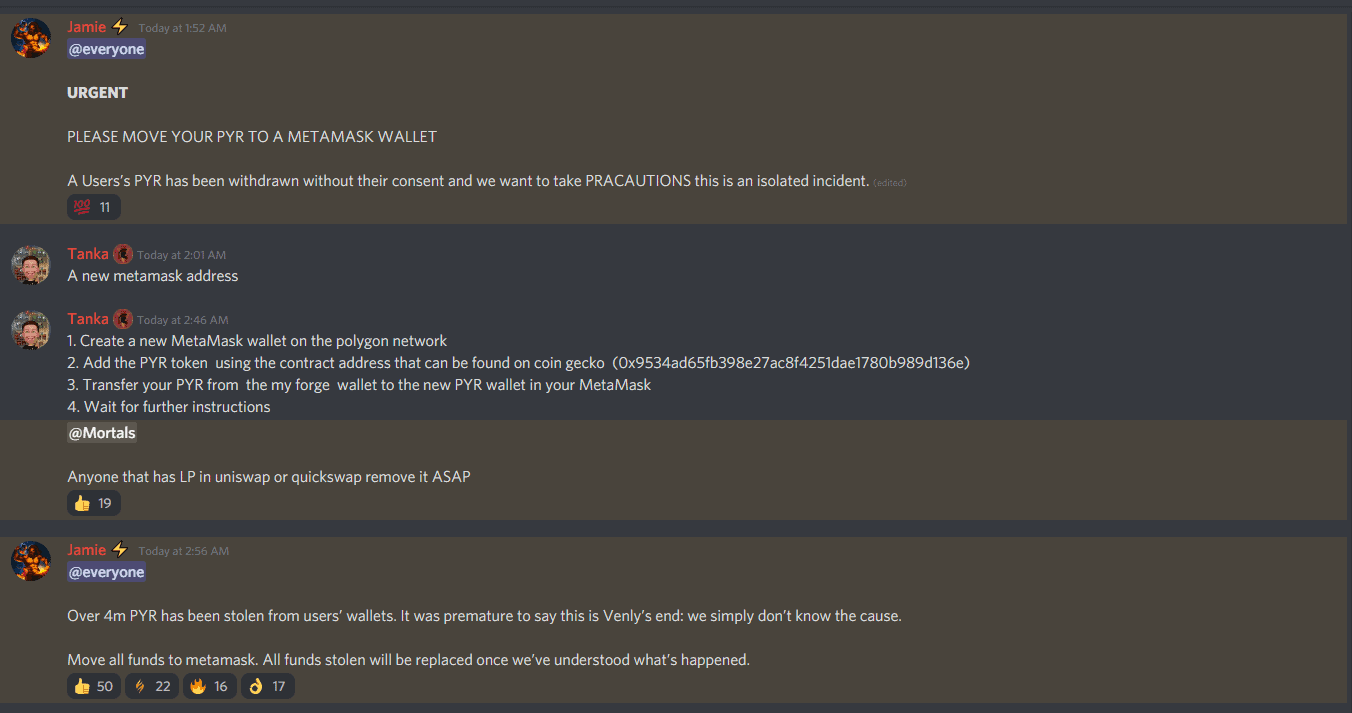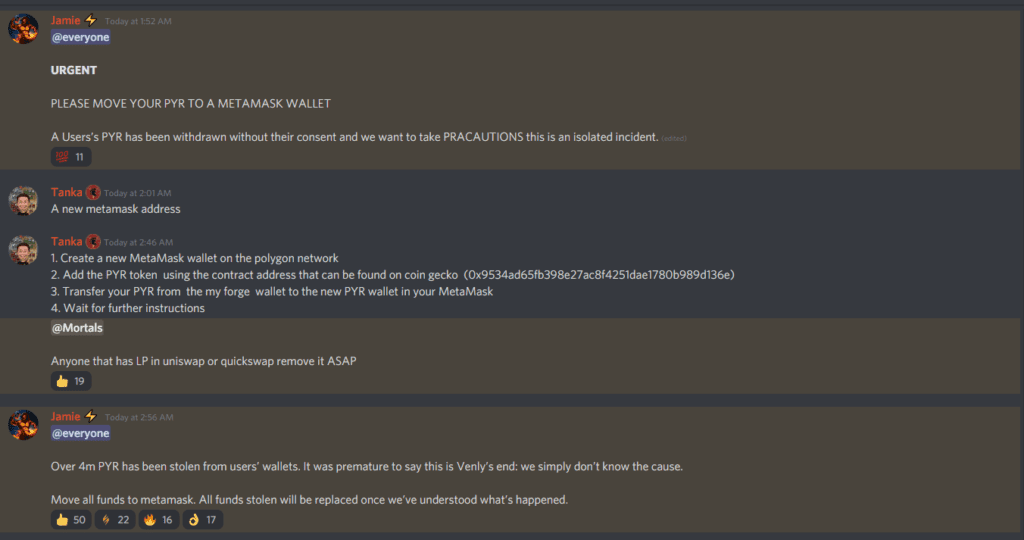 The Vulcan Forged team, as reported on Twitter by the CEO Jamie Thomson has reimbursed the stolen money back to the users at the time of writing this article with funds coming from the project's Treasury.
Centralized exchanged have been also notified, apparently, the hacker has completed KYC in an exchange and the team is conducting forensics to identify the footprints.
Looking at the wallet of the hacker, he gained access to the private keys of the users and bridge the $PYR tokens from Polygon to Ethereum then dumping them on Uniswap and 1Inch. This information can be found through the Contract ID of $PYR Token on Ethereum.
Based on the community discussions on Discord, the hacker has managed to sell already the 1/3 of the stolen funds, with liquidity been really low right now on Dexes.
While the hacking incident is the worst thing that could happen to the VF project, the community stayed calm and positive with thousands of support messages flowing around social media.
Of course we have to recognize that the VF leadership reacted responsively and reimbursed the funds back to the users. So far, people are buying the dip and the price has stabilized at $23.
As a reminder, everyone should follow these directions:
PLEASE MOVE YOUR PYR TO A NEW METAMASK WALLET ADDRESS. (Not export)
1. Create a new MetaMask wallet on the polygon network
2. Add the PYR token using the contract address that can be found here.
3. Transfer your PYR from the my forge wallet to the new PYR wallet in your MetaMask.
4. Wait for further instructions Anyone that has LP in uniswap or quickswap remove it ASAP.
Venly, the wallet provider, along with Vulcan Forged are working to identify what caused the issue.
It's a tough day for the Vulcan Forged ecosystem, what doesn't kill you, makes you stronger. The project is putting all it's efforts to set-up a new fully decentralized wallet management system and the roadmap continues as is.
Right now, the information we have is that the hacker managed to explot the servers where a semi-decentlized system was in place. Once we have more information, we will update this article.