The League of Kingdoms land sale is going live in around 10 hours from now (25/5/2020 00:00 UTC) with discounted prices in crystals and Land plots.
The upcoming MMO strategy game League of Kingdoms allows players to own the coordinates of land plots and build an undefeated empire. The owned land plots and a variety of in-game assets can be later sold in NFT marketplaces for ETH and other cryptocurrencies. Note that land tokens come in the form of ERC-721.
League of Kingdoms allows players to participate in the game governance through a transparent congress system and take vital decisions in various game elements.

$30 in in-game assets and daily wheel spins for free to everyone who signs up, and you don't have to purchase anything to be eligible. This is a limited time offer, so better hurry up and grab some free stuff.
League of Kingdoms Land Sale
Owners of Lok land plots will accumulate resource and development rewards based on percentage base from the reward pool in DAI coins. The more developed an area is, the more % will get in return from the pool.
The image below gives a briefs explanation of the rewards.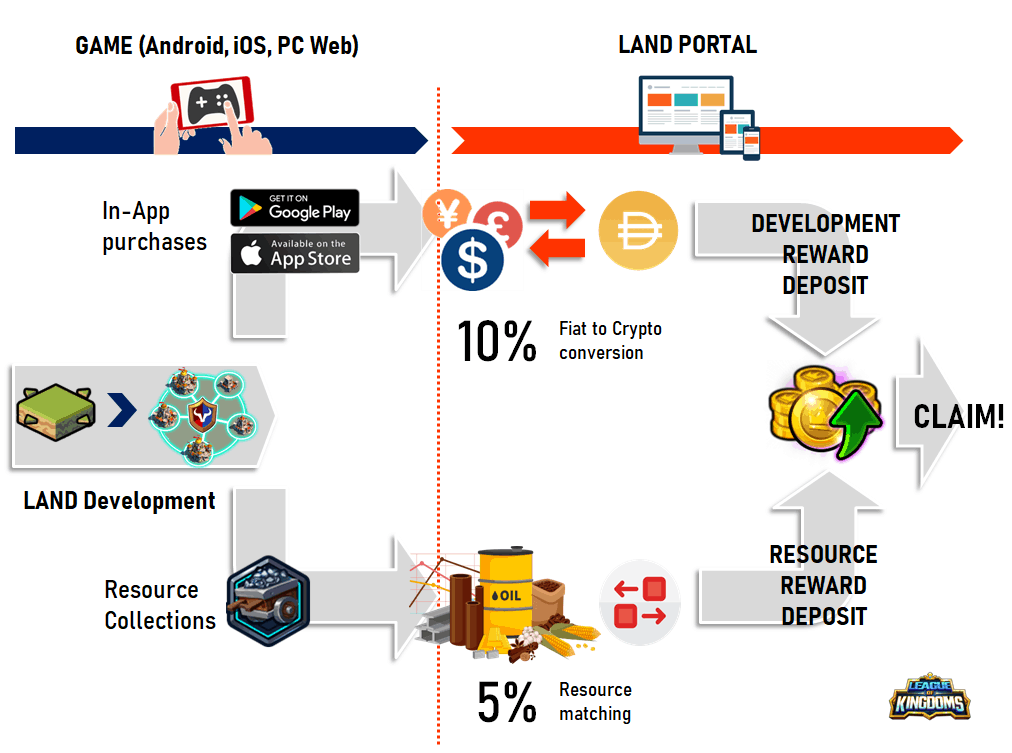 Owning a piece of land in League of Kingdoms means that you own the whole coordinates. If the game's player base grows and there is no room for new players, the game will mint new continents, but the ownership will still belong to the original owner. For example, if you own the coordinates 05-14 and the game mints a new continent, you will own the newly created 05-14 land plot. This applies to all new areas of the game, so if League of Kingdoms becomes a successful game with thousands of players and there is a need for minting new areas, you might end up with tons of land plots by purchasing only one.
For the League of Kingdoms' land sales, you are not only buying a single patch of land but the perpetual ownership of the coordinate itself.
The first presale goes live on 25/5/2020 at 00:00 UTC with a 30% discount on Lands and a Crystal bonus. For example, if you get an Lv 6 land, 18K bonus crystals will be distributed to you valued at $180.
Land plots come at various prices starting at $10 for a Level 1 plot (second round), and in the first round, a Level 2 plot costs $17. The earlier you get in the game, the better discount and bonuses you will receive.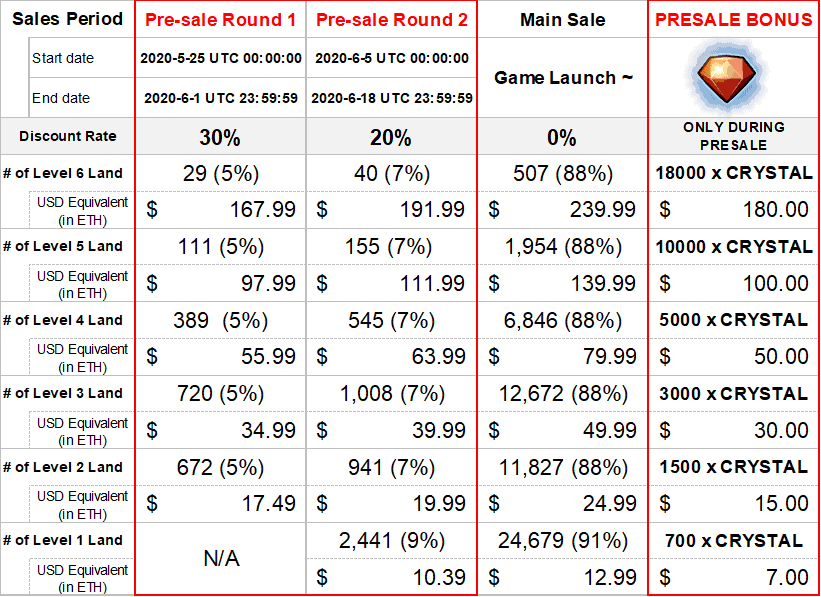 Moreover, in LoK you will be able to own unique Kindom skins with multiple perks. Watch the League of Kingdoms trailer and get to know more about the gameplay.
Read more about League of Kingdoms