Meltelbrot is a series of Multiverse based articles aiming to introduce and keep you up to speed on what developers, and the general Enjin community alike, are creating within the Enjin Multiverse Ecosystem. It will be on point and keep progressing from point to point. It will endeavor to provide insights, information from insiders, and the points of view from everyone involved in this new exciting frontier. The overall multiverse is an ever-evolving image, charging off in multiple directions, but I'll be doing my best to join the dots to provide you with a clearer picture. Why? Because it's fun, and like the original Meltelbrot Legacy Token suggests – If nothing is still then why should we be…
Today we're chatting with David Schiller aka Tonchu, of CryptoFights, about their latest developments and more insights into their blockchain based game due soon for closed beta testing.
Hi David, thanks again for taking the time out to chat. The first time I spoke with your team, we started with sharing your gaming background, so it seems appropriate to begin our chat today with what you're presently doing. Could you a give a quick rundown on what your team is currently working on?
Thanks for having me! The team has so many things on their plate right now, as I'm sure most teams in the Multiverse do. Currently, we're in a mad dash to put the finishing touches on our presale program as well as working to get the closed beta ready to go live! Both the presale and closed beta are scheduled to go live this month, so it's a very exciting time for CryptoFights 🙂
I recently joined your Discord channel and found there's a lot of activity going on, even a casino bot styled game for members. With the wagering mechanic being a core distinction for CryptoFights, is this kind of engagement with your supporters a testing ground for what we can expect in the released version of your game?
Hmm, not really. The casino games in our Discord server are really just meant as something fun for our members to play with while waiting for the game to go live. These casino games are games of pure chance.
On the other hand, the in-game wagering system is something we are very excited about, and is a way to increase your winnings based on skill. If you feel confident in the character you've built and your combat strategy, you can wager in-game gold in order to reap higher rewards upon victory. It definitely sets us apart having something unique, and it should make matches much more intense when there are tangible rewards on the line!
Having come across your project via Telegram, it's good to see other social platforms evolving too. The lines of communication are becoming more and more sophisticated between developer and gamer. With that in mind, Telegram Vs. Discord – what's your take on it?
I think both platforms have their benefits. Telegram is a much smoother experience on mobile (in my opinion) and definitely has a much larger userbase of crypto-enthusiasts. Discord, on the other hand, has many more features and truly shines on PC. Discord's sub-channel system makes it easier to have loads of information and media available in a nicely organized fashion, and its customizable Roles opens up a lot of possibilities for rewarding active members. Speaking of Roles, we have a leveling system in Discord that awards XP for chatting in designated channels, allowing users to "level up" in order to earn some sweet ERC-1155 weapons that will be usable in CryptoFights! Be sure to come check it out 😉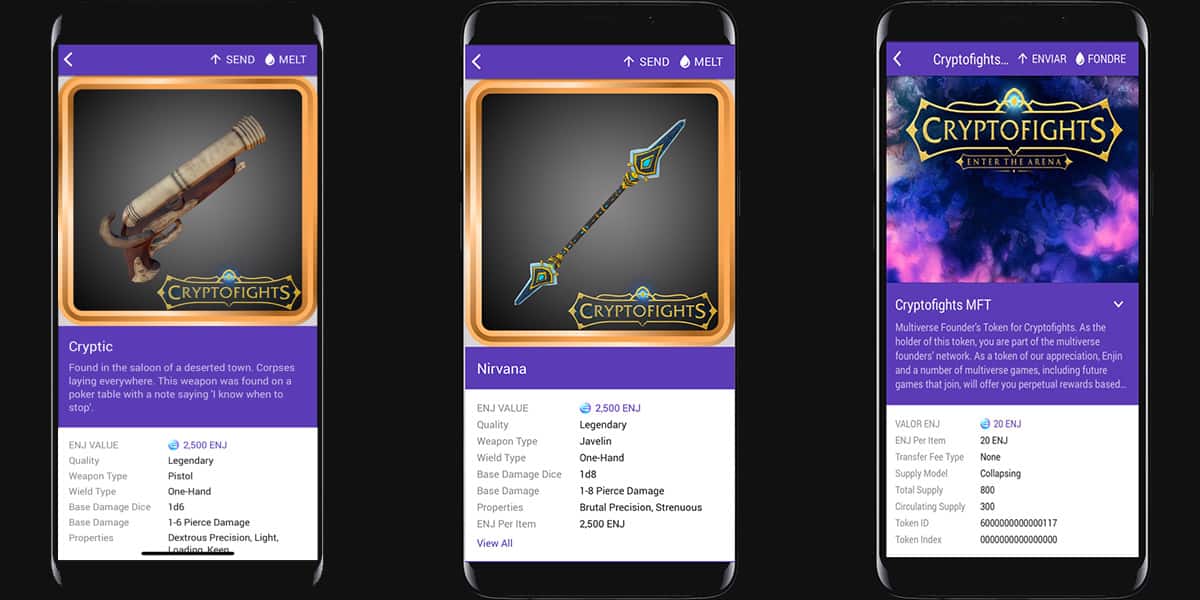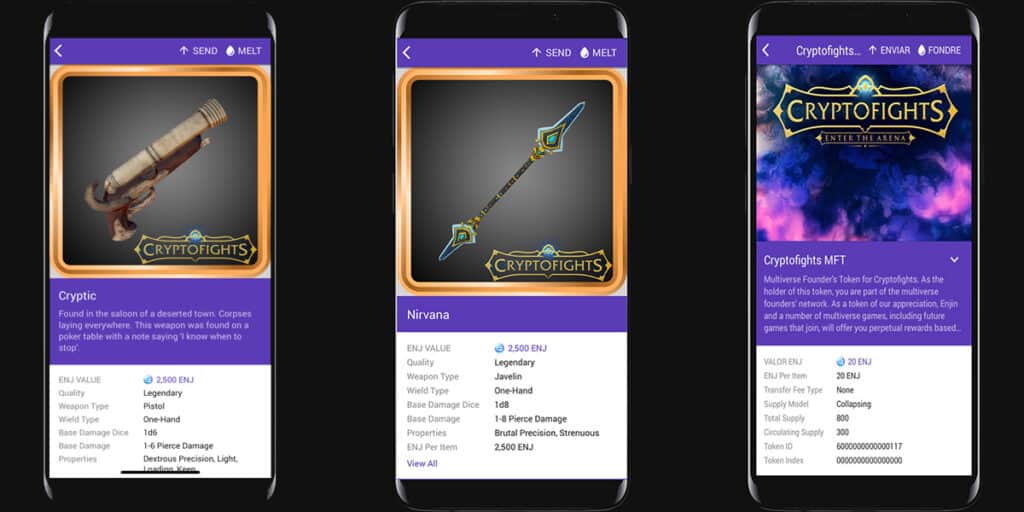 Another development since we last spoke, is the underground market happening for trading ERC-1155 tokens. As a developer, what are your thoughts on your tokens being traded even before the game is released? And how does the trading effect involvement in the closed beta release?
I think it's fascinating to see some of our items being traded out in the wild even before they are usable in-game. The Enjin community is the best around, and it's exciting to see that there is already such a demand for our weapons and other collectibles that people are trading them even without an official marketplace or escrow system. Be safe out there, early traders!
When the closed beta is released, I expect to see lots of fresh faces joining the CryptoFights ranks, already equipped with some awesome weapons they traded hard for!
I've actually been wondering, and maybe you could clear this up. Was CryptoFights the first game developer outside of Enjin's own Multiverse Items to mint with the ERC-1155?
I'm actually not 100% sure on that. I know War of Crypto was the first to join the early adopters program, and we were the second. I believe our first items may have been minted before them, as they minted after presale, but I don't have the exact dates in front of me. Suffice to say it was either us or WoC who minted the first ERC-1155 game items 😉
Last time we spoke, your presale had just ended and there was talk of a potential Kickstarter campaign in the future for "no-coiners". Is this still on the cards?
We are still looking at a Kickstarter campaign as a possibility. That being said, for our upcoming presale we will be accepting ETH, BTC, LTC, and of course ENJ… but we will also be accepting fiat payments via PayPal for "no-coiners" (or those who wish to hodl their crypto).

As one of the many early supporters for CryptoFights, I have to say I'm excited to see closed beta testing being released. Any update on when that will take place? And do I still have to get an Android? Because I will if need be!
Thanks for the support! We appreciate it. We'll be starting with a closed beta, with presale participants first in line. We'll be releasing the sign up/application form soon. From there we'll transition to an open beta that will be open to all!
We will be launching on Android first, with iOS to follow shortly after. After those are both up and running we'll also be porting to Windows/web versions. So, although you don't HAVE to get an Android…Android users will be the first to have access to CryptoFights 😉
Before you get back to it, and it's apparently a journalistic sin not to ask;) Can you give us any special reveals?
Hmm…special reveals eh? Well here are some details on the upcoming presale that we'll give to your readers first:
Payment methods will be PayPal, Coinbase(ETH,BTC,LTC), and ENJ.
Loot chests will be available for $25 USD (no matter the chosen form of payment) and will contain a random item ranging from:
CryptoFights MFT (which will earn holders an exclusive weapon bundle, as well as perpetual rewards and other bonuses)
Genesis 0 weapons (common-legendary rarity levels)
Four different types of Early Adopter weapons (quarterstaff, shortsword, battleaxe, and dagger). These limited-edition weapons have a custom branded "EA" symbol on the weapon and will never be minted again.
As people purchase loot chests, it increases the global community bonus scale. This is a milestone system that will unlock rewards for all participants.
There will be 11 total weapons that can be unlocked:
Bloody BattleAxe
Ancient Bow
Pike of War
Founders Mace
Sword of Kingdom
Spiked Maul
Stolen Pirate Pistol
Lost Samurai Sword
Obsidian Blade
Crystal Sword
Staff of Ethereum
More details on the presale coming soon. As a special treat, here's a sneak peek at some of the armor sets our master smith has been designing:
Awesome! I can't wait to start playing, but in the meantime, I'll be sure to drop into Discord again and see what this Russian Roullette is all about. As always, lovely chatting and it's great to see your team's project grow, in both developments and community support. Must be exciting!
Text-based Russian Roulette is actually way more intense than I ever thought it could be. Thanks for the support and great questions! Definitely drop by our Discord and Telegram channels regularly, as we love to give out free loot to our supporters 😉 Exciting times here in the CryptoFights camp. We can't wait to get the game into the hands of players, and the team is working tirelessly to do so!
If you want to keep up to date with CryptoFights, and all the perks that go with it, be sure to check out the social links below.
Melt out!
Connect with CryptoFights: Presale, Telegram, Discord, Twitter, Youtube, Facebook, Website
Connect with egamers: Twitter, Telegram, Instagram, Facebook, Discord, Steemit