The world-known RPG Brave Frontier launched today on the Ethereum network, and the first unit sale will take place at 13:00 UTC.
To celebrate the launch, we are hosting a giveaway with 20 Uncommon Shiny Swords. Click here to join.
Brave Frontier Heroes combines the IP and creative of the original BRAVE FRONTIER game that counts over 38 Million downloads with the proven successful system and economy of MyCryptoHeroes.
While there are in-game purchases, such as the first unit sale, the game itself is free to play, and anyone can start a fantastic journey in this incredible and highly strategical fantasy world.
In celebration of the game launch, a series of events are taking place that worth your attention.
Purchase ZEL (in-game currency) and receive 20% more ZEL & 1 out of 25 users will get half the Ethereum spent back.
Prime members will receive an exclusive complimentary hero "God Blade Mifune" and 80% off the initial price. $4.99 →$ $0.99 / 0.035ETH → 0.007ETH
A daily lucky lottery that everyone can participate using ZEL.
First Title Match event with big rewards will take place from January 31 to February 2.
Don't forget to subscribe to PRIME membership, the current price is discounted 80% (1$), and you will receive an exclusive novice champion for free.
REGISTER NOW & USE THE CODE Kp8U

Brave Frontier Unit Sale
As we reported in our previous article, there are some units to grab in this sale, starting from 500 ZEL. The sale will take place using the Dutch Auction system, meaning that as people buy, the price will increase. In case a unit doesn't good in sales, the price will drop.
The table below explains how many units are available and their initial price.
What Can You do in Brave Frontier Heroes?
First things first, you need to assemble a team of 1 to 5 units. Considering the game is free to play, you will receive three units for free, and if you sign up for PRIME, you will get an extra one.
Challenge others in Player Matches or join the currently active campaign. Complete quests and receive spheres that you can exchange in the LAB for ZEL. The lab works precisely just like MyCryptoHeroes, replica spheres (extensions) can be converted for ZEL while original Spheres can be used unlimited or sold in marketplaces.
In a later update (February), you will be able to fuse replica Spheres to create original Spheres. Spheres are an essential part of the gameplay and can lead you to victory. Additionally, you can trade spheres and units with other players.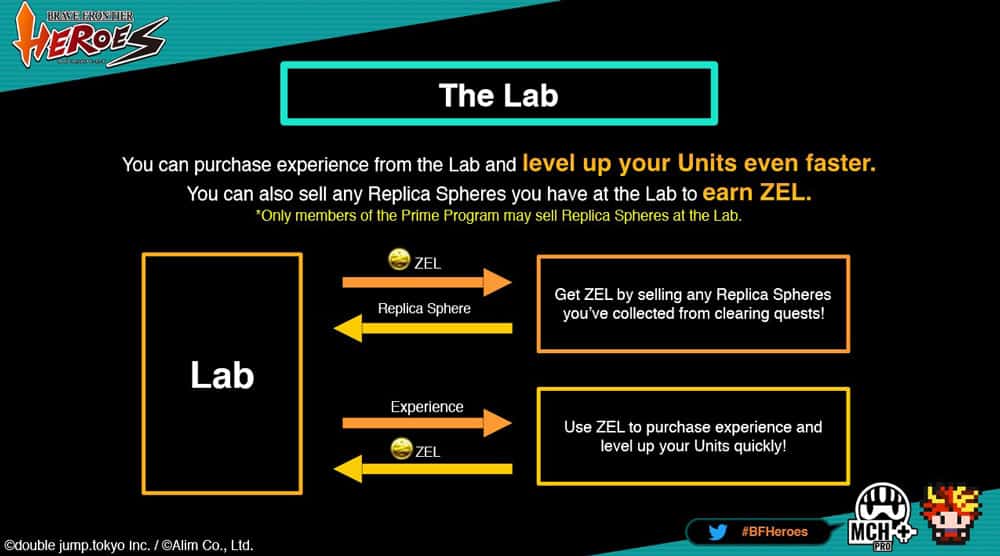 BFH First Fights Impressions
Start your journey in Brave Frontier Heroes with 3 units provided by the game, they are strong enough to fight the first low-level quests and farm Spheres to make them stronger. Also, by getting the PRIME membership (only 1$) you will receive a novice champion that will allow you to fight on better quests. Besides that, you will receive more experience points and farm quicker. Note that your team can consist of up to 5 units.
In terms of farm, we were capable of getting 2 original Spheres (items) and a bunch of replicas in under 30 minutes, so the drop rate right now is extremely high, and it's your best chance to jump in the game.
See the gallery below from one of our first fights.
See the gallery below from one of our first fights.
About MyCryptoHeroes
"MCH" is the most popular Ethereum game released in November 2018 by Doublejump.tokyo, the leading blockchain company. With over 3,5k active monthly players and intelligent gameplay, it quickly became one of the favorite games of the blockchain gaming community. The huge ecosystem allows players to buy and sell items for ETH while having fun playing a pixel-art game.
About Brave Frontier
Alim Inc was founded in March 2013 as a subsidiary of Gumi Inc. Brave Frontier counts over 38 Million downloads with players from 64 countries and have received positive reviews from various media website through the years. With the philosophy "Game is Love", Brave Frontier became a very popular Mobile RPG game and now it's time to move on the blockchain. Alim Inc has also developed Final Fantasy Brave Exvius.
More Brave Frontier News:
Brave Frontier Heroes – The New MCH+ Game
Brave Frontier Heroes Launches on January 30 & More Details
REGISTER NOW & USE THE CODE Kp8U