Step Hero is launching the HERO NFT Marketplace on August 31. Accompanied by the launch on this marketplace will be the first sales of HERO NFT Mystery Chests.
HERO NFT Mystery Chests
The first sale will begin on August 31, with 8,000 chests to be sold. Each chest will have a price of 88 $HERO while the maximum number of Heroes one person can buy will be restricted to 20. Promoters will receive a commission of 8% (equivalent to 7.04 HERO) on each completed sale of a chest.
Inside a HERO Mystery Chest is HERO NFT Collectibles which are distributed randomly through these NFT Mystery Chests. HERO NFTs are HERO characters that players can use in the play-to-earn blockchain RPG Step Hero to complete tasks or fight PvP battles. HERO NFTs can also be traded or sold on marketplaces, integrated into artworks, or simply kept as a digital collectible.

HERO Collectibles consist of four characters, each having its own set of attributes, stats, classes, and rarity.
The Heroes you can get in this sale include:
1. King Arthur
2. Mage
3. Morgan Lefay
4. Archer
Heroes with higher rarities will have a lower probability of appearance.
Step Hero Affiliate Program
Step Hero has also announced to hold a Sales Affiliate Program where the top 33 promoters with the highest commission will be able to earn from a prize pool of 20,000 BUSD. On top of that, each participant will receive 8% of the total successful transactions as commission.
The 20,000 BUSD Prize Pool will be distributed as follows:
Top 1: 10.000 BUSD
Top 2: 5.000 BUSD
Top 3: 2000 BUSD
Top 4–33: 100 BUSD to each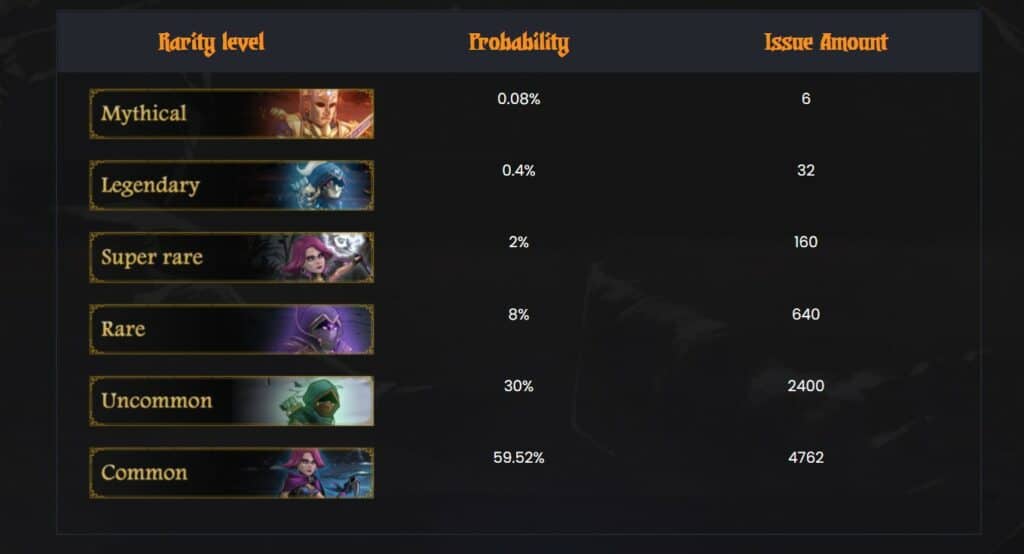 How To Join Step Hero Sales Affiliate Program?
Step 1: Go to Step Hero Marketplace
Step 2: Click "Connect Wallet" to link your Metamask wallet to the marketplace (You can also use WalletConnect)
Step 3: Your referral link will be generated. Copy it and share it with others
Step 4: For each successful sale through your referral link, you will get a commission of 8%. Since one chest costs 88 $HERO, you will make 7.04 $HERO per chest.
About Step Hero
Step Hero is an NFT based blockchain role-play game that runs on Binance Smart Chain and Polygon. Step Hero has an ecosystem for NFTs with its own HERO token, HERO NFT Collectibles, and a cross-chained NFT marketplace.
Check out Step Hero Whitepaper to learn more or visit the website.
Disclaimer: We use affiliate links to monetize our content. At no expense to you, we may earn a portion of the sale.