Vulcan Forged launches "VulcanDex", a DEX designed for Blockchain Gaming Tokens.
Not all tokens can be swapped using VulcanDex as it has a list of approved tokens.
Future updates include listings of AXS, YGG, SAND & VNLA with NFT Farming Pools.
LAVA, the play-to-earn token of Vulcan Forged listed on VulcanDex for 0.13$ per token.
The ever-growing gaming platform of Vulcan Forged launched yesterday the highly anticipated VulcanDex, a decentralized exchange for the blockchain gaming industry with cross-chain support.
VulcanDex aims to connect the gaming community under a single umbrella with the PYR token in the middle.
While VulcanDex is based on Uniswap 2.0, it differentiates itself from the rest of DEXes out there as users can not trade any token using its contract. The DEX has a list of approved tokens, and that's all.
This creates a safe haven for users who won't be able to trade scam tokens, which is a severe problem in this industry with all that new games coming out. In a nutshell, VulcanDex "vests" all the projects, so you don't have to.
The news of the DEX comes not long after YGG announced to offer 50 scholarships in VulcanVerse MMORPG and Dappradar tracking the on-chain activity of the ecosystem.
In addition, VulcanDex has passed the audit process by Certik with some minor things to correct, which is a great sign.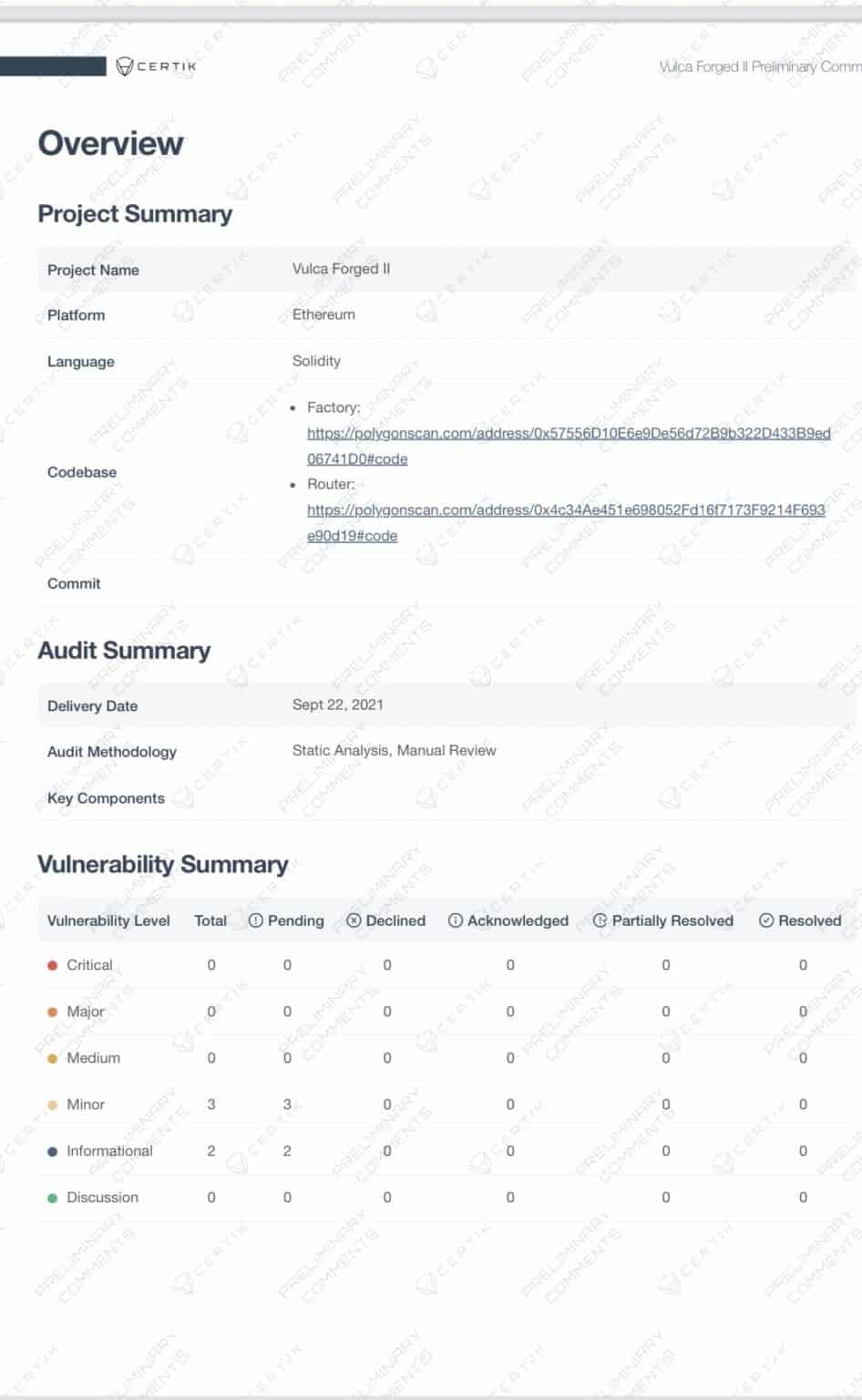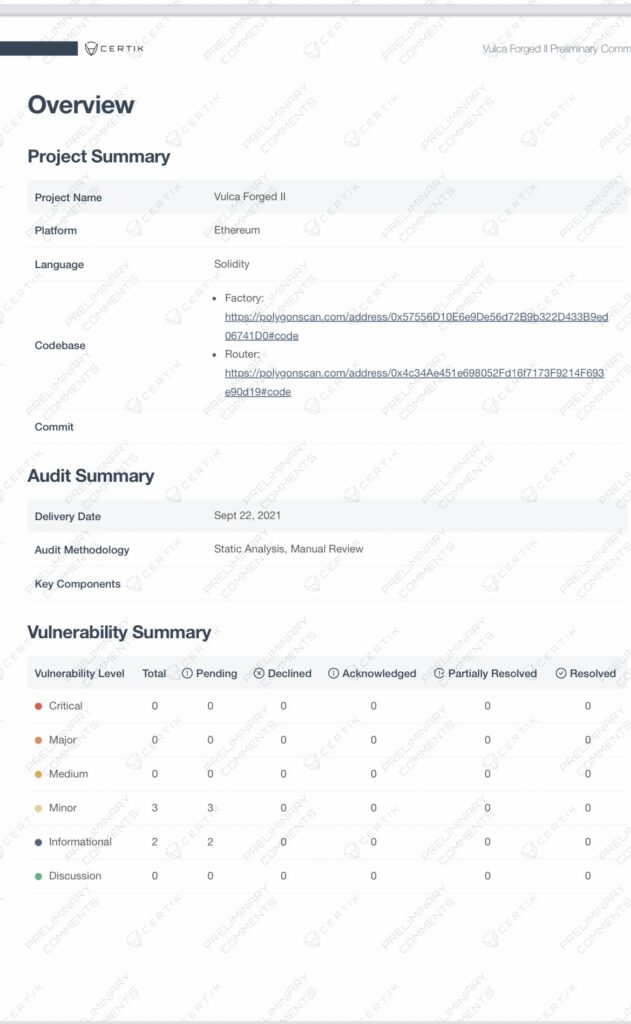 Supported Chains
The VulcanDex has launched with support for Polygon (Previously Matic), where the two native tokens of the ecosystem, PYR, and LAVA, are based.
In later upgrades, the DEX will support Ethereum and Binance Smart Chain with their respected tokens.
Available Token Pairs
Right now, users can trade between the following tokens.
MATIC
WMATIC
ETH
PYR
LAVA
USDC
There is also a handful of tokens announced for implementation in the next few days.
YGG (Yield Guild Games)
SAND (The Sandbox)
AXS (Axie Infinity)
VNLA (Vanilla Network)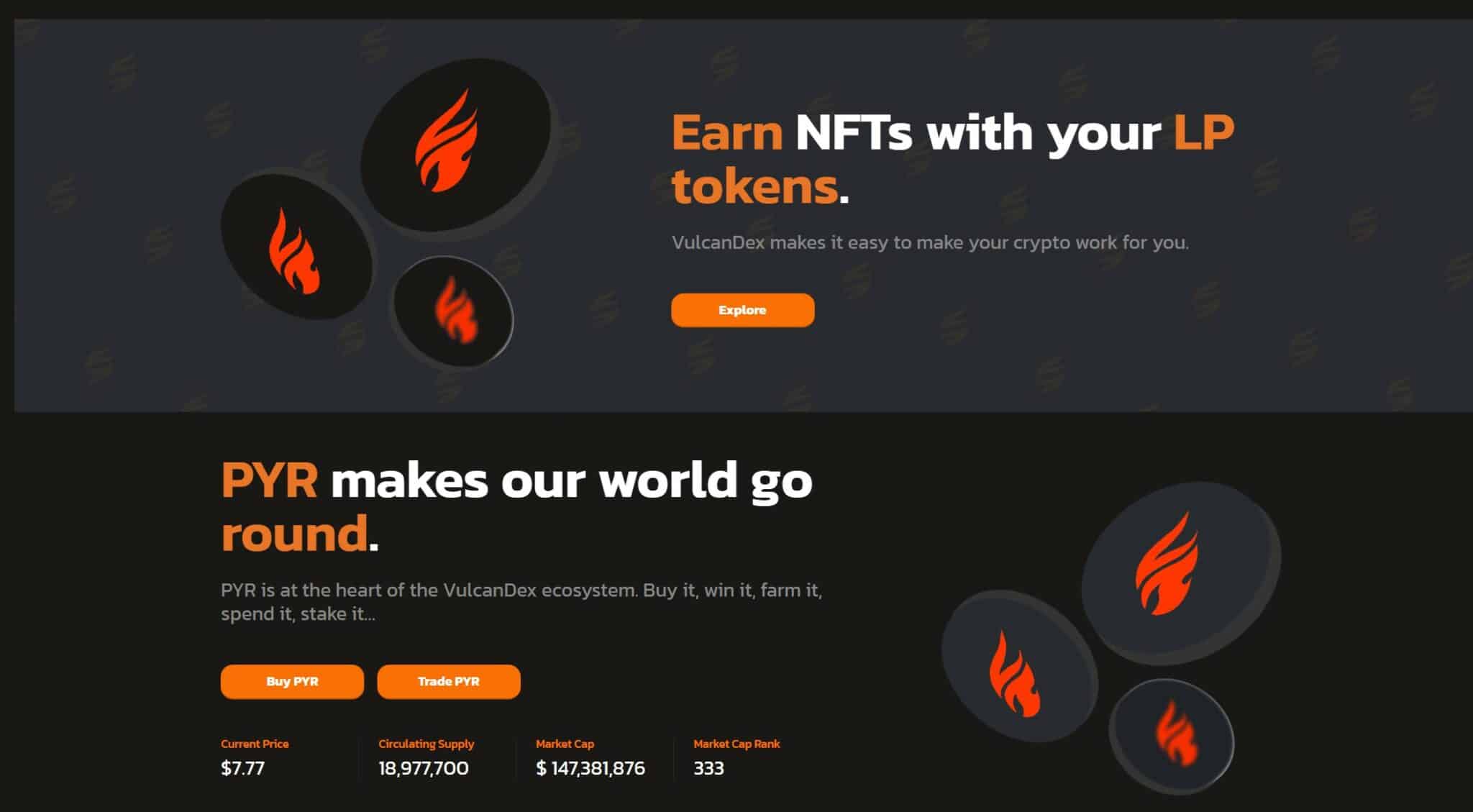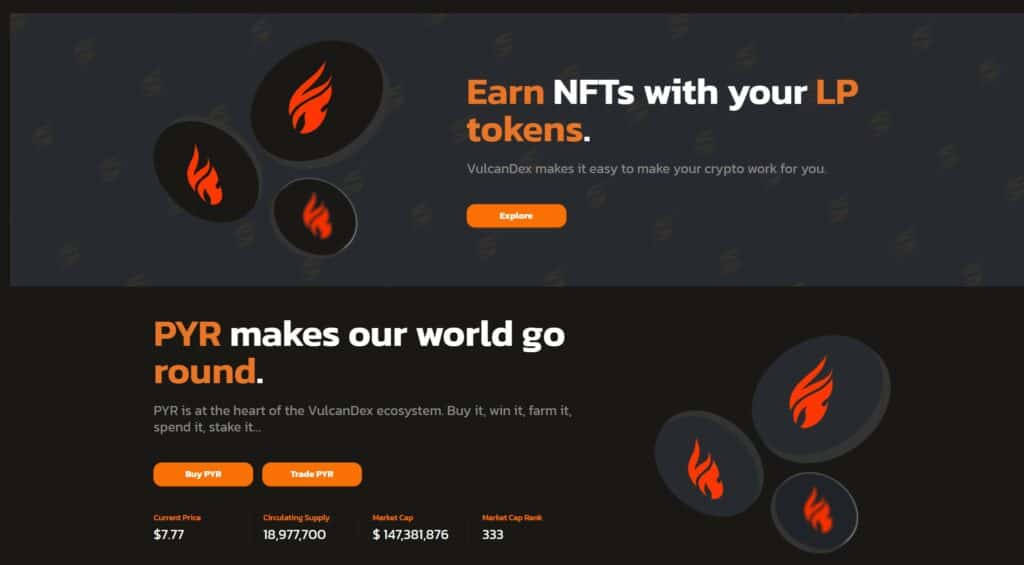 NFT Farming & Reward Pools
Like every DEX, users of VulcanDex will be able to provide liquidity to a specific pool and receive a share of the 0.2% fee for every swap that takes place. This is standard for all decentralized exchanges, but Vulcan takes it to the next level with NFT Farming.
Soon, there will be special farms where users can lock up the LP tokens and receive NFTs straight to their MyForged account inventory.
These farms will have different requirements, and they will spawn occasionally.
One thing to note is that Vulcan Forged NFTs are highly valuable. They have a deficient supply most of the time, so participating in some of these pools might be a golden opportunity to acquire a rare NFT with in-game utility.
To use VulcanDex, you must be connected to the Matic RPC using your Metamask wallet, detailed instructions can be found here.
LAVA Hits VulcanDex at $0.13 Per Token.
It was about time to allow players to exchange LAVA, the play-to-earn token from the Vulcan Forged ecosystem that can be earned across all participating games.
Players now have the ability to either stock up in LAVA or sell their earnings using the VulcanDex.
Assuming Vulcan Forged is still an underrated project that goes under the radar for the vast majority of the cryptocurrency industry, LAVA might look attractive to many investors like PYR token.
The way Vulcan's economy is designed, LAVA is the reward token players get by spending time and effort across all Vulcan Forged games. At the same time, PYR is the king which players can stake within the MyForge section to earn LAVA and XP points passively.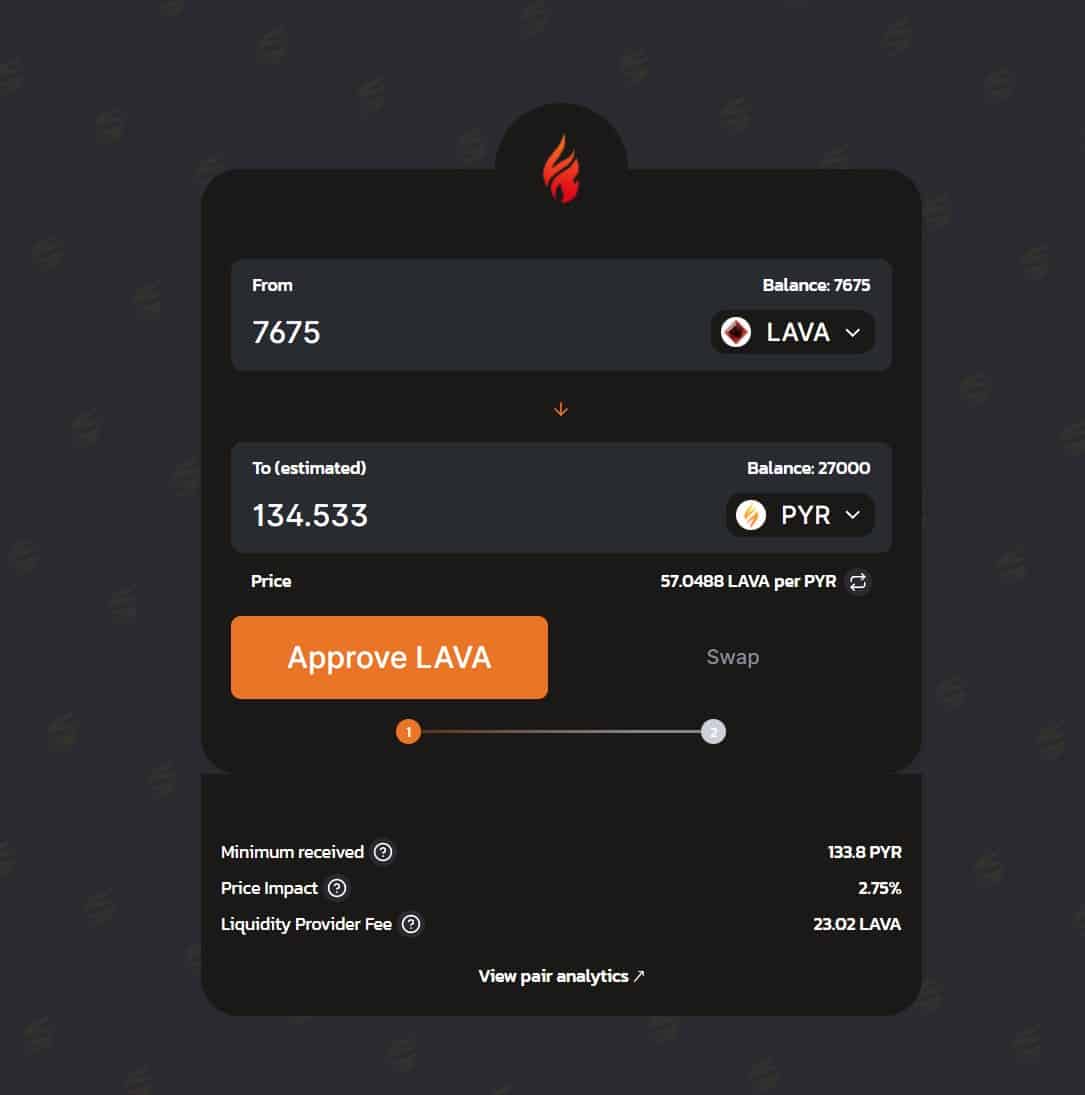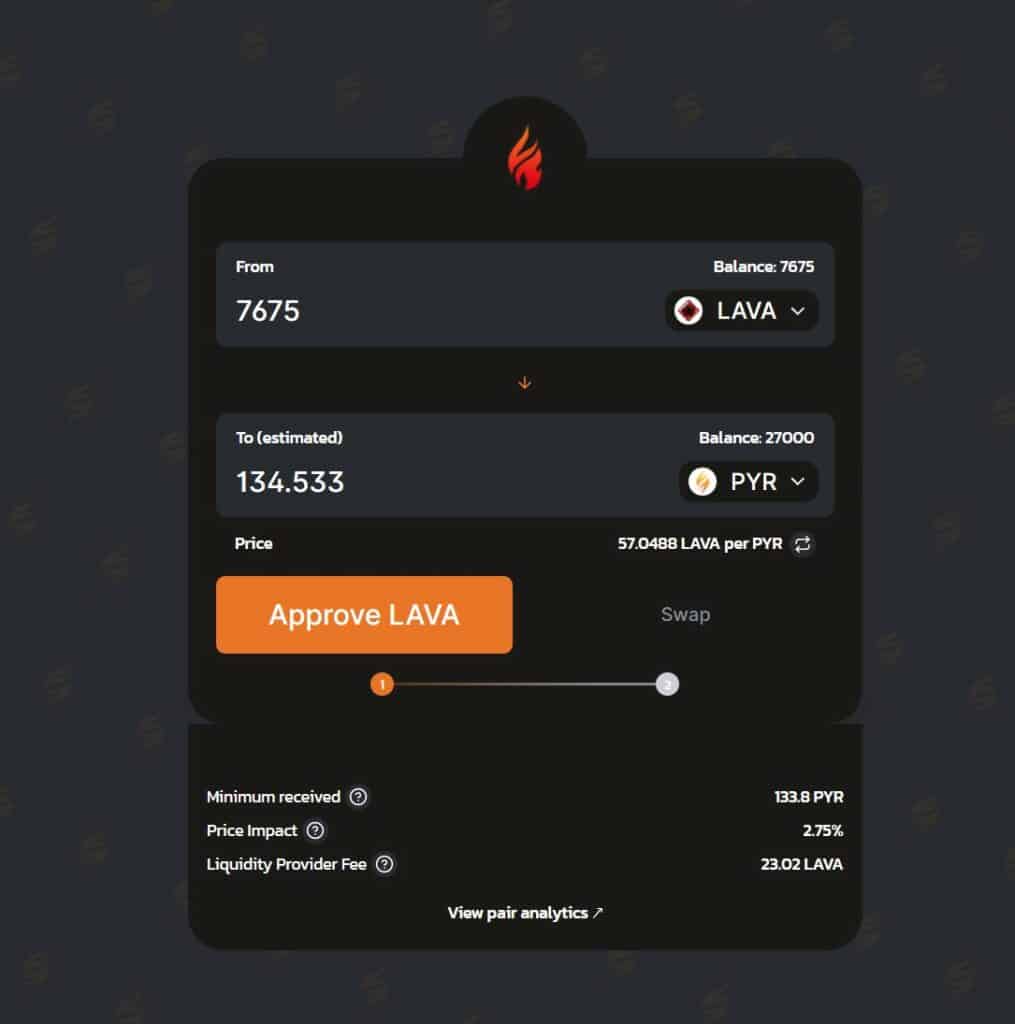 My Thoughts on VulcanDex
We can say that VulcanDex successfully completed a "soft-launch," there will be numerous updates coming from next week, including charts, LP farms, and many other elements.
The Vulcan Forged ecosystem has teamed up with many known games and projects as you can see in the Marketplace. Some of them are DeFi11, Vanilla Network, Battle Racers, MyCryptoHeroes, and many others.
All these projects, and the next to come, form a collaboration and an ecosystem on its own, with VulcanDex to be the go-to place to swap your tokens.
I like the fact that you can't trade whichever token you want, thus creating a safe and transparent place for users, investors, and gamers.
Don't forget to check out VulcanVerse MMORPG and Berserk TCG.