Are you looking for the Top 10 Solana games to play in 2022? Thanks to their play-to-earn mechanism, you're in the right place as we'll be reviewing the Top Solana games play to earn to play right now, as well as keep an eye out for those under-development.,
Even though the crypto winter continues, blockchain games have been showing great resistance to the overall market. Statistics show that daily Unique Active Wallets keep increasing with each passing month. Speaking of Blockchain games' success, the year 2022 has been great for the space as institutional investors keep pouring money into Web3 games.
As the Web3 gaming space keeps growing, Solana is one of the blockchains that keep bringing new players into blockchain gaming due to its zero carbon footprint and extremely fast transactions.
There are a lot of play-to-earn games built on Solana. So, let's discuss the Top 10 Solana NFT Games you need to play right now!
Looking for more great games? Check out these:
Yaku Corp Metaverse
Yaku metaverse is a Cyberpunk metaverse where you play as realistic 3D avatars to roam around the futuristic lands of Tokyo. In the game, your home is Capsule X, where you can walk around and store your motors, which are a pinnacle of technology.
Players can make money by buying in-game assets such as NFT avatars (they are compatible with other metaverses, too), Land sales, and selling them on the YakuStore. Besides that, their roadmap says they will bring an open Yakuverse map, a P2E game, and the launch of the $YAKU token.
Yaku Corp metaverse is a futuristic metaverse set in futuristic Tokyo. As of yet, no other game comes to close to its aesthetics. As the game is built on Unreal Engine 5, we see AAA graphics which is rare in the virtual world. In our opinion, it has the potential to blow up in the near future.
Is Yaku Metaverse free to play?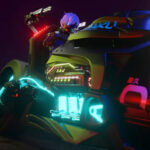 To play the game, you'll have to buy a Capsule X NFT, but they're all sold out on Fractal. The good news is that you can buy these NFTs on the YakuStore from third parties and start playing the game.
When will the Yaku Corp metaverse be released?
According to their Roadmap, they have plans to make it fully functional in Q3 2022. 
---
EV.IO
EV.IO is a Play2Earn browser-based FPS game built on Solana. When you fire up the game on your browser, you get thrown right into a death match where you have to kill anyone you see.
Since this game works like traditional first-person shooters, new players don't have to go through a steep learning curve. The game starts with a deathmatch and has seven modes that you can play with opponents. As you play the game and keep winning, you earn SOL.
EV.IO has a lot of weapons and tactical features. Players can start learning these strategies to keep winning the matches and increase their scores, which eventually leads to earning more SOL. (you can also power up your NFTs to increase the amount of SOL you earn)
The game has been seeing great numbers lately, averaging over 1 million monthly users from April to June. These promising numbers indicated that EV.IO has been an underdog and has the potential to be one of the most popular play-to-earn Solana games.
It can be mainstream because EV.IO is "game first" and "crypto second." These types of games usually blow up as they don't force the users to buy expensive NFTs so that they can play the game. This is exactly why this game has been made to our top 10 Solana games list.
Is EV.IO free to play?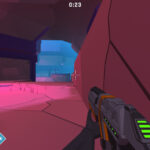 You don't necessarily have to buy NFTs to play the EV.IO, making it a free-to-play title.
---
Monkey League
Monkey League is a next-game esports metaverse on Solana. Formally known as MonkeyBall, Monkey League is a blockchain-based soccer game where players compete with each other to win the game and earn crypto.
This easy-to-learn but difficult-to-master game is a 4v4 title that utilizes soccer features with NFTs and DeFi that creates a unique gaming experience where we can earn money as we play.
The game comprises four monkeys with inherent soccer abilities. Each monkey is controlled by one player. Each monkey is put in their position based on its abilities, such as Midfielder, Goalkeeper, Defender, or Striker.
The game features two tokens: MonkeyBucks (MBS) and SCORE. With a total supply of 1 billion, MBS is an in-game token that can be earned by completing tasks, playing matches, just watching the games, opening treasure hunts, or hosting stadium games.
On the other hand, SCORE is the game's governance token, giving access to the game's DAO. If you own SCORE, you can vote on the company's governance processes and economic decisions that directly impact the game's future.
Find the latest Monkey League News.
Is Monkey League free to play?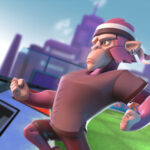 Even though Monkey League is free-to-play, you might still need to buy MBS to power up Stamina and Energy Points as they are consumed in matches. If you want to play the game to the fullest and increase your earning potential, you have to bag some MonkeyBucks ($MBS).
When will Monkey League be released?
Currently, the game is in the Beta phase, but in Q4 2022, they will release the Public Launch of PvE mode along with in-game MonkeyStore. 
---
Star Atlas
Star Atlas allows you to experience the diverse outer space of the cosmos. Built on Unreal Engine 5 and Solana blockchain, Star Atlas is a space-themed metaverse set in 2620. The game depicts future events where Androids, Humankind, and Alien Races fight each other to dominate the ample part of the cosmos.
Star Atlas is developed using Unreal Engine's Nanite technology to bring astonishing graphics to the game. This experience is coupled with Solana's fast blockchain to avoid any hiccups during in-game transactions.
Players can play in PvP or PvE (player versus environment) modes and win in-game assets that have real-world value. They can then sell them as NFTs on secondary marketplaces to earn profits.
The good news is that there isn't one way to win profits in the vast universe of Star Atlas. Players have the primary emphasis on exploring the mined assets; they also engage in different battles to test their combat skills and win valuable in-game assets that turn into profit.
Every piece of equipment, Spaceship, resources, and in-game collectible in the game is an NFT. Out of all the elements in the game, Spacecrafts are the most essential ones as they are needed to engage in battles.
Star Atlas features two tokens: $ATLAS being the in-game utility token and $POLIS as the game's governance token. The game is yet to be released as a final product. As the game is all set to feature AAA graphics coupled with Solana blockchain, it has the potential to break the internet by storm when it goes live.
Is Star Atlas free to play?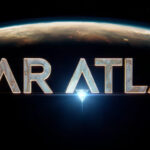 No, you will have first connect your Solana wallet to the game to make purchases. The cheapest NFT is the Common Ship which costs as low as $20. 
When will Star Atlas be Released?
With the Pre-Alpha release on September 29, 2022, they have plans to release the final version at the end of 2022. 
Project Seed
Project Seed is a blockchain-based gaming platform and metaverse that's all set to become home to several play-to-earn games. Project Seed will make an ecosystem where RPG games will be available on both iOS and Android platforms.
In the ecosystem, all games will have a play-to-earn mechanism and feature NFTs. Project Seed will release all the games in its ultra-realistic metaverse.
Built on Unity and leveraging the fast transaction speeds of Solana, Project Seed aims to achieve mass adoption in the near future. The first game on Project Seed is Odyssey which has been in development for over eight months now.
The game will feature Co-Op, single-player, guild wars, and tournament battles. The players can make money by winning battles, winning quests, lending their assets to other players for a fee, creating and selling accessories on the marketplace, and stake SHILL tokens that create dungeons. As the players use these dungeons, the owner behind them gets rewarded for it.
SHILL has been an absolute gem. When it was first listed on KuCoin, its price was 0.025. Its all-time high (ATH) was $1000. that is a 3,000,000% pump.
Is Project Seed free to play?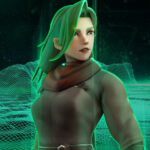 No, You'll have to buy NFTs in the games to come. They do offer a play-to-earn mechanism. 
When will Project Seed be released?
The project's Beta Release is now live, with the first game available being Odyssey. As time passes, the project will move forward with more games to come in the future. 
---
Moving forward, the next game to make it in our Top 10 Solana games is:
Sol Chicks
Sol Chicks is a PvP Solana-based fantasy game where you play cheerful and cute SolChick characters. In the colorful metaverse of Sol Chicks, you co-operate as well as fight against the opponents to win $CHICKS.
The game offers two game modes: PvP mode, where you fight opponents, and Raids mode, where you partner up with the others to raid and win in-game currency.
You either play against other players, or you have to battle against the notorious SolFox. You use a wide range of weapons in the game against the enemy, and as you win, you gain EXP points that bring your level up and hence, your earning potential.
Speaking of earning, you can also breed your SolChicks and sell them in the marketplace to earn profits.
Overall, the game is fun to play as it offers a wide, fun metaverse. You can also choose not to sell $CHICKS and have your right to vote as it is a governance token too.
Is Sol Chicks free to play?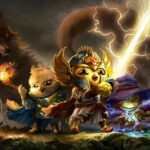 Unfortunately, the game is not free to play, as you'll have to buy Sol Chicks as NFTs to start playing the game.
---
Decimated
Decimated is a cyberpunk post-apocalyptic third-person survival game where you can travel in futuristic vehicles to explore the afterlife on Earth. Climate change destroyed the earth, and now those who survived have to indulge in the battle against each other.
The game offers PvE and PvP modes where you can salvage resources, build bases, collect bounties, loot, or even ambush to make money.
When the game starts, all the players play as Human Citizens, but as they progress through the game, they can choose to upgrade their character to Cyborg Cops.
In the massive open world of Decimated, the players can choose from a variety of roles to play in the game, such as criminal, hacker, taxi driver, mechanic, hitman, and so on. As the players play these roles, they complete tasks and ultimately earn $DIO. They can sell $DIO on different exchanges and earn profits.
Built-in Unreal Engine 5, Decimated offers AAA graphics with an astonishing 64km wide open world to explore.
Find more Decimated News.
Is Decimated free to play?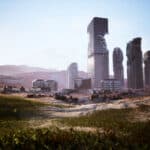 Decimated developers have made it clear that "Decimated will be free to everyone to play!"
When will Decimated be released?
Fracture Labs has listed Decimated on Steam and is in Early Access. However, the final release date is yet to be announced. 
---
Wizardia
Wizardia is a play-to-earn role-playing blockchain game leveraging Non-fungible tokens (NFTs) as its core. When you enter the game, you are introduced to a fantasy world full of meaning fog where life as we know it does not exist.
We, as players, have to decide a role to fight and survive the in the game. As we succeed and progress, we win Wizadia's in-game token, $WZRD.
We build bases to inhabit the wastelands. There are PvP arenas where the fights for survival take place. Other than that, surviving in an environment with limited resources is not easy, so we solve puzzles and participate in tournaments to win valuable resources.
Another way of earning in Wizardia is by owning battle arenas as NFTs and charging fees as you host fights on them. You can also buy, sell, and trade these NFTs for a higher price as you boost your Wizard NFT's fighting power.
The game offers three basic mechanisms: turn-based combat, character upgrades, and game development based on player decisions.
A game with such caliber is deemed to win the web3 space. With the amount of NFTs they've sold already, they are already are very successful project.
Is Wazirdia free to play?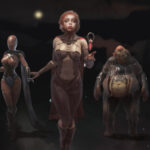 You need to buy at least a Wizard NFT to play the game, so the game is not free-to-play.
When will Wizardia be released?
According to the game's roadmap, the full game is all set to launch in Q4 2022. However, the exact date of launch is TBA.
---
Space Falcon
Space Falcon is a game that fulfills your desire to play those nostalgic space shooters, but this time, you will have the option to play in two timelines. One is set in the 1980's retro feels, while the other one offers futuristic graphics set in 2080.
As you enter the metaverse of Space Falcon, the first game you start with is Space Mission. Space Mission is a classic shooting game you can play on your web browser. The game features spaceships as NFTs. Your spaceships upgrade as you complete different missions.
You can earn a profit by selling these upgraded NFTs on the marketplace. Another way of progressing in the game is by winning planets by completing exclusive missions. All the galaxy's action takes place on planets that you can own as NFTs.
Since Q3 2021, the game's P2E mechanisms have been in play. The game has two tokens: FCON and FGOLD. FCON is the game's primary token as well as has governance properties. FGOLD, on the other hand, is an in-game game in which game rewards are made.
In conclusion, the 3D space shooter is a one-of-a-kind game where players can enjoy the battle in the galaxies and earn money as they progress.
Is Space Falcon free to play?
You have to buy spacecraft as NFTs to play the game. Hence, it is not free to play.
When will Space Falcon be released?
According to the game's roadmap, the Unity/Unreal version of the game, along with a turn-based NFT game, will be launched in 2023.
The last (but not least) game in our list of top 10 Solana games is,
---
Genopets
Genopets is a Solana-based move-to-earn game that pays you to walk. Whether you take your dog for your walk or just want to go for a jog, take your phone with you, and you will get paid.
As a matter of fact, Genopets is the first-ever move-to-earn NFT game built on the Solana blockchain. This free-to-play game starts with Genopet – your representation in the game. You need to take care of your Genopet. As you grow, your Genopet grows and hence, your reward.
The physical activity is recorded by your smartphone and smartwatch. You are given a Genopet for free. However, you can buy rare pets as well with higher reward potential.
Move-to-earn is taking the world of Web3 by storm. First, STEPN came and conquered, and now, Genopets is going successful with its unique features.
Is Genopets free to play?
Genopets is free to play – you need to install the app and start running. 
When will Genopets be released?
Currently, Genopets is in Public Beta, while the full launch with metaverse features will take place in 2023. The exact dates are yet to be announced.
---
10 Top Solana Games: Final Words
The Top 10 Solana Games we've reviewed in this article have been selected after extensive research by the team. Speaking of Solana, it is one of the most energy-efficient blockchains on the planet.
It is home to thousands of blockchain projects and games, and we've selected the top 10 best games on Solana so that you can not only play these games but also earn money as well.
At the time of writing, Solana ($SOL) is priced at around $34 per SOL.
Solana offers one of the lowest rates on transaction fees (less than $0.01), with an average transaction cost of $0.00025. Also, the network is capable of processing 50,000 transactions per second.