NFT Games have taken the gaming industry by storm, with major studios and publishers flirting with NFT integration in their upcoming titles. There is no question that NFT Games are the future of gaming, and today we present you a curated Top NFT Games List with 15 of the best P2E Games to make money in 2022.
We know it's hard to separate the good games from the bad ones in this industry, be rest assured that our Top NFT Games List contains some of the most prominent and successful NFT Games you should definitely try out in 2022. All the games included are released, meaning you can start playing immediately.
2022 is the year of the NFT Games. After attracting VC Funds and big game studios, NFT Games are about to take off and become the next big thing in the world. Forget League of Legends, Fortnite, and Call of Duty. These kinds of games belong to the past. Now we own the in-game items, the pitch is ours.
Note: eGamers.io was established in 2018; we are a portal exclusively for Blockchain Games. This article is a result of our vast experience in NFT Gaming. Every blockchain game in this list is handpicked using a series of criteria with, first and foremost, the credibility of the project,
Are you ready to begin? Here are the Top NFT Games for 2022.
*Games Listing order is random. Check them all and find the ones you like the most.
Related:
The Top NFT Games To Make Money in 2022.
---
VulcanVerse – Play To Earn & NFT MMORPG.
| | | |
| --- | --- | --- |
| Genre | MMORPG | Metaverse, MMO, Sandbox |
| Device | PC | Requires a medium specs PC. |
| Token | $PYR & $LAVA | Dual token economy. |
| Network | Polygon | Pending Migration to Elysium. |
| Status | Beta | Pending full release. |
| NFT | Yes | Land & In-Game Assets. |
| Free To Play | Yes (Scholarships available) | Land floor price is around 2,000$ |
| Play To Earn | Yes | We expect profits to be huge. Paid in $LAVA tokens. |
VulcanVerse statics table.
VulcanVerse is a play-to-earn MMORPG currently available in open beta. The game takes place in a Greco-Roman era with five different Quadrants (kingdoms). Each realm has its own architectural design and thematic assets. VV, in short, is much more than an MMORPG; it's growing to become a fun and engaging gaming Metaverse.
VulcanVerse has profound lore influenced by mythology creatures and a series of gamebooks.
Land Ownership & Scholarships.
The land of VulcanVerse consists of 10,000 land plots owned by the community where players can develop buildings and other structures, shaping the game's environment. There Troy update brought some more land plots in the game but not as equal in power as the original ones.
Owners can invite scholars with a revenue share by upgrading the land plots and even become network validators for the Elysium blockchain when reaching level 7.
The Cedalion program allows players to rent land through the Vulcan Marketplace for free. Owner and player share $LAVA earnings while scholars keep the assets earned through foraging.
Landowners can also stake $PYR tokens for additional passive earnings.
How to Earn Money in VulcanVerse?
VF ecosystem uses a dual token economy. The primary token is $PYR, and the play to Earn token is $LAVA. Both exist on Polygon Network.
Players can complete daily quests and perform other activities, solo or with others, to earn in-game assets, XP points, and $LAVA tokens daily. Head to the marketplace and rent a free land plot which will serve as your base in the game.
VulcanVerse in-game assets have substantial value due to the burning mechanisms. Players can earn in-game assets interoperable with other games in the ecosystem.
Additionally, through VV, gamers can play other games of the ecosystem, such as Berserk and VulcanPoker.
The Team Behind VulcanVerse.
The game is under development by the gaming ecosystem and studio Vulcan Forged. With a growing number of games and the upcoming Metaverse Blockchain "Elysium," VF is in a position to become a behemoth of Blockchain Gaming.
The Vulcan Forged ecosystem has developed an NFT minting engine, a Decentralized Exchange (DEX) dedicated to Blockchain Games on Polygon, and a series of 10,000 Avatars called Phalanx.
Vulcan Forged has been proven a reliable company that sticks to the roadmap and delivers its products. Last year, a 4,5 million $PYR hack occurred due to a server vulnerability with VF compensating 100% of every single user the same day. The company recovered in a matter of days, upgraded the wallet management system, and continued development at all aspects.
---
The SandBox – The Behemoth of Metaverses.
| | | |
| --- | --- | --- |
| Genre | Metaverse | Sandbox, Virtual World. |
| Device | PC & MAC | Requires Metamask Wallet. |
| Token | Polygon | Land on Ethereum. |
| Status | Open Beta | Seasons |
| NFT | Yes | Land & In-Game Assets. |
| Free To Play | Yes | No need to buy anything. |
| Play To Earn | Yes | Earnings will depend on various factors and 3rd party creations. |
| | | |
The Sandbox Metaverse Game Statics Table.
The Sandbox is a pixel-based Metaverse project operating on Polygon Sidechain where players can create custom games and various experiences to enjoy with friends and strangers. The project became extremely popular in 2021 and raised $93 Million in a funding round.
It's considered the most promising metaverse with a series of tools players can use to create anything they want. Imagination is the limit, hang out with friends, jump on Atari's Roller Coaster, or complete quests from the community members.
The Sandbox has its own standalone builder called VoxEdit; users can design in-game items and sell them as ERC-1155 tokens (NFTs) in the market. The assets must be voted in by the community and can be freely traded.
Related: Games From The Block podcast With Sebastien Borget, Co-Founder of The Sandbox and BGA.
A Community Owned World.
The world of Sandbox consists of 166,464 plots in total, with 16% (25,920) reserved for partners, creators, and rewards. The Sandbox keeps 10% (16,704) to host events, and the rest, 74% (123,840), became available for the users through sales. A quick look at the Opensea marketplace reveals 104,000 available land plots at the time of writing.
One Land Plot (1×1) is 96×96 meters and 128 meters in height. Within the game, 1 meter equals 32x32x32 voxels.
Each Land plot is a piece of the Metaverse owned by players. Land tokens come in the form of ERC-721, the typical Ethereum token standard (NFT), which can be safely stored in any Ethereum wallet.
Not all lands are equal in value; price depends on the neighbor and area. When we published our TOP NFT Games to make money in 2022, the cheapest land plot was priced at 3.369 ETH. Later, on 27/9/22, when we edited this article, the cheapest land plot cost 1.5 ETH.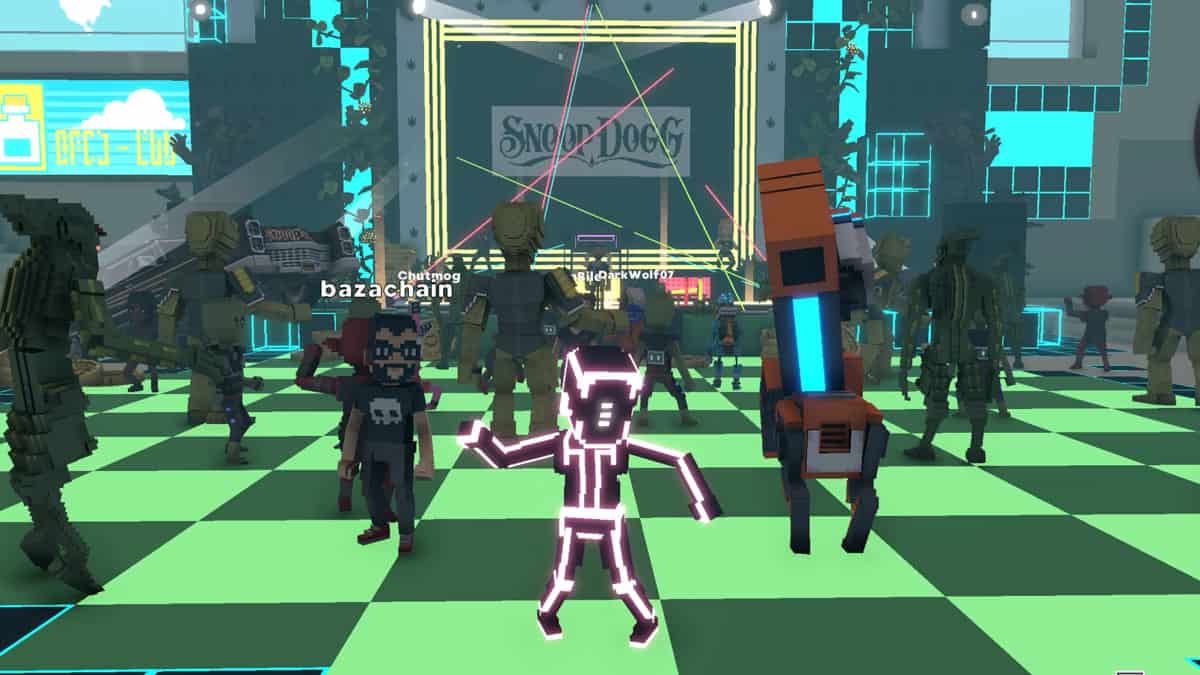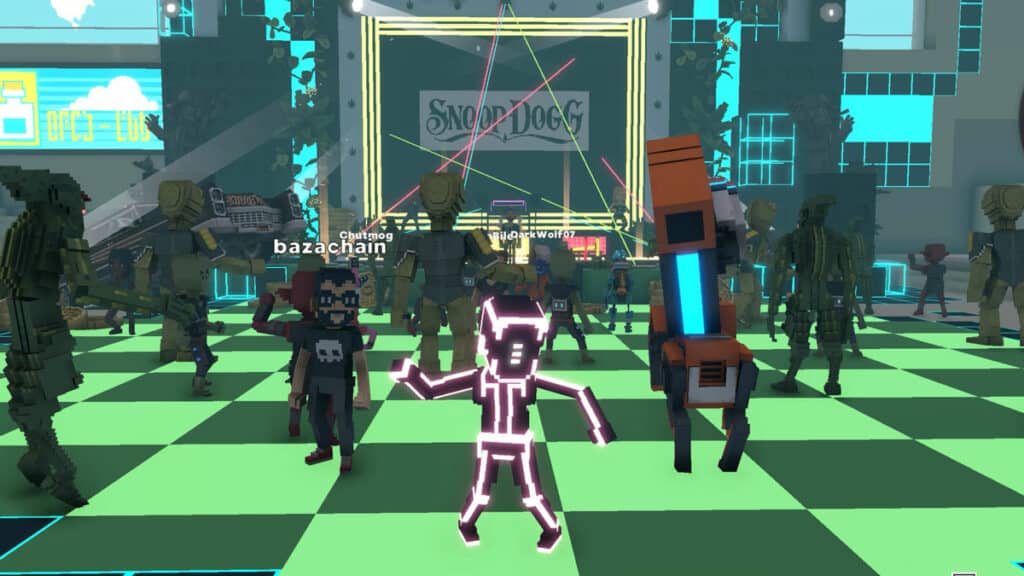 How To Earn Money in The Sandbox?
This is a two-fold question I will explain as simply as possible. Keep in mind this is a virtual world. The limit is always our imagination.
Let's begin with the token. The Sandbox operates using $SAND, which serves as the currency for all players' transactions. It's an ERC20 (Ethereum) Token, and some of its use cases are to purchase assets and Land from the marketplace or even stake it for passive earnings. $SAND is available at various exchanges, including Binance.
Landowners have complete ownership over the Land. There are multiple ways to monetize through building games using the Game Maker Application or experiences that will attract players. Creativity is the limit; think of museums and art galleries with NFTs and entrance tickets, exhibitions to host events and virtual concerts, and so on. Land can also be rented to game creators for a share of the earnings.
Players will earn by completing rewarding quests created by the community, participating in various events, and playing one of the dozens of available games. Some games will have their own token, which can be "farmed" by playing. Another possibility, which is already happening in Decentraland, is working for a Metaverse project. Such jobs include working in casinos and museums, offering tours and other services.
Additionally, players can create designs and sell them in the marketplace. Let's not forget the most popular job in all Metaverses, the real estate business.
Today, the Sandbox community has attracted several artists who design and tokenize their creations. This is a way to create a passive income stream for creators and 3D artists.
Celebrities, Brands & Companies.
The Sandbox has managed to onboard several respectable companies, brands, and celebrities in its virtual world, including Binance, Adidas, Atari, The Walking Dead, Care Bear, and The Smurfs. The famous rapper Snoop Dog recently joined the Sandbox world to create the "Snoop Dog Mansion," sending the nearby land plot prices to the roof. Someone even paid $450,000 to become Snoop Dogs' virtual neighbor. Another celebrity owning Land is Steve Aoki.
The Team Behind The Sandbox.
Pixowl is in charge of the development of The Sandbox Game. It's a reputable company with a variety of titles in its portfolio. The company has raised over $95 million only from funding rounds for The Sandbox, while every land sale has sold-out for thousands of Ethereum. Sebastian Borget, the public face of The Sandbox and co-founder of Pixowl, is also the president of Blockchain Game Alliance.
---
Pegaxy – NFT Horses on Steroids.
| | | |
| --- | --- | --- |
| Genre | Racing (Gambling) | Horse Racetrack & Breeding. |
| Device | Web & Android | Requires Polygon Wallet (Metamask) |
| Token | $PGX & $VIS | Dual token economy. |
| Network | Polygon | Low fees & fast transactions. |
| Status | Open Beta | Available to anyone. |
| NFT | Yes | Land & In-Game Assets. |
| Free To Play | No (Free Scholarships available) | Cheapest Pega (horse) costs around 800$. |
| Play To Earn | Yes | Earnings are based on $VIS price & the number of wins daily. |
Continuing our list of the best NFT Games for 2022, we have selected Pegaxy.
Pegaxy is an automated horse racing game where 12 players put their Pegas (horses) on the racetrack. The outcome is random based on the stadium conditions and the Pegas stats. The game promises to integrate skill-based gameplay to make it more interesting rather than fully automated in its current state.
Although Pegaxy is a new game, it has managed to become very popular in the Philippines and Brazil, with thousands of players actively looking for scholarships or purchasing horses.
The game is in open beta, and everyone with a horse or a scholarship can play. Each horse has a track record recorded on the Polygon Blockchain. As a result, players can pick a Pega based on the winning rate when purchasing from the marketplace.
Pegas are divided into Bloodiness and rarities and can breed up to seven times for both $VIS and $PGX fees as a token burning mechanism.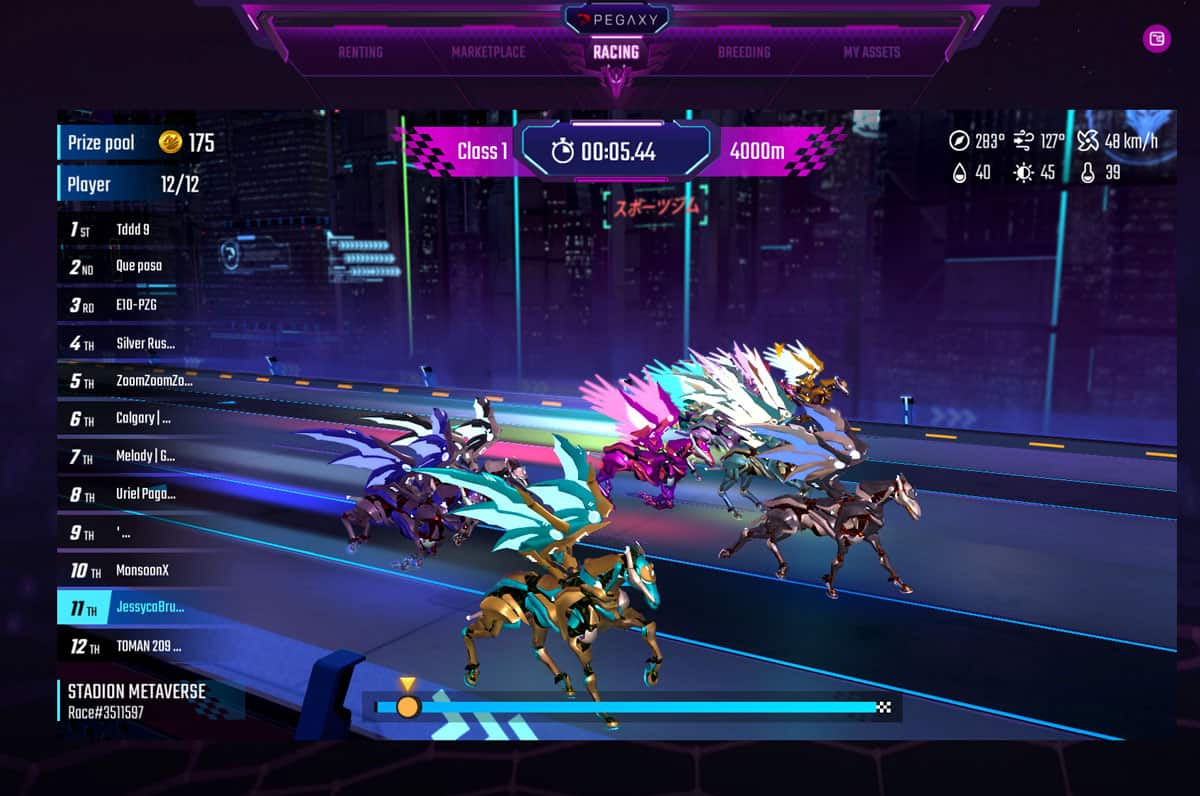 First To Introduce Automated Payouts For Scholarships.
Pegaxy, on launch date, introduced automated scholarships, which brings multiple benefits to the table for both players and managers. At first, managers save hours from manually paying the scholars while the scholars automatically get their earnings in real-time.
Through this system, Guilds can become more efficient and rent horses directly to their members using a revenue share model in $VIS tokens or a fixed price in $PGX.
The current system works perfectly, and it's an example for any blockchain game with a scholarship system, as history has shown that some managers have malicious intentions.
Pegaxy counts dozens of verified Guilds, and it's growing.
How To Earn Money In Pegaxy?
Earning money by playing Pegaxy is a very straightforward process. Depending on the rarity of the horse, there are different leagues with different rewards.
With the currrent price of $VIS at such low levels, it's only worth to own a Legendary or founding Pega. The rest rarities compete in lower leagues with the rewards being close to nothing.
Another way to earn in Pegaxy is to rent horses in the marketplace. Owners can earn passive income without playing, and players can grab the Pegas quickly from the in-game renting area.
Of course, let's not forget the all-time classic job of breeding and selling for a profit.
---
Axie Infinity – The Life Changer Game For Millions of People.
| | | |
| --- | --- | --- |
| Genre | Turn-Based Battles | Breeding |
| Device | PC, Mac, Android, iOS | Requires Ronin Wallet |
| Token | $AXS, $SLP & $RON | 3 Tokens on Ronin Sidechain. |
| Network | Ronin | Free 100 tx daily & fast transactions. |
| Status | Released | Origin is the latest version |
| NFT | Yes | Land, Axies & In-Game Assets. |
| Free To Play | No (Free Scholarships available) | Around 20 $ for a good team. |
| Play To Earn | Yes | Profits are based on $SLP price and wins. |
Pegaxy NFT Game Statics Table.
Axie Infinity is a Pokemon-inspired, Turn-based game with its own ecosystem of tokens featuring deadly and adorable creatures. The game has various play-to-earn mechanics, including daily tasks and PVP battles that reward players with the $SLP potion. Axie Infinity takes credit as the first successful play-to-earn game that changed the lives of millions of people in emerging countries by allowing them to make a living through gaming.
Axie is the first game to introduce the Scholarship program that allows NFT owners to rent items to players and split the profits. This system is now adopted by almost every blockchain game. One thing worth mentioning is that through the Axie success story, the company behind the game, Sky Mavis, became the 5th largest mobile gaming company globally based on the market capitalization of its tokens at the time.
Of course, Axie Infinity is not just a game; it's an ever-growing ecosystem at its early stages with a fully functional Ethereum sidechain called "Ronin," the Decentralized Exchange (DEX) "Katana" for players to swap tokens without fees and much more.
Each Axie is an NFT with unique traits and designs. Players can breed two Axies to create offspring based on the parent's genes. Future updates include various community-made games and land-based gameplay, which were sold out and now can be bought from the secondary Marketplace.
It's also worth mentioning that the Axie Infinity community is massive, with dozens of spin-off websites offering news and tools for breeders and other activities.
With what proved to be a rock-solid development team, a growth mindset, and a series of investment rounds, Axie Infinity grew to become a "Digital Nation," as Jiho, Co-Founder and Growth Manager, described in the "Games From The Block" Podcast.
Axie Turned Gaming Into a Profession.
As we mentioned above, Axie Infinity replaced or provided an additional income in emerging countries such as As we mentioned above, Axie Infinity replaced or provided an additional income to players in emerging countries such as the Philippines, Venezuela, and the African continent, where local currency inflation has turned the lives of millions into a nightmare.
The most significant player base of Axie Infinity is from the amazing country of the Philippines, where gamers used to make 2-10x times more than their day job by playing one hour every day.
At the current point, the play-to-earn token, SLP, is down to 0.01$, which makes the game not so profitable, but there is a strong belief that $SLP will return to normal levels ($0.20+), and players will continue to make a living out of it. The price drop happened due to SLP's burning vs. minting ratio, which is based on breeding new Axies.
Axie Infinity's player base is around 2,5 million players who continue to play and accumulate $SLP even if the price tanked. With the upcoming $SLP burning mechanisms and the ability of developers to create games based on Axie, the community believes that SLP will return to normal.
The NFT Breeding game became so popular in the Philippines that people created a documentary about its impact on players' lives. Find the Documentary in the beginning.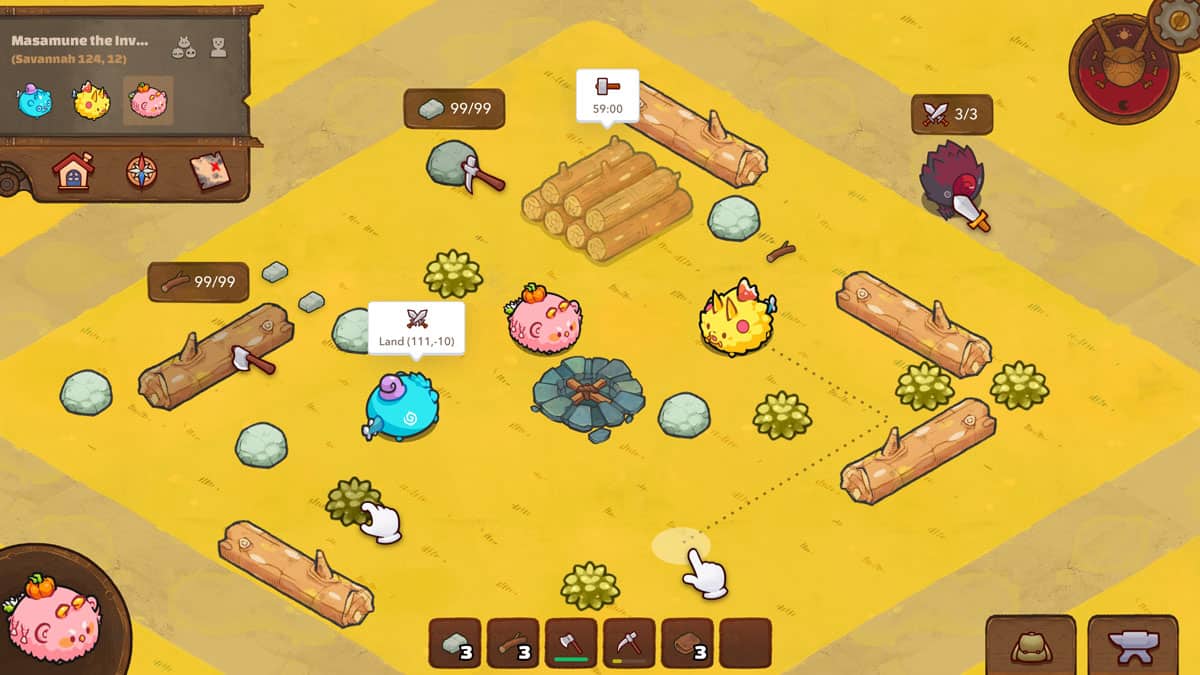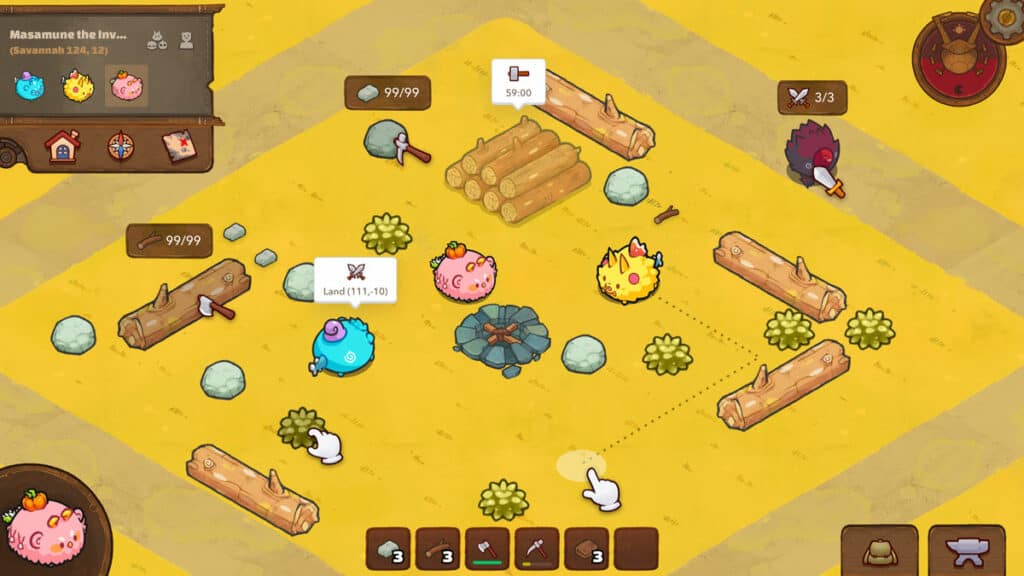 A Triple Token Economy.
At first, it was $SLP, The play-to-earn token of Axie Infinity to reward players who engage in PVE and PVP battles. SLP is used for breeding Axies, while breeders are also required to pay a small fee in $AXS, the governance token of Axie Infinity.
AXS has a total supply of 270 million tokens, and in November 2021, it reached an all-time high price of 151$ per token, primarily due to the Metaverse tokens explosion and the high-yield staking service.
While Axie Infinity is just a game, Sky Mavis plans to expand Ronin as an ecosystem of multiple games and services that will use Axies. For example, a developer can use the builder program and develop a football game where players can use their Axies. Sky Mavis introduced the $RON token to scale the ecosystem financially, which will be used across the ecosystem.
Currently, the only way to get $RON is by providing liquidity to Axie pools. In due time, the token will hit the market.
The easiest way to acquire $AXS and $SLP is through Binance exchange with Ronin sidechain integrated for both deposits and withdrawals.
How to Earn Money in Axie Infinity?
Update 27/9/22: Axie Infinity tokens and NFT pricing has fallen significantly due to the down trend in crypto markets. A good team of Axie now costs around $20, which results in Scholarships becoming useless and no-sense for players. Also the earnings are very low at the moment in terms of dollar price.
The process of earning in Axie Infinity is straightforward. There are ways beyond playing to make a profit in this game.
As a player: Find a Scholarship and play for free, or buy a team of 3 Axies (seek help before doing this on Telegram or Discord) and play daily. Use the Arena to battle against other players and win $SLP rewards. Top players also compete for leaderboard prizes.
As a breeder/trader: Players can buy Axies, breed them and sell the offspring (newborn) for a profit. Flippers are also looking for opportunities in the Marketplace and then trade with a higher price tag. This kind of activity requires extensive knowledge of Axie Infinity and how it works to select "good" Axies.
As a Manager/Guild: Taking advantage of the manual scholarships system, guilds or individuals can create teams and lend them to players for a profit share which usually goes for 60% (scholar) – 40 (manager) or 70-30 from the $SLP earnings. Payouts are done manually by the manager every 15 days, and for each scholar, an email (Axie account) and a Ronin wallet are required. Managers only share the Axie Infinity account email and password for the scholars to play. Axies and the earned $SLP Tokens are stored in the Ronin wallet, which is never shared with the scholars, and it's required to perform actions such as sending Axies or $SLP.
Last but not least, $AXS and $SLP holders can stake or provide liquidity to pools for passive earnings. Make sure you understand how impermanent loss works before providing any liquidity.
---
Farsite – Fresh, Space MMORTS With Business Elements
| | | |
| --- | --- | --- |
| Genre | MMORTS | Multiplayer & Real Time Strategy. |
| Device | Browser | Lightweight for all computers. |
| Token | $FAR & Credits | 1000 Credits = 1 $FAR Tokens. |
| Network | Polygon | Requires a Metamask wallet. |
| Status | Beta | Open Beta |
| NFT | Yes | cNFTs backed with collateral. (Credits) |
| Free To Play | Yes | NFTs also available for purchase. |
| Play To Earn | Yes | Earnings based on skills, available NFTs and credits amount. |
Farsite NFT Game Statics
Farsite is the newest game in our list of the best NFT Games for 2022. Released on January 27th, It's still very early to jump in and play. The game is a Massive Multiplayer Online, Real-Time Strategy (MMORTS) loaded with various decentralized finance elements and in-game assets in the form of cNFTs, NFTs with collaterals inside.
The community owns the vast universe of Farsite with tokenized land plots and controls every aspect of the in-game economy.
The game allows the creation of corporations and produce aircraft, mine resources from planets, craft assets, and transport them through the universe. Playing with friends is advised, and most importantly, joining a corporation for protection and various boosts.
Real Economics & Professions.
As an MMO game, Farsite requires players to choose a profession and contribute to the corporation they belong to. Note that it's not necessary to belong somewhere; however, a team of players is more likely to survive. Below you can find the available professions.
Delivery: Safely transport goods between planets and stations.
Trade: Master the market and benefit from others' needs.
Recruit: Recruit pilots and receive lifetime rewards for their actions.
Explore: Discover the universe and hunt for rare materials.
Govern: Get the control of a star, develop, tax, and prosper.
Mining: Mine and refine resources by acquiring a sector on a planet.
Politics: Have a seat by getting the trust of corporations and other players.
Military: Escort transportation ships, form corporations, or hijack others.
Manufacturing: Build ships and components, craft rare blueprints, rent your facilities, and more.


How To Earn Money In Farsite?
Earning in Farsite depends on the role and the actions a player takes. There is no actual limit on how much someone can make, and profits are based on the infrastructure, the current market prices, and finally, the price of $FAR token.
Theoretically, a player with a big production line will make more than an explorer. Keep in mind that many professions might require purchasing NFTs while politics will require connections etc.
In general, Farsite is a business game that combines real-time strategy with cargo hijacks and other setup backs. Every possibility must be calculated to run a successful business. This creates the need for mercenaries, cargo protection, and other gameplay aspects.
Learn more about the cNFTs and the Farsite game.
A Team With a Proven Success Record.
Farsite is developed by SUPERNOVAE, the developers of the MegaCryptoPolis game. MCP was the first town simulation game on Ethereum blockchain and later Tron network. The game did millions of dollars in transactions and attracted many players. The company is definitely in place to deliver, and Farsite has been under development for a couple of years before its announcement.
---
Splinterlands – Fast & Automated Trading Card Game.
| | | |
| --- | --- | --- |
| Genre | Trading Card Game | Automated Battles |
| Device | Browser & Android | Lightweight for all devices. |
| Token | $SPS & $DEC | Governance & Play-To-Earn tokens. |
| Network | Hive, WAX, BSC | Creates a wallet automatically. |
| Status | Released | Land update pending. |
| NFT | Yes | Hive & WAX |
| Free To Play | No, Need a Starter Pack for 10$ | Test the game before you buy. |
| Play To Earn | Yes | Earnings based on wins, leaderboard ranking and other factors. |
Splinterlands play-to-earn game statics.
Splinterlands is one of the oldest blockchain-based games and definitely deserves a spot on our list. Debuted as "Steem Monsters," the game has been trending with an impressive growth rate and promising planned updates in the past months. To unlock NFT rewards, players require to purchase a starter pack for only 10$, and it's free to try out.
Known for its fast-paced gameplay, Splinterlands is an auto-battler trading card game (TCG) where players choose the deck every time before the battle begins. Each fight is automated, and results come in instantly, allowing to play multiple games in a short period.
The system automatically matches players of the same skills, and the battle rules appear with different terms and limitations every time. One deck is never enough but fear not, the game rewards with NFT cards and other goodies based on the leaderboard position every season.
The NFT Cards earned by playing can be sold to the Marketplace and combined for better stats in case of duplicates.
Splinterlands has its own Marketplace on the official website to buy, sell or rent cards between players.
Splinterlands has started an ongoing airdrop over the past months to reward loyal players with various assets and points used to purchase packs with scalper protection. Chaos Legion packs, the latest cards collection sold over 6,4 million packs as of January 18th.
Dual Token Economy.
Splinterlands has two native tokens: the $SPS, the main currency used for the governance token, and the $DEC, the play-to-earn token players receive by playing.
Splinterland Shards ($SPS) have a total supply of 3 billion tokens, and owners can stake it for passive earning in $SPS and regular card airdrops. On the other hand, Dark Energy Crystal ($DEC) is the rewarding token that players accumulate on each win with a total supply of 1 billion.
The launch of $SPS in 2021 placed Splinterlands in the forefront of blockchain gaming, with thousands of players joining every day and a mind-blowing APR on $SPS staking, which now is down to 35%.
Enchanted Gameplay With Land ownership.
The Land is an upcoming expansion that aims to enhance the gameplay with a series of features. Splinterlands hosted a series of sold-out land claim sales that lasted a few minutes. Land Claims are minted on Hive and WAX blockchains.
The Land implementation is part of a planned expansion, the most significant update in the game's history. The update includes a new type of card and various improvements in the battle system. Splinterlands is one of the most played blockchain games with thousands of unique active players and daily transaction volume.
How To Earn Money In Splinterlands?
Like every NFT Game, gamers can earn from Splinterlands in various ways. Keep in mind it's a card game, to perfect a deck, a player might need to grab some cards from the marketplace, starting from a few cents of the dollar. This is not mandatory, you can just play farm cards without buying anything. Here is a list of the available play-to-earn actions.
The typical way to earn is to reach the Bronze 2 Rank and play against other players. The system rewards with $DEC tokens and earnings scale based on the tier ranking on each win.
Moreover, at the end of every season, players receive chests containing cards, potions, and other in-game assets based on their ranking.
Joining a Guild will provide extra boosts to help individuals participate in Brawls and events and earn more $DEC tokens. Join eGamers.io Splinterlands Guild.
Join free or paid tournaments and earn $DEC or other tokens.
Another way to earn in Splinterlands is to trade and rent cards in the Marketplace.
Lastly, $SPS and in-game asset holders receive frequent airdrops that value the players.
Splinterlands Final Thoughts & Development Team.
Overall, Splinterlands stand out for the fast gameplay and the strategy involved in deck creation. The development team has been proven reliable throughout its years of existence.
Once again, Splinterlands is one of the oldest blockchain games. At first, it was launched on the Steem blockchain, then when Justin Sun acquired Steem, the community did a fork named Hive, and Splinterlands moved there. Since then, the game integrated multiple blockchains teamed up with several respectable projects, and today is constantly in top spots based on on-chain data.
---
Gods Unchained – Better Than Magic The Gathering?
| | | |
| --- | --- | --- |
| Genre | Trading Card Game | Automated Battles |
| Device | PC | Lightweight for all devices. |
| Token | $GODS | Ethereum ERC-20 token. |
| Network | Immutable X | Layer 2 Ethereum Solution. |
| Status | Released | Playable by anyone. |
| NFT | Yes | Immutable X & Ethereum. |
| Free To Play | Yes | No initial investment is required. |
| Play To Earn | Yes | Earnings are based on wins, leaderboard ranking and matches played. |
Gods Unchained Stats Table.
Gods Unchained is a free-to-play AAA Trading Card Game (TCG) on the blockchain led by the former game director of Magic The Gathering: Arena. GU is an e-sports game focusing on competitive play where players have to win their opponents through intelligent strategies and correct deck creation.
The game offers the possibility to play against the computer to practice and join the constructed mode with ranked PvPbattles when ready.
Every new player gets a welcome set of 140 non-NFT cards to begin the adventures, and while climbing the leaderboard, the game rewards with more cards.
Gods Unchained features great graphics and challenging gameplay. Like any TCG, each match takes some time to complete.
GU is made for the masses, players don't need to have any crypto knowledge to start playing, making it very appealing to regular gamers who want to begin with their play-to-earn journey.
On January 26, 2022, Cards Unchained reported 55,000 daily players, while September 2022 found the game with around 16,000 active players.
The Immutable X Flagship Game.
The company behind Gods Unchained, Immutable, has developed a layer 2 solution on Ethereum called Immutable X. This allows Gods Unchained and other ecosystem games to scale with instant transactions, zero gas fees, and carbon-neutral input. Immutable X uses the $IMX Token.
The Layer 2 Solution by Immutable offers high-performance minting with the same security as the main Ethereum network and a series of tools and SDKs to support games and dapps development.
Immutable X uses the ZK-rollup technology in partnership with StarkWare. ZK-rollups allow projects to scale without compromising on security.
How to Earn Money in Gods Unchained?
By participating in the weekly ranked tournaments and meeting the minimum winning games, players receive $GODS tokens automatically. The higher the rank and wins number, the better the $GODS reward is.
The latest September 2022 update introduced Play and Earn. For the first ten wins of the day, players earn $GODS Tokens.
Playing Gods Unchained rewards players with non-NFT cards that can be tokenized through the Forge section.
To use the Forge, a player must complete the daily tasks to earn FLUX, possessing two or more of the same cards, and some $GODS for the fee. That way, players can mint NFT Cards and sell them in the marketplace for a profit.
Of course, since Gods Unchained has its own marketplace, players can monitor the market and trade cards with a higher price tag or search for opportunities to resell.
Gods Unchained Final Thoughts
The open beta version was launched in June 2019, and Gods Unchained has come a long way since then. It's one of the most polished play-to-earn games with a respectable number of players and excellent gameplay. TCG fans will find value in Gods Unchained and earn some money while having fun.
---
Blankos Block Party – A Mythical Game.
| | | |
| --- | --- | --- |
| Genre | MMO | Sandbox, Shooting, Racing |
| Device | PC & Mac | Doesn't need a great PC. |
| Token | No | Only non-tokenized in-game currencies. |
| Network | Custom EOSIO | Private Blockchain. |
| Status | Early Access | Playable by anyone. |
| NFT | Yes | Integrated Marketplace |
| Free To Play | Yes | No initial investment is required. |
| Play To Earn | Yes | Earnings are based on wins, leaderboard ranking, and matches played. |
Blankos Block Party Statics Table
Blankos Block Party is an adorable free-to-play MMO game that uses vinyl toys as avatars to play solo or with friends and have fun while earning in the process.
The game hit the EPIC Store shelf on September 2022.
Blankos, in short, features multiple modes, including racing, shooting, and stars collecting in community-made maps and racetracks.
It is considered one of the industry's most promising games, with great potential to go mainstream and be advertised on mainstream gaming media websites.
Every player is granted a free non-tradable vinyl toy figure (Blanko) to begin the adventures in the fantastic and colorful maps of the game.
Blankos Block Party has released various limited collections of Blankos figures, and the rest of the NFTs available in the marketplace are tokenized accessories and cosmetics.
Built using a custom EOSIO blockchain, players don't need any previous cryptocurrency and wallet management knowledge, making the onboarding process a piece of cake.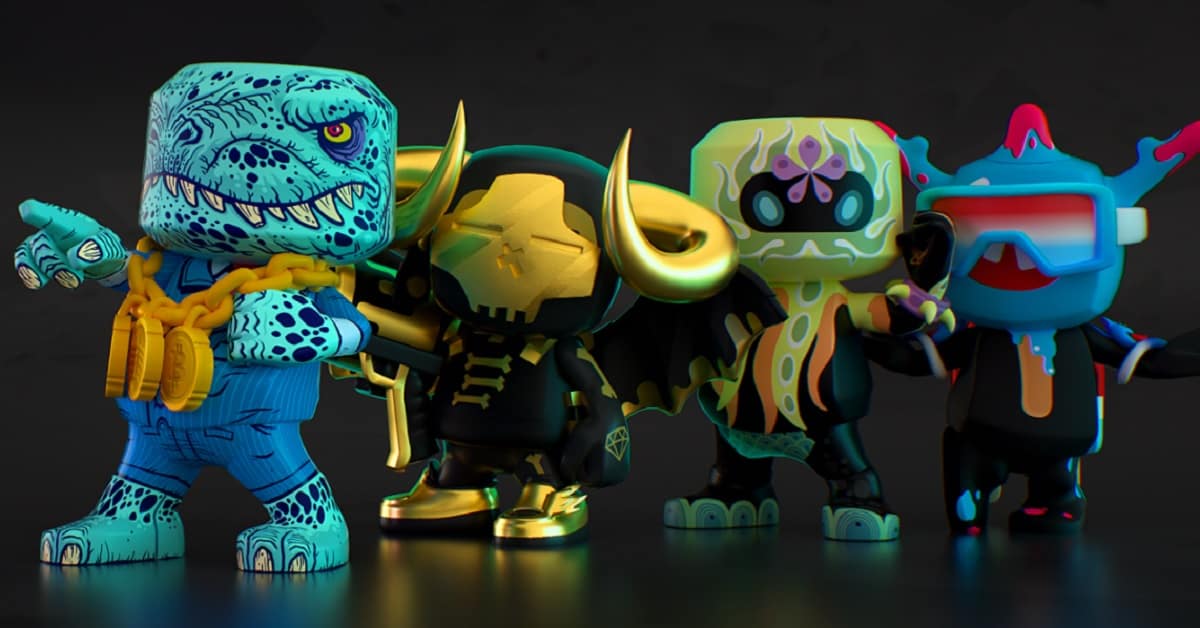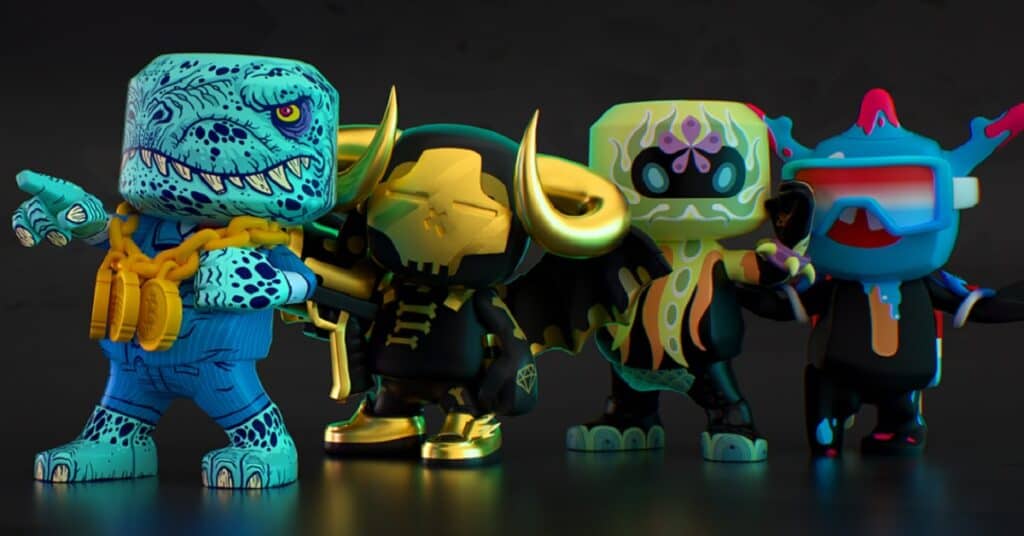 How To Earn Money In Blankos Block Party?
In order to make Money in Blankos Block Party, players have to complete a set of challenges on a daily, weekly and seasonal basis. Upon completion, the game rewards players with Hype, which can unlock Moola coins (not tokenized), XP chips, BB (Blankos Bucks – not tokenized), and NFT in-game assets that can be sold in the marketplace.
A daily challenge might require completing 100 double jumps, sliding 100 meters, and winning a race to get an idea. Weekly and seasonal require more effort.
Blankos Block Party play-to-earn mechanism uses a system called Party Pass and Party Pass+, an enchanted version with better drops priced at 25$.
Blankos Block Party Final Thoughts & Mythical Games.
Mythical Games, the company behind Blankos game, is working around the clock to develop the game further and its ecosystem. With the marketplace live and various collaborations with artists, there is always a limited edition Blanko to grab.
Blankos Block Party can become a mainstream game as development continues. In November 2021, Mythical Games raised $150M in a funding round led by A16z and plan to license its technology to other games.
---
My Defi Pet – Lifestyle Breeding Game.
| | | |
| --- | --- | --- |
| Genre | Turn-Based PvP | Breeding & Pet Raising. |
| Device | Web | Upcoming Mobile version |
| Token | Yes, $DPET. | Secondary token to be released. |
| Network | Binance Chain | – |
| Status | Beta | Playable by anyone. |
| NFT | Yes | Integrated Marketplace |
| Free To Play | No | 3 $DPET per Pet. |
| Play To Earn | Yes | Earnings based on wins and leaderboard ranking. |
My Defi Pet statics table.
In continuation of our Top NFT Games List, we present you My Defi Pet. MDP combines decentralized finance with a pet lifestyle game where players are challenged to build a farm and level up their pets for battles against other players. MDP, in short, has become a popular game in Asian countries, and everyone is waiting for the play-to-earn mechanics to arrive.
At the moment, battles are in the testing phase, so play-to-earn isn't quite ready, but players can grow food on their farms, breed pets for offspring, collect silver coins and participate infrequent events such as "The Boss Fight."
Pets come in different statics, types, and rarities, and gamers can acquire them either by purchasing eggs directly from the game or through the marketplace.
As per the roadmap My Defi Pet plans to integrate a scholarship system around summer 2022, where pet owners can rent teams to others for profit-sharing.
The native token of My Defi Pet is $DPET, and it's available on KardiaChain and Binance Chain.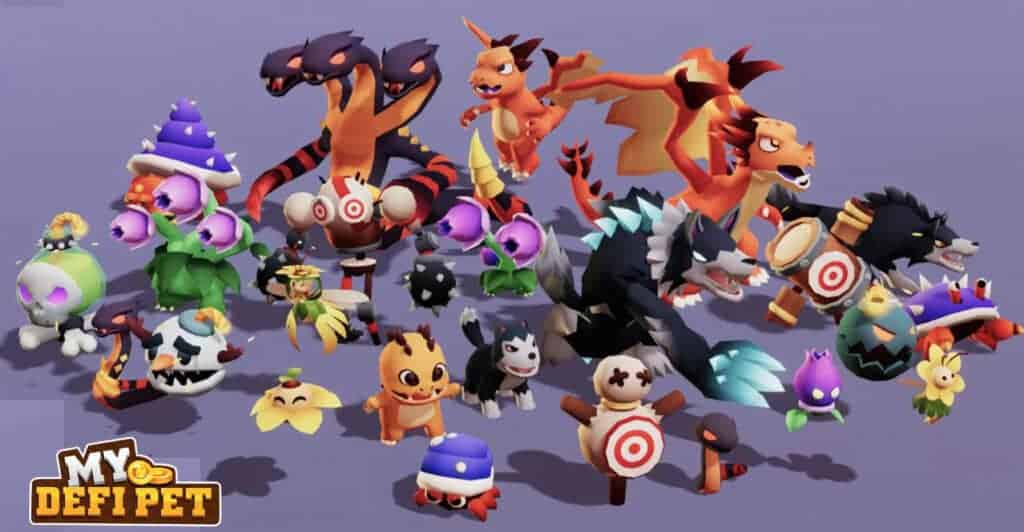 How to Earn Money in My Defi Pet?
Once the play-to-earn arrives, players will compete with each other for the secondary token that hasn't yet been introduced. The token will be distributed to players through wins, leaderboard positions, and various events.
The market is live, and pet owners can buy or sell pets for a profit. Just in any marketplace, some chase opportunities to resell higher while others breed and sell the offspring.
Of course, let's not forget the scholarship system, which will offer passive earnings to breeders and farm owners.
My Defi Pet Final Thoughts & Development Team.
Having a look at the MDP roadmap reveals a delay in development. The game has been in development for over one year, and Topebox, the Vietnamese company, continues to deliver new features with the latest release today to be the Arena testing.
---
Thetan Arena – The Most Popular Play To Earn Game.
| | | |
| --- | --- | --- |
| Genre | MOBA | Brawler & Battle Royale Modes. |
| Device | PC, iOS & Android. | Low Specs. |
| Token | $THG & $THC | Dual-Token Economy. |
| Network | Binance Smart Chain | BSC for the tokens. |
| Status | Released | Playable by anyone. |
| NFT | Yes | Integrated Marketplace. |
| Free To Play | Yes | No initial investment is required. |
| Play To Earn | Yes | Earnings are based on NFT ownership wins, leaderboard ranking, and matches played. |
Thetan Arena Statics Table.
How much does a 2D Moba game take to conquer the blockchain gaming space? With over 21 Million players reported, Thetan Arena is the most popular blockchain game.
The 2D MOBA/Brawler style game has become so popular that even our non-blockchain gamer friends are frequently asking us about this game.
The game is powered by two tokens, the $THC and $THG, both on Binance Chain. There are three hero types with various rarities, tokenized and not. NFT-based heroes earn more than the free ones and come with different benefits.
$THG, Thetan Gem is the primary governance token with a total supply of 420 Million tokens, while $THC is the play-to-earn token with an uncapped supply.
Find below the Thetan Arena hero types:
Tank: High health, Normal Damage, and Slow speed.
Marksman: Low Health, High Damage, High Speed.
Assassin: Normal Health, High Damage, Normal Speed.
The gameplay is based on controlling one champion in the Arena with various modes to play with. The available modes in Thetan Arena are:
Battle Royale: (Solo / Duo) – Classic Battle Royale concept with a ring-shaped closing borderline. Twelve players and 4 minutes per match. The winner is the last to survive.
Tower Siege: The goal is to bring down the opponent's tower by collecting a Battery to summon the Siege Robot. Eight players, five minutes match.
Super Star: Players must look for the "mother" Superstar to generate Point Stars. The team with the most points wins. Eight Players, four minutes match. If the difference is over 50 Point Stars, the game ends automatically.
Deathmatch: FFA Deathmatch mode where the player with the most points, or 25 kills, wins. Eight players and three minutes per match.
Custom Battle: This mode allows players to create their own experiences with custom maps and rulesets.
Overall, Thetan Arena is an enjoyable game to play, with or without rewards. Future updates include Pets, Staking, Guild quests/wars, monthly events, live-ops, and more.
How To Earn Money In Thetan Arena?


Thetan Arena has a complicated, dual-earning system where players can earn money. I will try to explain this in the best possible way.
Playing with a free Hero: Normal heroes earn $gTHC by participating in battles. The token can be used to open premium hero chests or sell in the market. To open a chest, it will take a lot of time to accumulate the necessary $THC, so a big portion of the players use a combination of $gTHC and $THG to get premium heroes.
Playing with a Premium Hero: Premium heroes can earn both $gTHC and $THG by playing battles. In addition, special events offer more earning opportunities while leaderboard placement brings home more crypto. This kind of heroes can be upgraded and sold later for a higher price.
Renting Heroes. (Scholarships): Premium heroes can be rented to other players with a direct peer-to-peer arrangement with rewards sharing.
Keep in mind that there is a daily cap of how many "eligible to earn matches" a hero can play per day and a limit of battles a premium Hero can play in its existence. A hero can't play unlimited play-to-earn battles, at one point, the player must purchase another one. Exact limits can be found in the Thetan Arena whitepaper.
The game also rewards Streamers and ecosystem partners.
Thetan Arena Final Thoughts & Development.
Within one year, Thetan Arena has managed to become the most popular blockchain game, with 22 million players at the time of publishing. The company behind it, Wolffun Game, owns a portfolio of successful mobile games with some featured as Google's Editor Choice and millions of downloads counting.
The game still has a long way to go as the roadmap shows many great gameplay elements to be added in the future. Generally, the player base of Thetan Arena is growing, although a group of players claims there are many bots in the game.
---
Crazy Defense Heroes – Mainstream P2E Mobile Game.
| | | |
| --- | --- | --- |
| Genre | Tower Defense & Strategy | Many Modes Including an Idle One. |
| Device | iOS & Android. (Web upcoming.) | Runs on Every Smartphone. |
| Token | $TOWER | 10 Billion Total Supply. |
| Network | Polygon | Low Fees & Fast Transactions. |
| Status | Released | Playable by anyone. |
| NFT | Yes | Find CDH NFTs on Opensea. |
| Free To Play | Yes | No initial investment is required. |
| Play To Earn | Yes | Earnings based on playing daily, events, and leaderboard. |
Crazy Defense Heroes Stats Table.
Crazy Defense Heroes is a game that needs no introduction. Based on a popular franchise of the behemoth of blockchain gaming, Animoca Brands, it boasts over 2 million downloads and a massive community of loyal players. This Tower Defense game was a regular game (non-crypto) before integrating a play-to-earn economy and Non-Fungible tokens.
Gameplay-wise, Crazy Defense Heroes requires players to defend their tower through a series of stages using in-game cards and various power-ups. Players can choose a specific playstyle that varies per strategy with bombs, arrows, slow-down skills, and many more.
Every player starts with a set of cards (weapons and equipment) to use in battles, cards can be upgraded for more power, and the more someone plays, the more the rewards are.
In addition, the Gameplay contains daily quests based on the player's level. The higher the level, the more quests to unlock and complete.
Moreover, Crazy Defense Heroes has an idle gameplay element called "Missions." Every mission needs some cards and lasts for a couple of hours. Completing a mission is not guaranteed, so players must use enough cards to ensure over 90% completion rate. Missions are reset every four days.
The best thing is that CDH is Free-To-Play and doesn't require any initial investment upfront. That way, if a player want's to buy an NFT in the game can do the math first while having experienced the game and its earning potential.
As a mobile game, there are no fancy graphics but expect nice Gameplay. Crazy Defense Heroes can even run on old smartphones smoothly.
Lastly, the game features a clan system that rewards players' contributions with a daily chest.
Pro tip: If you don't want to play on mobile, you can install an Android Emulator like NOX or Bluestacks on your computer.
The company has announced that it's working on creating a web-based version and a sequel game Crazy King. All games use the TOWER Token.
TOWER Token & The Potential Ecosystem Of Games.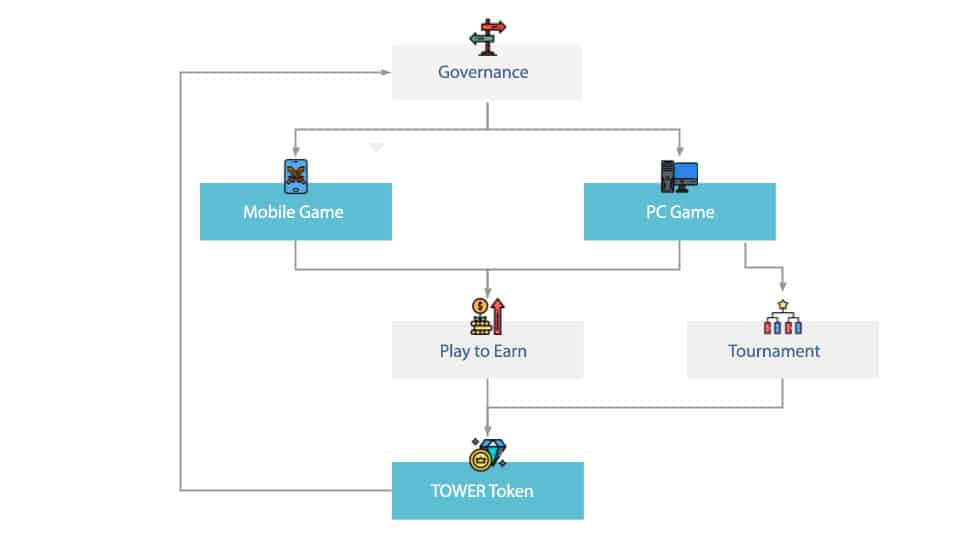 Crazy Defense Heroes uses the ERC-20 (Ethereum-based) Token called TOWN. It exists on Polygon Network, which offers fast and cheap transactions with a total supply of 10 Billion TOWN Tokens. At the moment of writing, only 2% of the supply is in circulation (released.)
TOWER Tokens can be earned while playing, and traded on centralized and decentralized exchanges. Crazy Defense Heroes offer the ability to swap ETH and USD for TOWN through the official website.
Regarding the longevity of TOWER Token, the developers have previously stated that if everything goes well, we will see more games adopted. So if the play-to-earn experiment succeeds, Animoca Brands will bring onboard more games to use the TOWER Token, thus creating an ecosystem of games.
NFT Gamers have to understand that everything in this space is experimental, and nothing is guaranteed.
How To Make Money in Crazy Defense Heroes?
Based on official information, in February, the TOWER Rewards Pool will distribute 1,200,000 TOWER Tokens to the players.
Every day, players can open a "Star Chest," which is granted after gaining 16 stars. Each battle rewards one to three stars based on the performance. Opening Star Chests on a daily basis unlock more rewards.
Important: After opening a Star Chest in the game, players must visit the official website and complete a calendar check-in within the same day (UTC zone) to get the reward. Login with Metamask connected on Polygon Network.
Important 2: Chests reset every 24 hours in the UTC zone, but Star Chests can be open every 16 hours. DO NOT open two chests on the same day because the second reward will be forfeit. Make sure to find out the exact time of Chests reset in your time zone.
Besides the Star Chests, Crazy Defense Heroes reward players with in-game assets, XP points, and other things through chests on a daily and hourly basis.
There are also frequent events taking place where players can earn TOWER Tokens.
---
Skyweaver – Fresh TCG From Another Dimension.
| | | |
| --- | --- | --- |
| Genre | Trading Card Game. | Strong Strategy Elements. |
| Device | PC, Mac, Linux iOS & Android. | Cross Platform. |
| Token | No | Using $USDC. |
| Network | Polygon | Low Fees & Fast Transactions. |
| Status | Beta | Playable by anyone. |
| NFT | Yes | In-Game Marketplace & OpenSea. |
| Free To Play | Yes | No initial investment is required. |
| Play To Earn | Yes (Only NFTs) | The TOP 250 on Leadearboard get NFT Cards every week. |
Skyweaver TCG Stats Table.
One of the most anticipated NFT card games, Skyweaver, launched the public beta version in February of 2022, and everyone can enjoy this tremendous free-to-play game.
Skyweaver is very friendly to new players with a complete tutorial from zero to one hundred. Rewards start coming in from the first tutorial battle, and in the second match, level two is unlocked along with a new hero. There are 500 cards in total now, with more to be added in the future.
In Skyweaver, players choose a hero who must stay alive with the end goal to destroy the opponent's Hero using all the available cards on the deck. Each Hero gets unlocked by leveling up and have specific powers that come down to the following Prisms:
Strenght.
Agility.
Wisdom.
Heart.
Intellect.
Some Heroes combine two Prisms while others belong to just one. Every deck is based on a specific Hero, with 15 of them available. The option to "import from deck string" allows players to import (copy) a deck provided by others easily.
The game features cool gameplay elements such as lifesteal, extra armor, and other things we typically find in trading card games.
There are four available modes available to play with:
Ranked Matches: Climb the ladder.
Conquest. Note: Players need to reach Apprentice rank in Ranked Matches first.
Practice. Play against bots.
Private: Play against friends.
Tutorial: Learn the basics and some tips.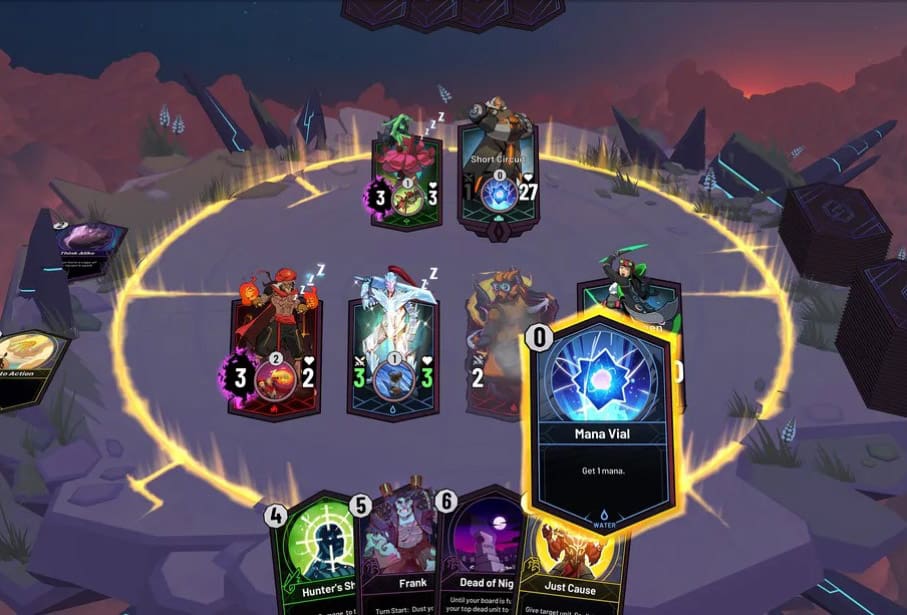 As an NFT Game, Skyweaver has its Marketplace with in-game cards sold by other players. Keep in mind that not all cards are tokenized. For example, you can't sell the starting deck or some of the cards you earn while playing (Base Cards.) Only the NFT cards can be traded between players.
Cards come in three Grades, and they belong to a specific Prism, Trait, and Element. NFT cards have a fixed amount of copies minted. This information can be found on the Marketplace.
The Skyweaver card Grades are:
There is two type of cards:
Units: Regular cards that can fight and defend.
Spells: Cards that add unique one-time power-ups such as summon, damage, heal, and more.
How Much Does Skyweaver NFT Cards Cost?
Silver cards in the marketplace cost as low as $1.70, with the price for Gold cards starting from $20 and going all the way up to a few hundred bucks. Skyweaver gives us the feeling that it's an affordable game to play compared to other NFT Games. Since the game doesn't have a native token, all transactions use USDC on the Polygon network.
Of course, the game is free-to-play, and buying cards is optional. Skyweaver reward player with cards as they play. Purchasing a card from the Marketplace makes sense when optimizing a deck and providing that extra boost.
Please note that prices frequently change, visit the Skyweaver in-game marketplace to find out yourself.
How To Make Money In Skyweaver?
Since there is no native token on Skyweaver, players collect cards through playing battles later to sell to the Marketplace.
Here are the ways to earn by playing Skyweaver:
Ranked Discovery: Play with random cards and win silver cards every week based on the leaderboard position. The top 250 players are rewarded.
Ranked Constructed: Play ranked games with a preconstructed deck to win cards based on the leaderboard position. Again, the top 250 are getting rewarded.
Conquest: A lucrative game mode that requires to pay $1,5USDC to join or 1 Silver Card. Losing a game eliminates the player while winning the first match rewards with 1 Silver card, 2 wins = 2 Silver Cards and 3 wins = 1 Gold & 2 Silver cards. In Conquest mode, winning the first game breaks even the entry price.
Final Notes & Development Company.
Skyweaver has a plethora of structural aspects, with players taking advantage of them and developing complex strategies. The community is overwhelming with many players, and we have to say open beta was a great success. With many development updates to come, Skyweaver is a game to keep an eye on.
The project is under development by Horizon Blockchain Games. With team members worldwide, Horizon is one of the first companies to tap into Blockchain gaming. Some of the team members have a strong background, working for IBM and others. The company, besides Skyweaver, has also developed Sequence App, a web3 wallet.
---
Space Misfits – Play and Earn Sandbox Game.
| | | |
| --- | --- | --- |
| Genre | MMORPG | Mining, Strategy & More, |
| Device | PC | Low-Poly Graphics. |
| Token | SMCW | Listed on Huobi Global. |
| Network | Jumpnet (Enjin) | Efinity Migration pending. |
| Status | Early Access | Playable by anyone. |
| NFT | Yes | In-Game Marketplace & EnjinX. |
| Free To Play | Yes | No initial investment is required. |
| Play To Earn | It's Play and Earn. | Game first, earnings second. |
Space Misfits Stats Table.
Space Misfits deserver a spot in our Top NFT Games List because of its unique approach to tokenomics. This space-themed MMORPG game is in development since the early days of Enjin's ecosystem. With a strong community and impressive roadmap, SM is available to play in early access.
It started as a small space game but is now evolving into a fully-fledge massive multiplayer online game with many gameplay elements and increased opportunities.
The essential gameplay element is building your fleet, exploring the vast world, fighting for tokenized resources, and expanding your empire.
The current state of SM features a PVE version of the game where players can embark on exploration, fight NPCs, build and repair ships while mining asteroids.
Space Misfits Gameplay
Through a series of gameplay mechanics, players can choose a specific play style that will better match their characters and create a role-play ecosystem of necessary different skills. In its final phase, Space Misfits will offer the following mechanics:
Space Flight and Dog Fighting.
PVE & PVP.
Building Fleet and Crafting.
Fleet, Jobs, and crew Management with Resources planning.
Planets, Stations, and Large Ships to own and explore.
Minerals Mining.
First Person Shooter Mode.
P2P Marketplace.
NFT In-Game Items & Blueprints.
Alliance Creation and Management.
Everyone starts alone and works towards bigger power and influence. Some gameplay mechanics require in-game assets. For example, mining resources on asteroids need the appropriate tools that can be earned or bought from the marketplace.
As an Enjin-based game, players must download the Enjin Wallet app on their smartphones and complete the linking process upon joining the game.
Is Space Misfits F2P & P2E?
SM is free-to-play and will remain that way. While everyone can download the game and start playing without spending anything, players might want to purchase blueprints and other assets that will help expand faster.
It's worth mentioning Space Misfits is a Play and Earn, not Play to Earn. While both expressions are similar, play and Earn describe a model which puts the gameplay first, rather than the financial aspect. The philosophy here is simple, build a fun game that gamers love to play and allow them to earn something for their time and skills in return, but not focus entirely in earnings as we usually see in play-to-earn games.
In a nutshell, Space Misfits can be described as Play to Earn since players can earn by playing, but the correct expression is Play and Earn.
How To Earn In Space Misfits.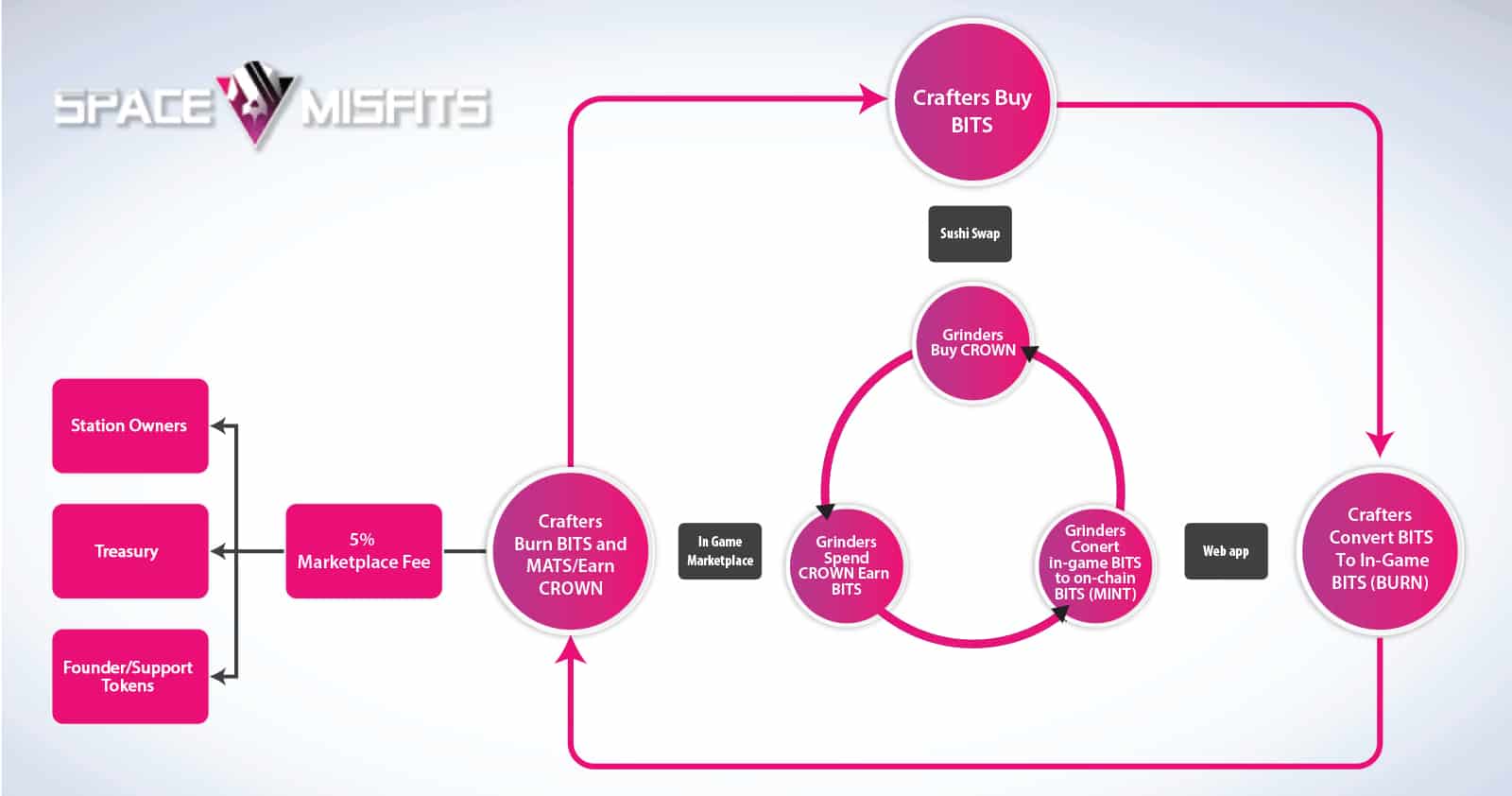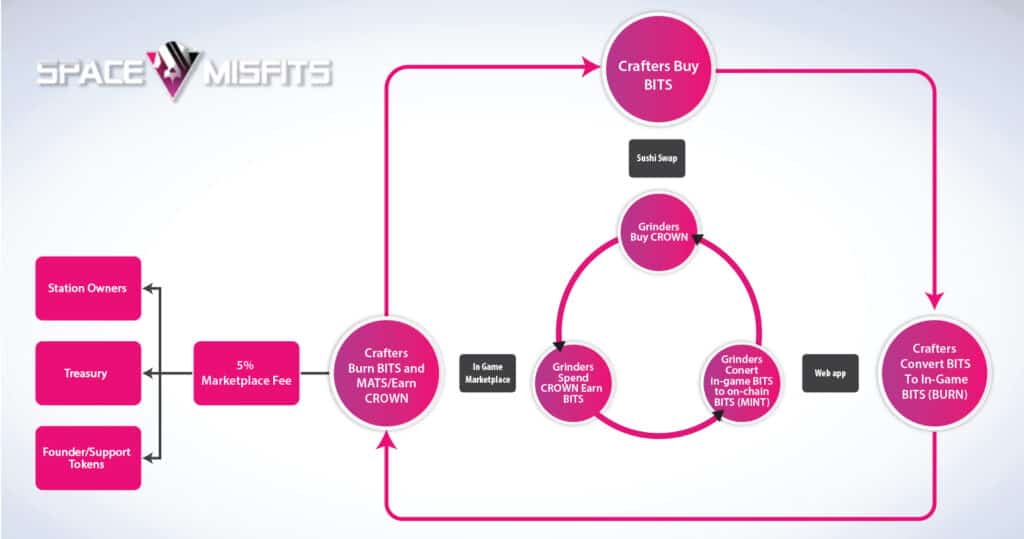 BITS: The "play-to-earn" token of SM. Players can earn BITS by performing various tasks in the game and has multiple burn mechanics such as gas refuel for jets, storing and repairing assets. Earning BITS is based heavily on player skills and resources management. At the moment of writing, BITS is not yet tokenized.
CROWN (SMCW): The primary governance token built to use alongside the Space Misfits DAO. CROWN will also act as the premium in-game currency and extend its utility as the marketplace token.
Players: Eventually, the economic model of Space Misfits will allow everyone to play for free and start grinding. By performing tasks, players are rewarded with BITS that can be later sold in the marketplace or invest back in the game to progress and obtain more power. It's only normal to think that the game will require players to burn BITS for a handful of actions and ownership of some necessary blueprints, always depending on the play style.
Crafters: Users who own NFT blueprints can craft and supply the players with their creations. Many in-game assets can be crafted by the players, and a profit to be made.
Space Misfits is working towards a circular economy. As we read in the SM whitepaper, "Mint to burn ratios for BITS will be tightly controlled, and dynamic crafting models may be employed to ensure stability in all markets".
Final Notes For Space Misfits.
Here at eGamers.io, we have been following Space Misfits since the Enjin Ecosystem was introduced. The game has made a lot of progress so far, with development updates being delivered in batches. The game offers some good game mechanics, and future updates promise a complete experience.
SM focuses on the gameplay rather than creating a game where players will only play to make money is a nice thing. We need fun games, and the majority lack gameplay. It's good to see a game not focusing primarily on the economy.
Space Misfits will become an MMORPG/Metaverse Game with future updates. Players can try the Early Access version and play in frequent tournaments.
---
Decentraland – The Metaverse King.
| | | |
| --- | --- | --- |
| Genre | Metaverse | Open World |
| Device | Web | Support any modern browser. |
| Token | Yes. $MANA. | ERC-20 Token. |
| Network | Ethereum & Polygon | NFTs on Ethereum. |
| Status | Released | Huge Updates Planed. |
| NFT | Yes | Land & Wearables |
| Free To Play | Yes | No initial investment is required. |
| Play To Earn | Yes | Depended on community creations. |
Decentraland Stats Table.
When we talk about the Metaverse, Decentraland comes to our mind as the first virtual world on the blockchain that paved the way for the rest to follow. Initially released as 2D and founded in 2015, the popular project quickly adapted and evolved into a 3D virtual world which has attracted over $25 million in investments, according to CrunchBase.
When Decentraland was gaining momentum in 2018, most people weren't calling it a Metaverse but a virtual world. The idea of the Metaverse wasn't fully developed in our minds and with the entrance of similar projects in the market, the "Metaverse" has started to take shape.
The project's governance takes place through the native token $MANA, which enjoyed insane gains when the world went wild for Metaverse projects after Facebook rebranded to Meta. On October 28th, 2021, $MANA went parabolic from $0.81, reaching an all-time high of $5.47 in almost a month.
What Can I Do In Decentraland?
Gameplay-wise, Decentraland as a metaverse relies on its community and builders. Without them, nothing would be possible. There are dozens of use-cases besides gaming, such as ART exhibitions, conference centers, and everything you can think of. It's a digital society, a simulation of our world, what people can do in real life, there is a high chance they can do it in Decentraland too.
The Gaming aspect of Decentraland contains multiple indie games made with love by charismatic developers and designers. Some of these games have their own token to create a rewarding economy for their players, while others offer NFTs as rewards. Users can play games varying in genres like football, kart racing, mini-games, and many more.
Some games are free to play, while others require wager or own a limited edition NFT to participate.
One prime example of community-made projects is Decentral Games with its ICE Poker game. Players must own at least one NFT from the poker collection to play located in Decentral's metaverse casino! Users play with in-game chips and get rewarded with ICE Token. While players bet with fake chips and don't use actual crypto, the cheapest NFT on Opensea when writing this article costs around 2 ETH. Not everyone can spend 2 ETH, so there is a scholarship program for about 70/30 in favor of the scholars. Players have to complete three daily quests, and based on the chips raised daily the ICE reward multiplier increases.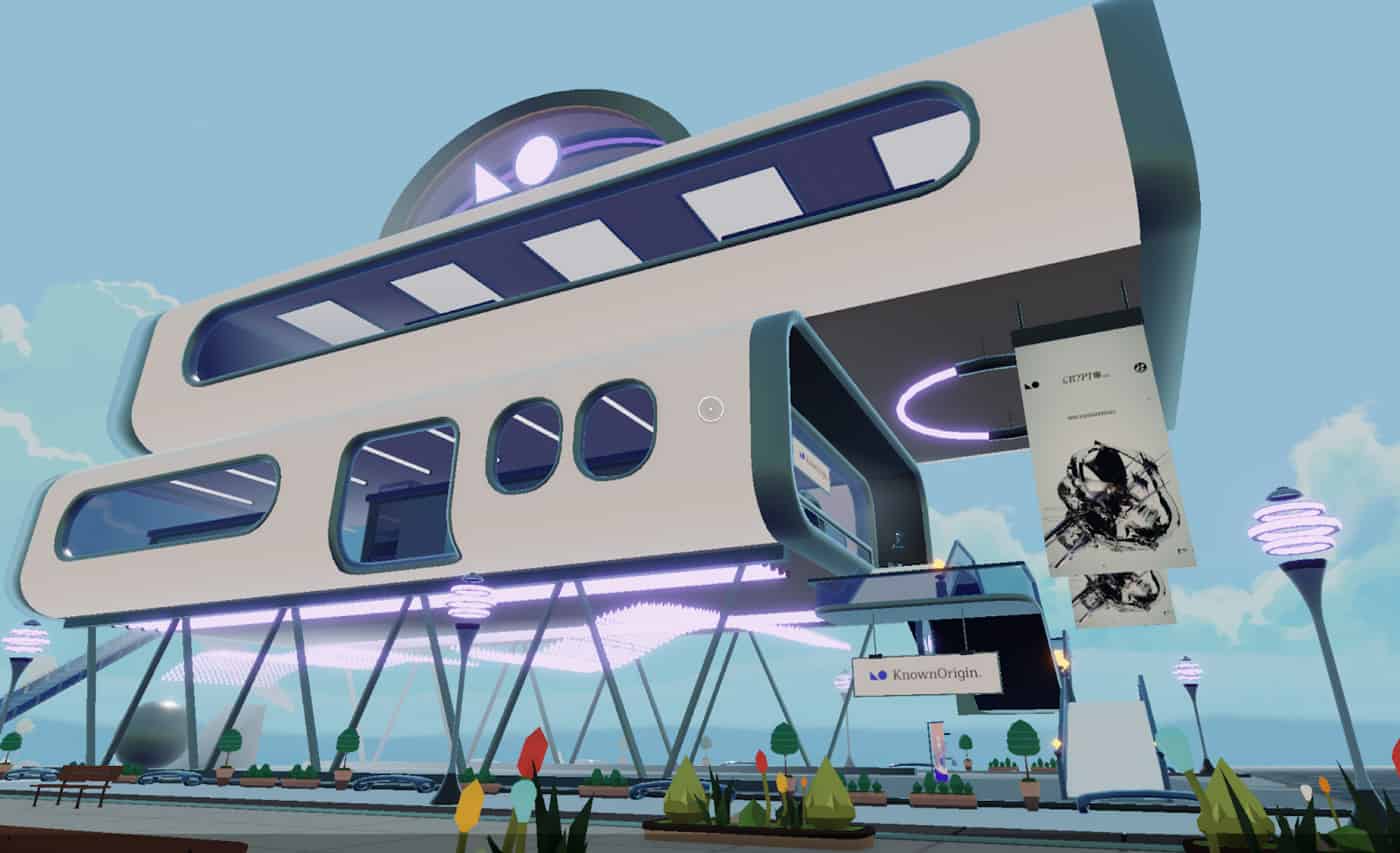 Decentraland Fashion Street? Yes, That Exists!
The first-ever Metaverse Virtual Fashion Week (MVFW) will took place on March 24 and 27 in Decentraland, with notable luxury and sports brands participating. Users were able to buy virtual and physical products from their favorite brands in a one-of-a-kind event.
Recently, token.com acquired multiple land parcels in the "Fashion District" for the whopping amount of $2.4M. Users, companies, and investors bet big on the Metaverse with Decentraland to be on the forefront.
Last year, a four-day music festival took place with 80 artists performing, including Deadmau5, attracting over 40,000 users.
Decentraland LAND NFTs & Wearables.
With 90,601 land plots in total, the vast world of Decentraland has become real estate agents' favorite place. Each land plot is an ERC-721 NFT on the Ethereum blockchain and owned by the community.
Land prices have been appreciated a lot in the past years, with the floor price on Opensea reaching 4.4 ETH. Each land plot has specific coordinates so players can navigate easily.
Landowners can monetize through games and business development. Some owners also lend their land to others.
Decentraland is one of the very first projects that allowed creators to issue wearables. The player's avatar wears the cosmetic items, and there is a vast collection to choose from, including known brands.
How To Make Money In Decentraland?
There are many ways to make money in Decentraland since everything is based on the community-made content and the connections people make. Innovating and creating valuable experiences/assets is the key to success.
Players can work in casinos, Art Galleries, and other privately owned projects for a monthly salary.
There are various games available to play and get rewarded.
Real Estate is a thing in Decentraland. Users flip land plots for a profit.
Create gaming experiences and gain from monetizing them.
Design and create in-game wearables.
Host events, tournaments, and conferences.
Become a guide and offer tours or other services.
It's a virtual world, a clone of our society. Making friends provides various financial opportunities.
Final Thoughts on Decentraland.
With funds in place and the development team ready, Decentraland has the momentum and the community to aim high. The SDK and the web builder allow everyone to develop experiences, sceneries, and wearables. Future updates include Virtual Reality implementation and other exciting things.
Decentraland is like Bitcoin, it's the first of its kind, and people perceive it as the leading Metaverse. Even if the competition heats up,
---
Arc8 and the G-Bots Universe of Games.
| | | |
| --- | --- | --- |
| Genre | Mobile Games | Skill-based. |
| Device | Android | Support any modern browser. |
| Token | Yes. GMEE | ERC-20 Token. |
| Network | Ethereum & Polygon | NFTs on Polygon. |
| Status | Released | – |
| NFT | Yes | G-Bots |
| Free To Play | Wagering system. | Require GMEE Tokens to Wager |
| Play To Earn | Yes | Pay-to-play |
Decentraland Stats Table.
Arc8 is an e-sports mobile gaming app and the G-Bots NFT collection home. Part of the GAMEE ecosystem and backed by Animoca Brands, Arc8 is great for competitive and casual gaming with various games in different genres.
Arc8 rewards players daily with in-game points used for practice matches, and $GMEE tokens are required to play against others. Besides the wagering system, Arc8 is posed to be the go-to place for G-Bot owners.
The app is relatively new, and it's well polished with straight and easy-to-use UI. It's worth mentioning that Arc8 has received over $4.2M in investments, including $1.5M from Binance.
Arc8 Games & Gameplay.
Arc8 currently contains 12 games and gets updated regularly with new content. At a point, it's expected to reach up to 50 games with multiplayer functionalities.
The graphics are good, I would say elegant, with a modern tone across all games. The app will probably run smoothly even on older smartphones.
Match-making is ranked based. That way, Arc8 ensures a fair system where pros play with pros and noobs with noobs.
The games are simple yet enjoyable to play with a time limit in terms of mechanics. The goal is always to score the highest possible within the time frame.
The Arc8 games are:
Asteroids: The classic Atari game. Destroy asteroids and collect superpowers.
Pirate Solitaire: The known card game.
Solitaire Star: A different version of the card game.
Wizard's 21: Combine cards until 21.
99 Blocks: A blocks building game similar to Tetris with matching colors.
Samurai Hold'em: Match pair of cards to score.
Hexonix: Similar to 99 Blocks but on a hexagon.
Tube Runner: Fly a spaceship into a tube and avoid the obstacles.
Pixel Dungeon: Drive a cube to victory through a tricky map.
Globo Run: A fun running ball game with various obstacles.
Marble Dash: Similar to Globo Run but with a different map and design.
Sky Lords: A G-Bots exclusive game.
G-Bots is a collection of breedable NFT robots with GAMEE building a Metaverse on them.
How to Earn Money in Arc8?
Since all ranked games require to place a small bet of 0.1 $GMEE, I strongly suggest playing practice matches first until becoming comfortable with the mechanics. For each game, players must complete seven qualifying matches, determining the rank such as Bronze, Gold, etc. Once ranked, the system rewards the user with 0.1 $GMEE.
Win against other players to earn the bet of $GMEE, minus a 20% platform fee.
Participate in daily paid or free tournaments with $GMEE rewards.
Collect Season rewards based on leaderboard position. Each rank has its own leaderboard and the season lasts for two months.
In the future, G-Bot owners will be able to breed them and perform various earning activities with them.
Thank you for reading our Top NFT Games list. We wish happy gaming with good returns!
NFT Games Frequently Asked Questions:
👉 New or not to NFT Gaming, read the following Questions and answers. You will earn valuable knowledge to understand the NFT Gaming scene better and avoid common mistakes.
What are NFT Games?
With the term NFT Games, we describe a video game category that uses NFTs (Non-Fungible Tokens) to provide complete ownership of in-game assets over to players. An NFT is a unique piece of tokenized digital ownership that can be safely stored in the player's cryptocurrency wallet and exists on a blockchain. Every in-game asset, such as swords, potions, etc., can be NFTs.
One great advantage of the NFTs is that owners can use NFT Marketplaces to trade them. This creates a revolutionary concept in the gaming industry where trading in-game assets for money is forbidden and results in an account ban.
What is Play to Earn?
Play To Earn is the way of earning by playing crypto-based games. Meaning that while playing, you earn cryptocurrencies and in-game items in the form of NFTs that you can later sell to other players using legitimate secondary markets. Both Cryptocurrencies and NFTs (In-Game Items) are securely stored into your cryptocurrency wallet; think of it as your universal inventory. Here at eGamers.io, we believe the concept of Play to Earn can significantly impact the financial evolution of our society and become the primary model for new games.
FYI: NFT Games are also referred to as Blockchain Games, Play to Earn Games, P2E Games, Crypto Games, and less frequently, Web3 Games. There is also a different category called "GamiFi" these are decentralized finance projects that replicate a gaming experience on-chain, but they are not actual games.
A Quick Introduction to NFT Games.
In 2021 we had colossal companies like Ubisoft launching NFTs and other studios like Electronic Arts showing a high interest in NFT Games and the Metaverse. At the same time, world-known VC Funds, including a16Z, invest in Play To Earn Games and Gaming Guilds that utilize scholarship systems.
NFT Games operate using one or more Blockchains (Platforms/Networks), with the congested Ethereum continuing to lead the space through its Layer 2 solutions (sidechains) like Polygon Network. Sidechains take the heavy load by offering fast and cheap transactions necessary for operating games and trading between players.
Besides Ethereum, many other platforms support NFT Games like WAX, Immutable X, Binance Chain, Phantasma Chain, Forte, and the upcoming Efinity and GalaChain.
Are NFT Games a Scam?
NFT Games are not a scam. Although they are not perfect either, the industry is very new and developers are experimenting with new economic models that haven't been tested before. There are valid arguments that NFT Games are superior to traditional games, and a series of reasons to avoid most of them. I will address the negative side below.
We are still very early in NFT Gaming, some promising games are under development, and an increasing number of big gaming studios, with one way or the other, have already joined the industry. Ubisoft specifically has been flirting with Blockchain Gaming for years through its Entrepreneur Labs program and recently released a set of in-Game NFTs for Ghost Reckon while joining the Sandbox Metaverse and being a gold sponsor of the Blockchain Game Alliance along with AMD and Gameloft!
Think about it a moment, Ubisoft is in, Atari, Square Enix, Zynga, even Electronic Arts expressed its intention to integrate NFTs into FIFA. Major fashion brands are joining the Metaverse. These companies wouldn't join a scam and damage their reputation. 
While we are very optimistic for NFT Gaming, we recognize that the industry will need a couple of years to mature. Not everything is perfect. Many games have a hard time balancing their economies and facing the inevitable destruction, which leads to value loss for the players.
Generally, the industry experience so much growth that everyone want's to make an NFT Game. This results in a wave of low-quality games and many scam projects (crypto!) that will try to get your money through NFT and token pre-sales to "fund the game development."
NFT and Token Presales is common tactic used in NFT Gaming. Developers sell upfront in-game assets and raise money for development. Some games are even selling assets in very early development stages, and players have to wait for years.
Unfortunately, many gamers spend money in scam "games", the scammers rug-pull (sell everything), and users/investors are left with worthless tokens within a matter of minutes. Victims usually do not research the game before investing and haven't spent the necessary time and effort to educate themselves. Crypto is full of scams, and it's only normal to see the same in crypto games.
Any Blockchain Gamer who uses common sense and always researches the project and its team history before investing can spot 99% of the scams and avoid them.
You can join our Discord server and check out the #safety-advices channel for some great safety tips.
We suggest to inexperienced players to start with Free To Play NFT Games. We have listed quite a few in this Top NFT Games list.
The second and most important advice we can give is to get educated by reading articles, researching, and participating in NFT Gaming communities such as ours. There is plenty of information on the internet to look for. Read articles and blogs, watch videos on Youtube, and don't FOMO (Fear Of Missing Out). It's better to miss out rather than join a project you don't understand. Another opportunity will arrive tomorrow.
Being in the NFT Games space since 2018, one important observation we can point out is that the economic cycle of the games is negligible. Games with poor economics fail in a blink of an eye while others struggle to survive. Don't expect to make money from games with no players.
A typical scenario in some games when launching or sharing "big news" is to see the token and NFT prices increasing for a period ranging from days to months. Players and crypto investors get excited, FOMO kicks in and they buy the token (and NFTs), causing the price to pump hard, but only to see it afterward coming down even harder and staying there for a long time, until and if, news and updates increase the price again.
Everyone can understand that it's essential to join solid games, with developers capable of delivering quality games and the best possible tokenomics design.
We are not saying that every project will fail or it's a scam, but so far, we have yet to see a stable economy in any of the NFT Games we have tried, with some doing better than others. Also, let's not forget that games don't last forever. People lose interest over time, and since NFT Gaming has just a handful of "Triple-A" titles, players tend to leave fast.
We believe this information is vital to know. Accept that there is a significant risk of losing your investment. We see this happening every day. Investing in NFT Games is risky, and you should never spend more than you can afford to lose or for what you would typically pay for a video game.
Players should always have an exit strategy in games, just like Cryptocurrencies.
With that being said, I hope newcomers will be cautious and spend time learning and educating. Many blockchain gamers made serious money through NFT Games, and others make enough to pay their bills and make a living out of it. Once again, knowledge is the key, and it's free.
Can You Make Money Playing NFT Games?
Yes, you can make money playing NFT Games since these games have a real economy. Playing and participating in various in-game activities will reward you with in-game items in the form of NFTs that can be later sold to other players.
Moreover, gamers earn each game's native cryptocurrency token, which can be exchanged for other crypto or FIAT currencies and withdrawn to the owner's bank account in any local currency.
The good thing with NFT Games is that everyone can make money using common sense, unlike regular games where only streamers, YouTubers, and pro players are paid.
Keep in mind that Cryptocurrencies are taxable by all countries. If you are unsure, seek information from your accountant.
What is a Gaming Guild?
A Gaming Guild is a community of gamers who play and invest in Play To Earn games. Guilds are becoming massive organizations that can drive a mind-blowing number of players to NFT Games and help its members earn a living through gaming, by providing scholarships and lending them in-game assets. Many known Gaming Guilds have raised millions of dollars from VC Funds to expand their reach and operations.
2022 is the year of the Blockchain Gaming Guilds. Usually, Guild owners set up a DAO (Decentralized Autonomous Organization) for the governance and use Discord. They create a community of players who grind from game to game.
Guilds usually join private or public investment rounds (Pre-Sales/ NFT Sales) in upcoming games and receive in-game NFTs for their members along with the crypto token of each game. Today, there are Guilds with thousands and even hundreds of thousands of players capable of making a game trending and popular by providing in-game assets to their players.
The number of investments Gaming Guilds are receiving is astonishing, I am talking about millions of dollars invested by popular Funds who see the Potentials of Blockchain Gaming.
Managing a Play To Earn Guild, depending on its size, requires a respectable amount of trusted people to take on different necessary roles and, obviously, a lot of money, as NFT games tend to be expensive. There is a lot of work to do for a Guild every day, including community management, players training, and most importantly, the payout of the members, which in many games is done manually by the owners or trusted associates.
There are many projects in development working to offer automated Guild management solutions, including automated payouts which is extremely important and time-consuming. One of these projects is BlockchainSpace which promises to provide a variety of automation tools for Guild management and credit loans to fund new game investments.
Nowadays, many upcoming titles are betting on the Scholarship system and actively looking for Gaming Guilds to raise money and offer in exchange for NFTs. As we said, 2022 will be the year of P2E Guilds.
Are There any Popular Gaming Guilds?
The answer is more than you can imagine. Thousands of Guilds and managers are willing to provide you with in-game assets. There is a high demand for in-game NFTs, and this will continue for a long time as more and more people from emerging countries join the Play-To-Earn ecosystem.
The first and most popular Gaming Guild is Yield Guild Games which started by offering Scholarships in Axie Infinity and now counts hundreds of thousands of members grinding in various games. YGG has received millions of dollars in investments from multiple Funds, including A16z. 
YGG, in short, uses a DAO for its governance allowing members to vote on which games they should focus next and other topics. The Guild is a major investor in multiple play-to-earn games with a scholarship model and recently announced its SubDAO, YGGSEA, which will focus on onboarding gamers from Southeast Asia countries. They also have the $YGG Token, which is very popular in the NFT Gaming community.
Here's something you should know. Due to Axie Infinity, Philippine citizens of all ages were the first to join NFT Gaming and the Metaverse massively. YGG, Axie Infinity, and other Guilds, including our own eGamers.io Guild, managed to improve the quality of life for their members as the earnings from Axie Infinity at a point were more than the basic salary in the Philippines.
Gaming Guilds count members worldwide and are spreading like Corona virus, especially in emerging markets.
Guilds are game-changers. They offer new opportunities to those in need and allow them to create wealth using just a smartphone/PC and an internet connection.
What is a Scholarship?
In a nutshell, a scholarship is when players rent expensive in-game items in play-to-earn games from other players and split the profits earned. With NFT Games getting more expensive, many players seek for scholarships since they can't afford the buy-in.
A Scholarship Example: To play the X game, you need to buy a specific NFT, let's say a champion. You can't afford to buy one because it costs $5,000 each. A guild lends you a champion to play, and then you split the profits. There are many scholar examples who bought their own NFTs by raising money through scholarship programs.
Axie Infinity first introduced scholarships in its most basic version, and since then, a vast number of games have adopted and evolved the Scholarship model.
Today, projects are automating the scholarship process and all the aspects of Guild Management, which requires multiple trusted persons and a lot of hours.
Is There a Free NFT Game?
There are many Free-to-play NFT Games, with some of them having thousands of players.
Every day, we see more and more NFT Games adopting the free-to-play model. So, in a nutshell, some NFT Games are both free-to-play and play-to-earn.
Some games utilize NFTs only for cosmetics, so players can't buy any in-game advantage, while there are also free-to-play games that will require purchasing some in-game NFTs to progress in later stages.
Are There any Good NFT Games?
Even though NFT Gaming is relevantly new, and solid games need years to develop, there are some quality NFT Games that you can play right now and have fun. It's time to find out some good NFT Games to play! All titles are released or in beta, and you can start your play-to-earn journey right away.
Stay always up to date:
📰 Don't Miss a thing: Join the News-Telegram Channel or The Discussion Group.
🐥In Your Feed: Follow us on Twitter, Facebook & Instagram.
📺 Let's Watch: Youtube Subscribe & Chill.
🎙️Useful Channels: NFT Giveaway Channel & Early Adopter Opportunities Channel.
🕹️Gaming Guild & Scholarships: Join our Discord.
📫Saturday Mail Recap: Subscribe for the Blockchain Gaming Digest.
Disclaimer:
We use affiliate links when possible. At no cost to you, we may earn some crypto or nfts.
While we strive for the accuracy of the content, we provide it "as-is." We take no responsibility for any actions or results. We write about games, treat them as games. We don't give investment advices. Always do your own, extensive research.