Keytakes:
Vulcan Forged announced the creation of the Elysium blockchain.
Elysium will be EVM compatible and it's dubbed as "the Blockchain for Metaverses."
VulcanVerse Land owners can become nodes and validators with an extensive range of rewards.
Elysium could begin its journey with 2,500 transactions per second and low $Lava token fees.
During the VulCon conference earlier this week in Holland, the team of Vulcan Forged dropped a bomb by announcing Elysium, the upcoming POS (proof-of-stake) blockchain that will empower its ecosystem.
The Vulcan community welcomed with excitement the news of Elysium as it marks a significant milestone for the evergrowing gaming-oriented platform that shows no signs of slowing down.
To the question of why VF is building its own Blockchain and not just staying on Polygon/Vechain, the answer is simple. Vulcan Forged has massive plans, all of them have to do with the Metaverse(s), there should be a platform build specifically to host the evolution of humanity.
Egamers.io reached out to Mr. Jamie Thomson, CEO of the VulcanForged ecosystem and asked about the Elysium blockchain. Mr. Thomson said:
"We're using substrate to mix and match the best of EVM chains like Polygon to build a superior, more or less, product, so we don't have to face issues when trying to work with incoherent consensus protocol." Mr. Thomson continued: "The transactions per second and block finality aren't affecting decentralization in the least bit, however we will be initially working with 5 internal validator nodes first and then opening validator spots to the community"
Elysium: Build For The Metaverses.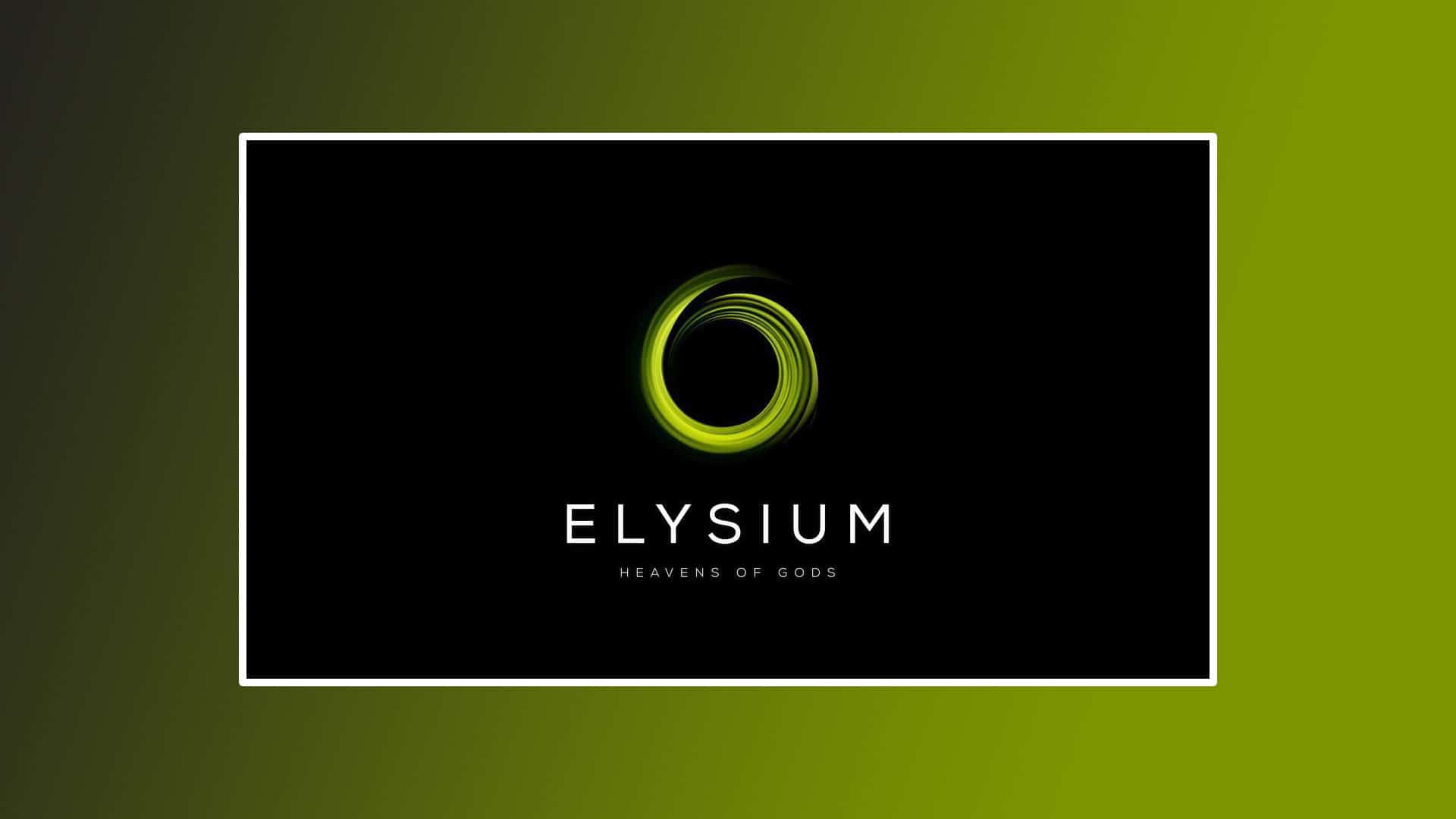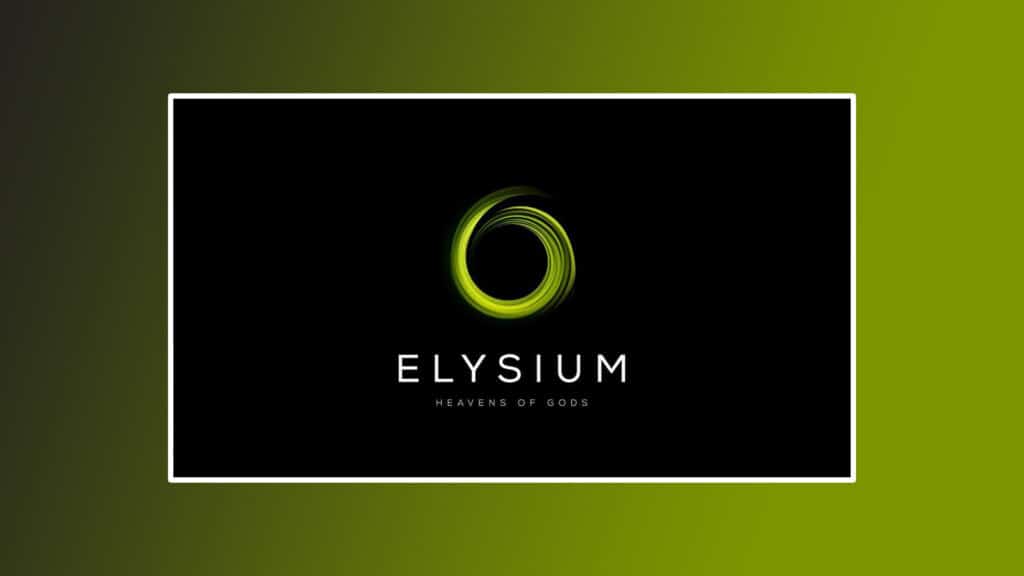 Dubbed as the blockchain for the Metaverses, Elysium will be able to host games and dapps. With its fast transaction speeds, low fees, and the growing number of projects joining the VF ecosystem, Elysium will get populated quickly.
The main token of the blockchain will be $PYR while $LAVA will be used as the Gas Fee. Transaction fees will be really low.
The native NFT creator of VF will support all projects that need an easy and advanced tool to create their assets. With the Elysium, new opportunities arrive with item-sharing across games, the known concept of Multiverse.
Elysium games could create different variations of Metaverses with assets sharing. Imagine owning a sword in VulcanVerse and being able to play another 100 games with that sword. Not a new concept, but exciting and catchy nevertheless.
My point is, with the digitization of society, we are all heading into virtual worlds and Metaverses. The Vulcan Forged team has realized this, so they are creating the tools of tomorrow, which will host billions of dollars and people's dreams.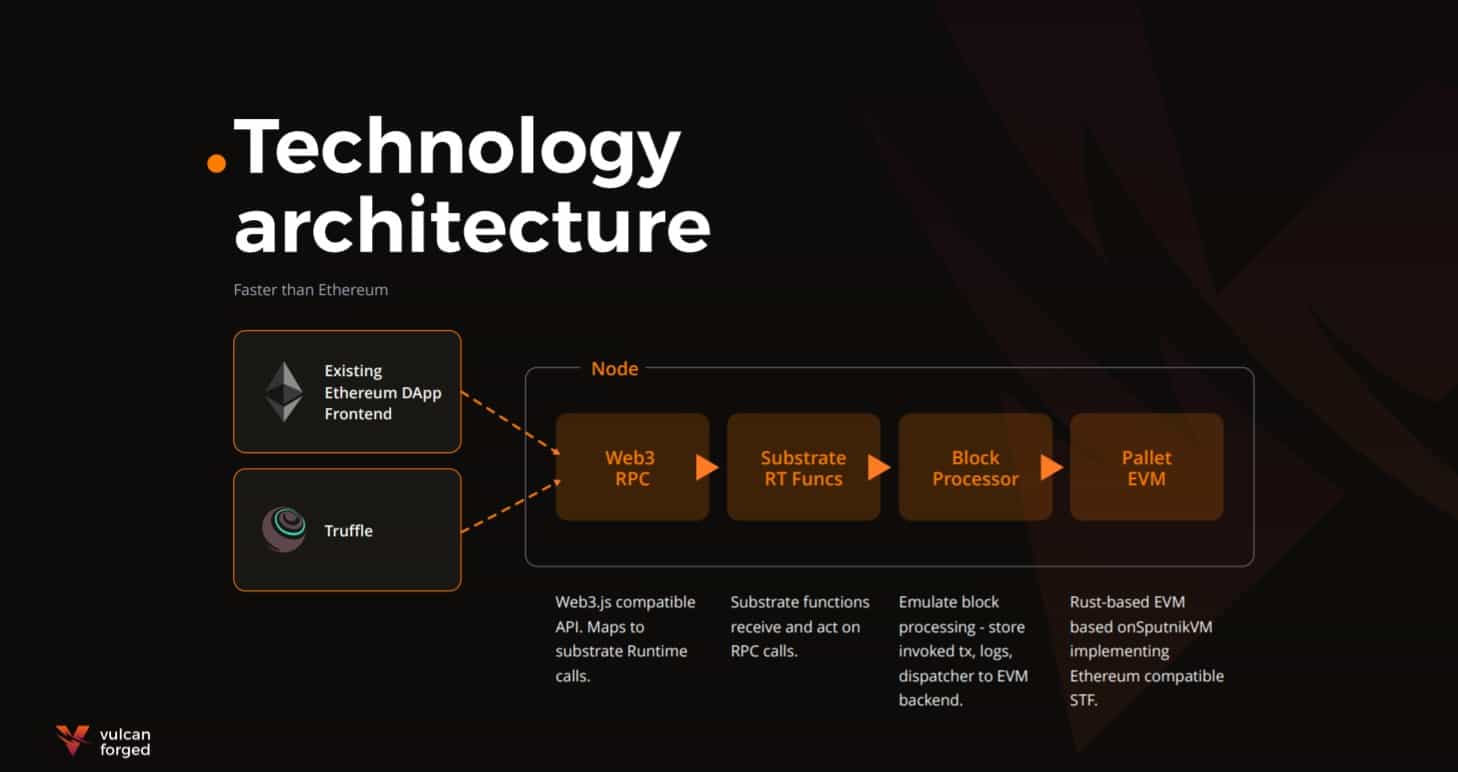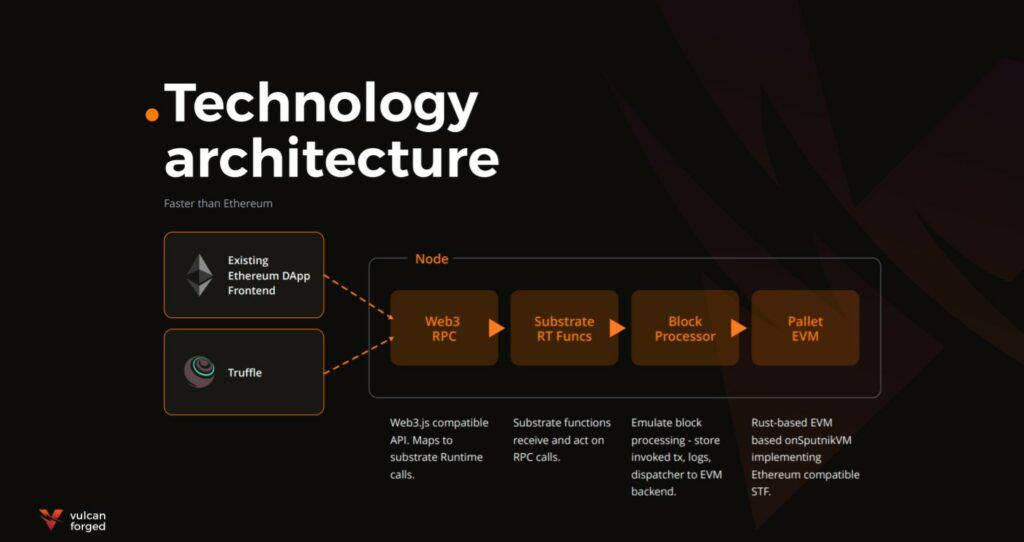 Elysium: Build On Strong Foundation.
Elysium will be ready in around four months, and the VF team will use the Rust programing language to develop it. Strong foundations are dependent on the underlying technology, and Rust is a superior solution.
Rust is a highly adopted, next-generation program language invented by the Mozilla foundation. Its browser competitor, Google, plans to use it on Chrome because of its security advantages over other coding languages. It's worth mentioning that Polkadot, along with Kusama, are also (mostly) Rust-based projects.
In a nutshell, Elysium will be developed using the industries leading technologies to make sure users will enjoy a world-class product. On that note, Vulcan Forged uses Substrate to mix and match the best of all Ethereum Virtual Machines (EVM) chains such as Polygon and BNB to build a superior product that will empower the next wave of web3 applications.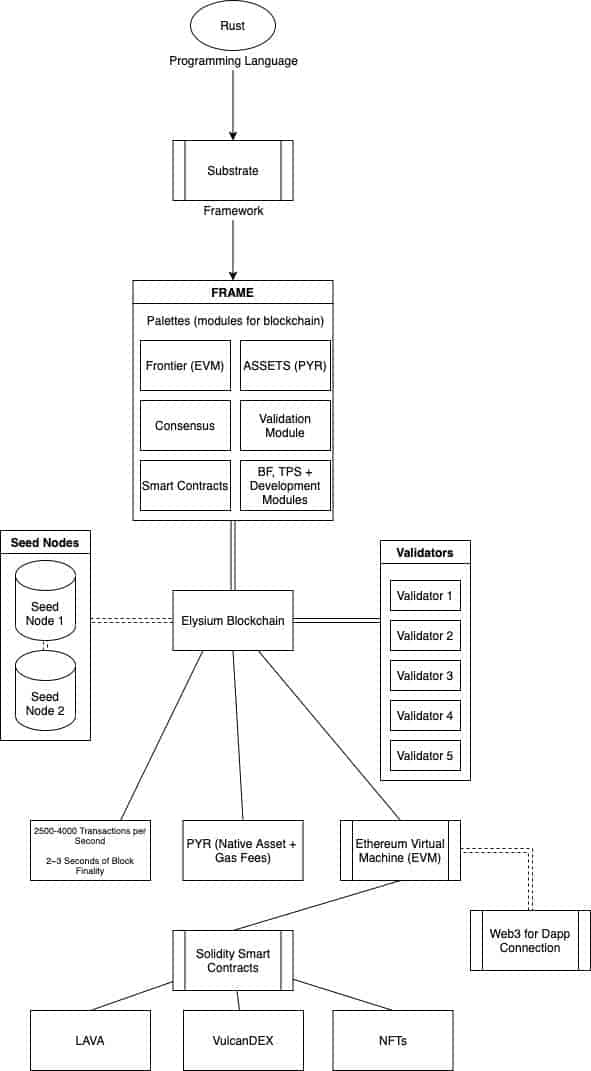 Elysium Transactions Speed Per Second.
Elysium will be a low-gas fee blockchain that can compete with Polygon, which handled 7,200 Transactions Per Second (TPS) on a test-net stress test in 2020. We can't really know the exact amount of tx speed, but we assume that Elysium will be close or even higher to this. Of course, you should keep in mind that actual data in production may be much lower; an estimate could be around 1600 to 2500 transactions per second, with the ability to scale more.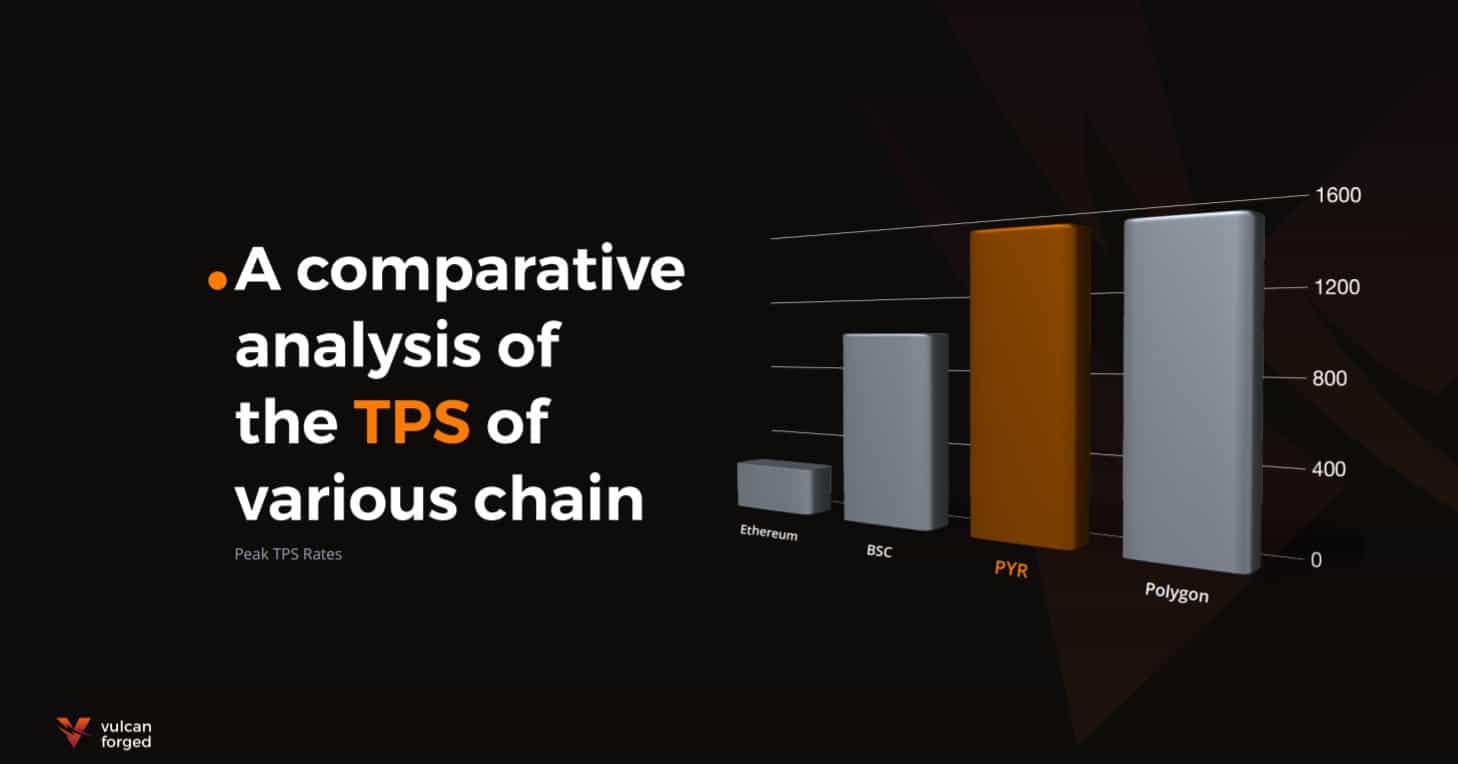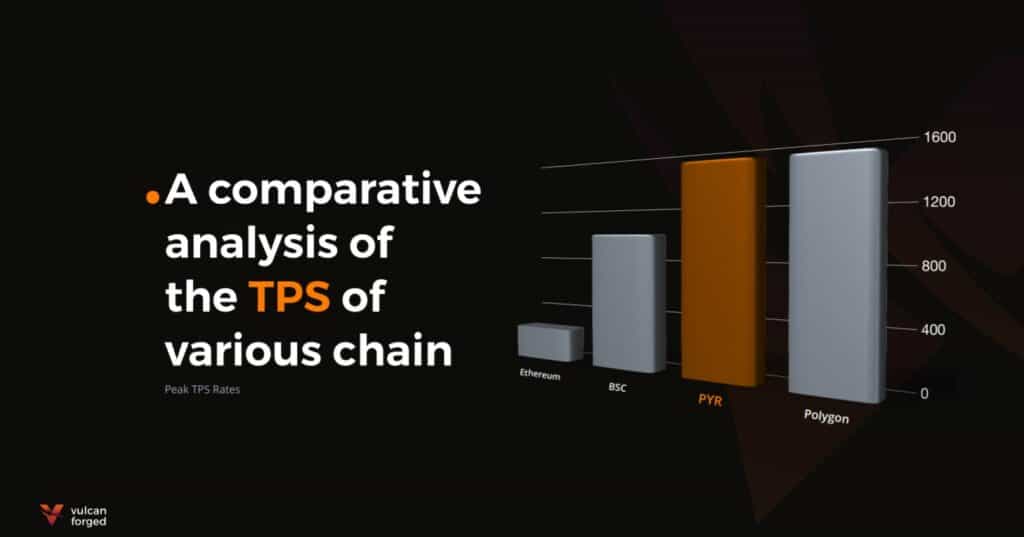 Eco-Friendly Proof of Stake.
Through a network of validators (VulcanVerse Land Plots), Elysium will be a POS blockchain that is eco-friendly and won't require the extensive electricity that PoW blockchains like Bitcoin do.
In a Proof of Stake system, entities (validators) can mine and validate the transaction blocks based on the number of coins they hold or other mechanisms.
Elysium will use the Blind Assignment Blockchain Extension (BABE) production mechanism, which runs between the validator nodes and determines the new blocks' authors.
In BABE, time is divided into epochs, and each epoch is split into units of time, named slots, nominally 2.5 to 6 seconds in length, with a block being produced in every slot. Once an Epoch starts, all validators participate in a lottery system to determine which slot they would create the block for.
In the case of Elysium, there will be 2 Seed Nodes and up to 10,000 validators.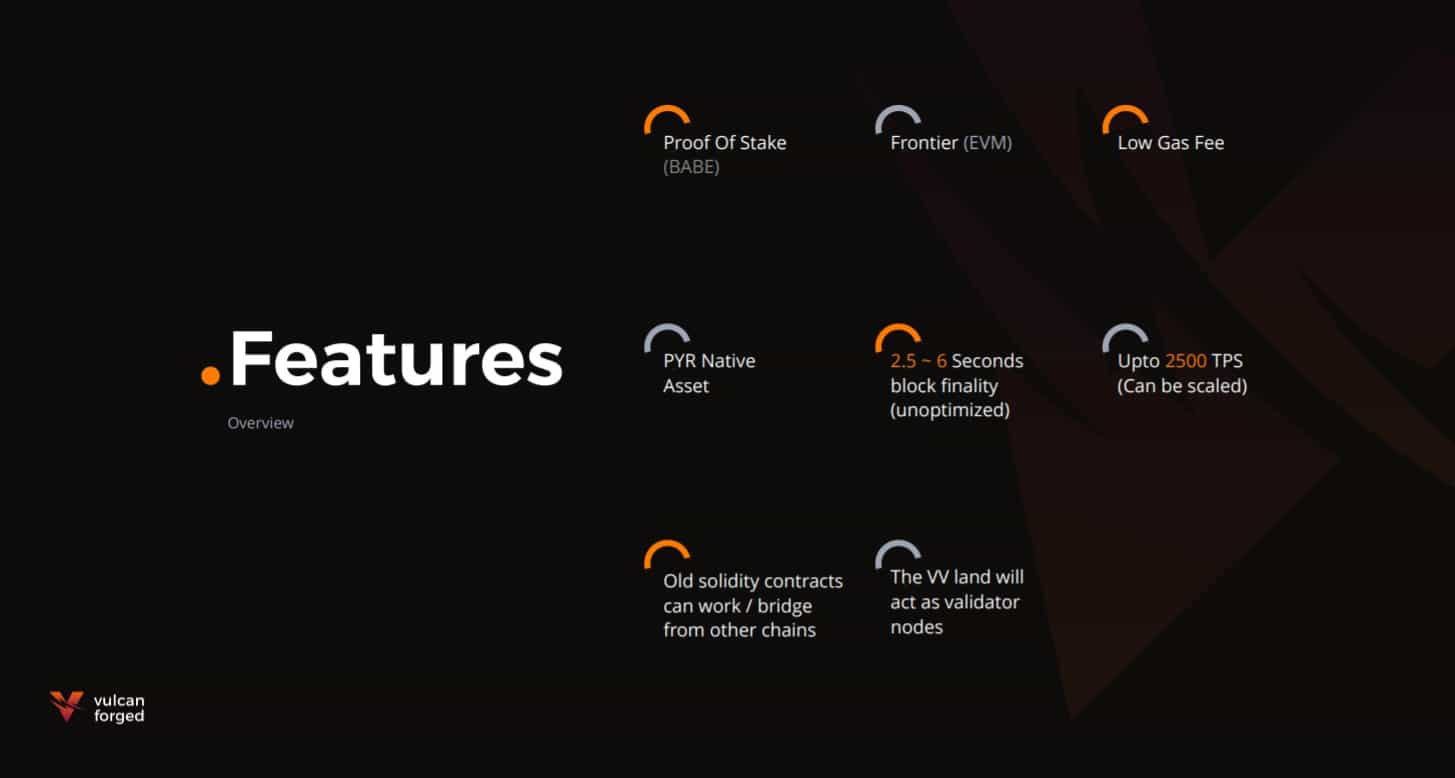 How to Get an Elysium Node & Validator.
For someone to become a validator, an upgraded VulcanVerse Land Plot to level 7 will be required. There are only 10,000 in existence, and the upgrade process will require a respectable amount of PYR tokens, Lava tokens, and time.
Level 1 to 4. Regular land plot.
$PYR Staking. 350 $PYR max.
Invite up to 4 scholarships, one scholar per level.
Level 4-6. Node operator.
$PYR Staking. 1050 $PYR max.
Invite up to 6 scholarships, one scholar per level.
Percentage of the Marketplace fees.
Level 7. Node Validator.
$PYR Staking. 1650 $PYR max.
Invite up to 7 scholarships, one scholar per level.
Percentage of the Marketplace fees.
Percentage of the Network transaction fees.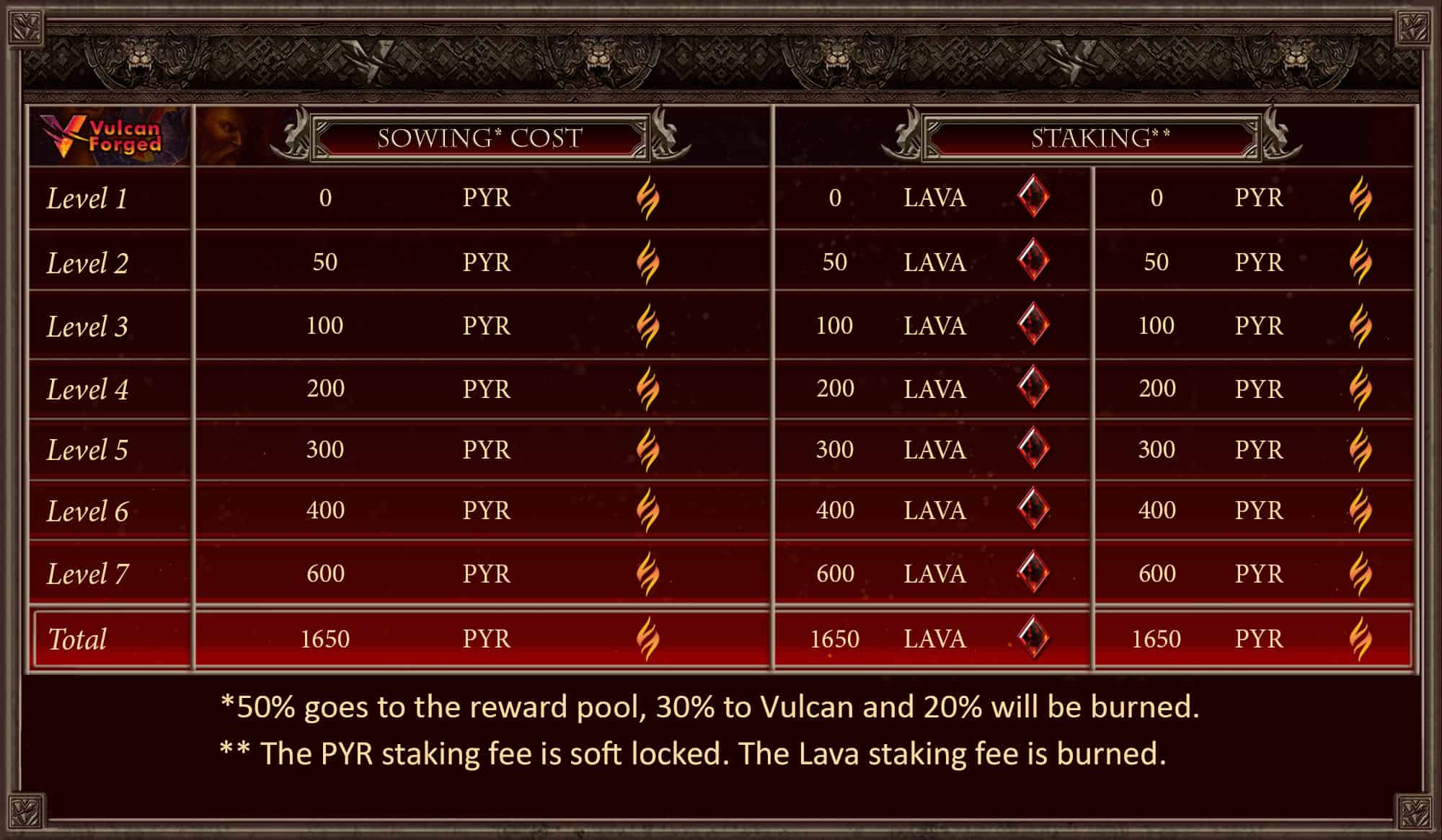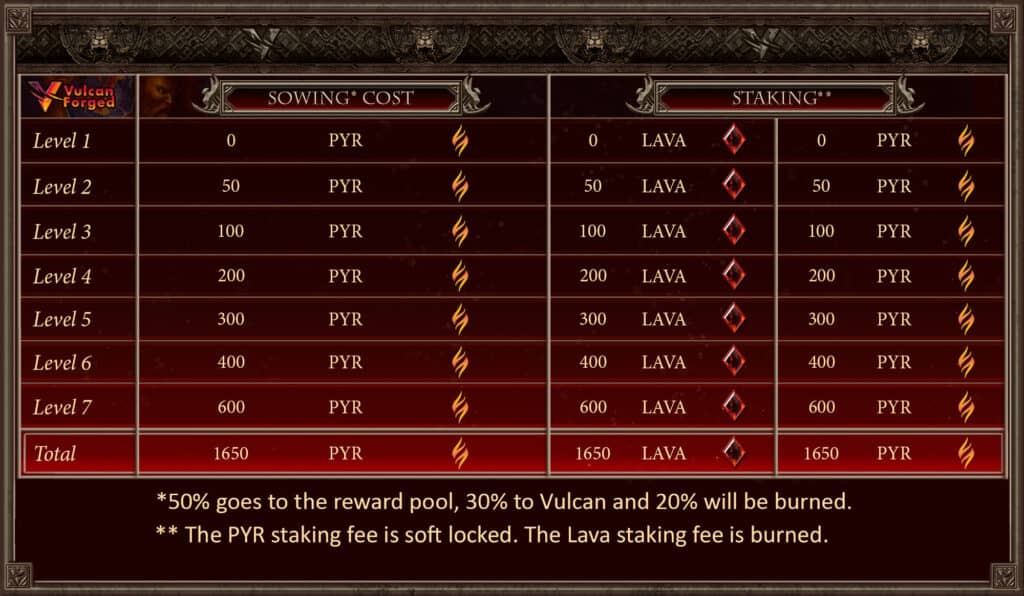 How to Level up VulcanVerse Land & Become a Validator.
The exact process involves purchasing an available VV Land Plot from the Vulcan Marketplace, the prices range from 500 $PYR to 5000 $PYR Price is based on location and it won't affect the earnings.
Then you need to start the sowing process and stake PYR in stages until reaching level 7. Everything takes place using the MyForge section from the VulcanForged website. Sowing will need 140 days in total since each level requires 20 days.
The total price to increase a land plot at level 7 will be 1650 $PYR, and then you need another 1650 to stake inside the land.
Ethereum Connection & Bridges.
Since Elysium will take advantage of the EVM, and since the native tokens, PYR and Lava are on Ethereum and Polygon respectively, it was only natural to create a "sidechain" that will works parallel to the main Ethereum Network.
Elysium will develop bridges so it can be connected with other blockchains while Ethereum integration will be out-of-the-box.
Uses will be able to connect on the Elysium blockchain using a metamask wallet by adding the appropriate RPC address. This ensures that existing crypto-users will be able to connect with it using the most familiar way.
On the other hand, non-cryptocurrency users can access the VulcanForged website which automatically creates multiple wallets for the users, streamlining and making the on-boarding process easier than ever.
Vulcan Forged Has The Momentum.
The recent hard work has been paying off, Vulcan Forged has released their own Blockchain Gaming DEX with multi-chain support and NFT LP Farming where players can trade vetted token on Ethereum, Polygon and soon Binance Smart Chain.
Gaming Guild and investment fund are doubling down on VulcanVerse scholarships with Yield Guild Games and Merit Circle having invested serious money to offer scholarships to their users.
The play-to-earn token, $LAVA, recently went live on Polygon at 0.13$. $LAVA, which has an unlimited supply in combination with the low-supply, $PYR, makes the perfect synergy to create a truly play-to-earn ecosystem with mind-blowing rewards. 10% of the entire $PYR supply is allocated to two different rewarding pools for the players which currently is valued over 140$ Million and growing.
Multiple games are joining the VulcanMarket and selling their NFTs, including some legendary games like MyCryptoHeroes and many other well-known ones. The VulcanMarket is constantly in the top 5 spots based on volume and everything seems that is just the beginning.
Recently, VF released a mobile application where users can access their assets on the go. The $PYR token has been climbing the cryptocurrency leaderboard since its launch at around .30$. The token has almost tripled in price the past 30 days and it's currently valued at 14.50$ following the recent pump of all Metaverse tokens in the announcement of Facebook's Metaverse concept.