In this "Games From The Block" podcast, George talks about Gala Games, Town Star & Mirandus With Jason Brink, CMO of Gala Games.
We talk about the future of Gala Games, Mirandus, and Town Star.
Gala Games platform counts over 80,000 registered users, and while Town Star lacks tracking from major Dapp ranking platforms, it's one of the most playable games.
Listen to the podcast using your favorite platform, or read the Interview below.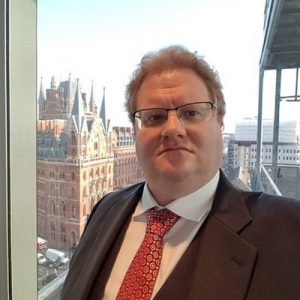 Who is Jason Brink?
My name is Jason Brink. Many people know me online as BitBender (a reference to Bitcoin and Bender from Futurama). I am the CMO of Gala Games, and I've been working with them for the last six months to do marketing for Gala and associated products.
I've been working in the blockchain space since about 2014. I have won a prize from the Bill and Melinda Gates Foundation for a paper I wrote on using blockchain to fix some of the endemic problems to foreign aid.
How does Gala Games aim to change the landscape in gaming?
We are putting power back into the hands of the gamers, giving them ownership of their assets. Most blockchain gaming companies are run by "blockchain people first." We are one of the "gaming first" projects out there. We put the video game development first.
We can do this because our CEO, Eric Schiermeyer, is one of the co-founders of Zynga, and our studio director McCarthy, was the creative director of FarmVille 2 and a bunch of different RPGs.
How many Players are registered for Gala Games?
We are working on growing our user base exponentially right now, and so far, things are going amazingly. Right now, we've got about 80,000 user accounts, and it is continuously growing.
Next week, we will push an update that you don't even need an account to play. You will be able to click on one of our games, play, save the current progress and create an account later when you feel so.
Are you building your own blockchain or exploring any Layer 2 Solution (sidechain)?
We are currently based on the Ethereum blockchain. But that is going to change in the near future. We're going to be looking at a layer two solution right now and talking to a few different companies about it.
If you look at FarmVille 2, it had 34 million daily active users. There is no single blockchain solution that can handle 34 million active users. It doesn't exist right now.
What will likely be happening is that you will see an interaction of a large number of different solutions that all work to support the Gala Network in the long-term. A game may have different types of solutions built-in, handling different parts of the game of mechanisms.
Why is Town Star based on weekly tournaments?
One of Michael McCarthy's learnings that he took away from his work on FarmVille 2 is that when the game is always persistent, players will get to a point where they would get bored with the gameplay because they have created their farm, it's perfect, and all they have to do is go there and collect the resources.
So, we chose the weekly tournament concept, which has a couple of different things. The weekly tournament is not going to be the only way you can go forward and build right now. You can also get onto a free play server, and you can play for 25 days before it resets.
The reset changes how you think about the game itself from being something permanent. It's going to go away so I can get creative. I can try and do things, and I can take a risk in the way that I'm laying out my farm because I know that it's going to go away at the end of the day.
I know that some people hate the weekly tournament concept, but we find that many people really enjoy it because it doesn't lock them into this perpetual state of having to build just one thing.
What's next for Town Star?
Town Star is going to be evolving in a couple of different ways. One of the things that we found is that people have many different ways that they would like to run a server. They want to have a server where people can't use anti-seize. They want to have a server where people can't trade with one another or so. So that's something players ask for, and we are working on it.
Players would set up their servers and do exciting things like charging an admission fee for entry and other stuff.
The Town Star game board is a 16 x 16, and we are working to scale it to 64 by 64, which will be a more persistent game. So you will be able to build this gigantic City that allows you to do whatever you would like on it.
We also have the introduction of a few more Bots that are coming in. One of them will allow you to go to war with a rival farm.
Mirandus Sold the "Citadel of Sun" for $800,000, is that the most expensive NFT ever sold?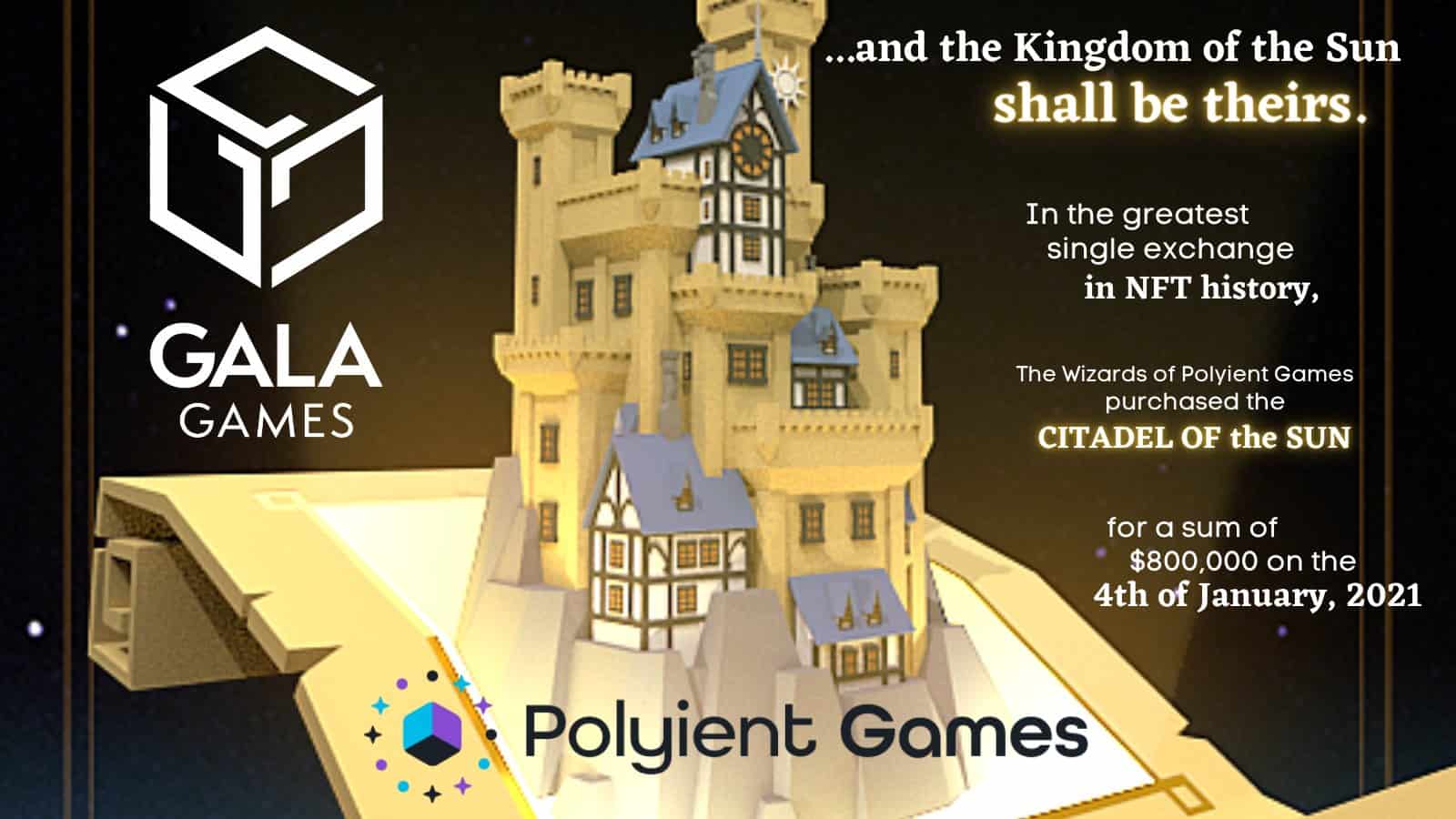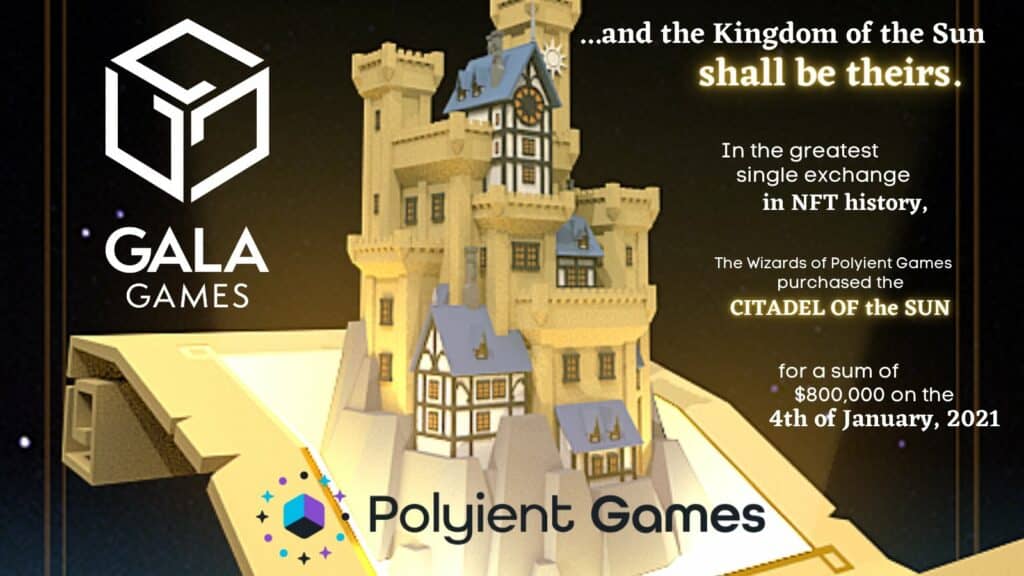 Yep, that's the one, that is correct. That is the most expensive NFT ever sold. Polyient Games basically bought a government and will provide Financial layer Solutions in the world of Mirandus.
While you might own thousands of NFTs, you can't carry them all in your inventory. It doesn't make sense. So players can go to the Citadel of Sun Vault and store or withdraw any in-game items.
But What is Mirandus?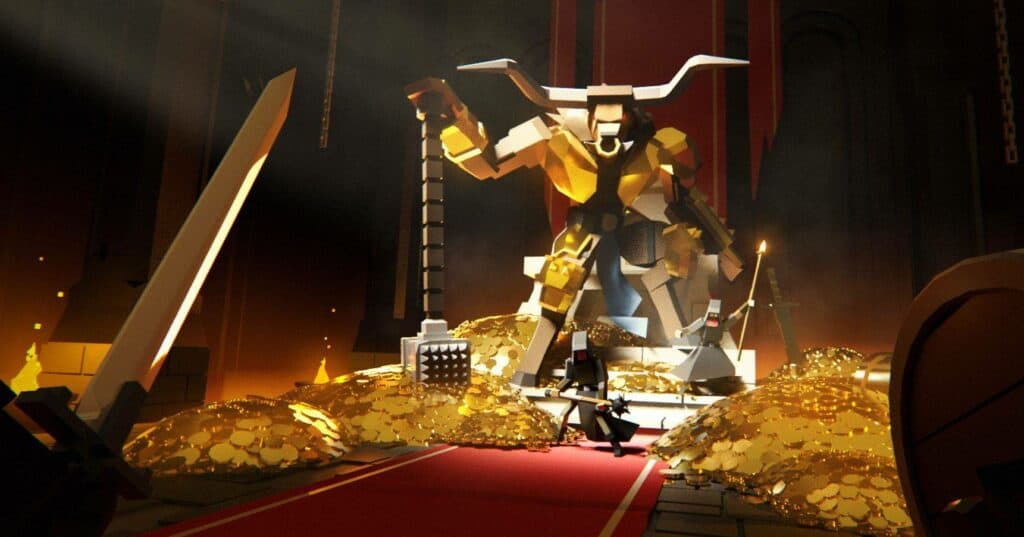 Mirandus is an MMORPG. I think that Mirandus is going to fundamentally redefine both gaming and blockchain at the end of the day. Some of what will be happening in there are absolutely off the charts, different from what we've seen in the past.
When you look at MMORPGs, you see that they have changed a bit over time. In the early MMORPG days, in games like EverQuest and Ultima Online, there was a sense of fear about going out in the world. You didn't want to adventure too far out to the world because if you died, there were actual consequences.
But lately, things have gotten easier, and with games like World of Warcraft, it's not a big deal if you die. Just respawn and continue as usual.
We want to bring a little bit of the old school like hardness difficulty back to gaming, and that's one of the things that we're doing with this. So I'm super excited about it. It's going to be a very, very deep MMORPG experience with some cool stuff.
When is Mirandus coming out?
We should see an alpha from Mirandus this year. We will be drawing the initial players for the alpha and beta from our Gala gold community in our Discord at GameStop chat.
Those will be some of the first people to get to try, and obviously, the deed holders will also be some of the first ones who can join in the game.
We may make the Deeds kind of key to access the early version of the game.
Are we going to see other games joining the Gala Ecosystem?
You should see quite a few more games being announced and shipped this year. So it's not going to be just Mirandus and Town Star. We have a lot more stuff coming as well.
You can sign-up for Gala Games platform for free and start playing right away.