In Brief:
Enjin gets approved in Japan by the Virtual Currency Exchange Association.
Enjin is now the first gaming token authorized for use in Japan, unlocking enormous potentials in the world's 3rd biggest gaming market.
The Japanese exchange Coincheck will list $ENJ on January 26.
Japan's Gaming Industry has 67 million gamers, and revenues expect to reach $18.2 billion in 2021.
Its been a year and a half since Enjin joined forces with HashPort accelerator to tap into the Japanese Market. Since then, the Japanese finance regulator took a lot of auditing and business monitoring to approve Enjin.
The HashPort partnership is two-fold, get the project approved in Japan and promote the Enjin platform to the Japanese gaming industry. The first task was completed successfully, and now Enjin can focus on bringing on board the most passionate gaming community.
As a result, on January 26, the Enjin Coin will be listed on Coincheck Exchange, making it the first gaming cryptocurrency authorized for use in Japan.
Coincheck exchange trades just 15 cryptocurrencies (the regulated ones), and there will be JPY/ENJ and BTC/ENJ trading pairs.
Tapping into the Japanese Market
The enormous potentials Enjin can benefit from are endless. Japan is the mother of gaming with the most passionate gaming community, and the folks at Enjin know that well. A growing team led by Kojiro Hirate is establishing relationships and exploring opportunities in Japan with forward-thinking developers and enterprises. In a 2020 survey, 57% of Japanese companies reported considering blockchain adoption.
Enjin can massively expand its ecosystem and get established as the go-to platform in Japan's gaming industry.
With use-cases far beyond gaming, Enjin continues achieving milestones, and everyone is waiting for the Efinity sidechain, an Ethereum layer 2 solutions that will unlock Enjin's true potentials.
Until Efinity is out, Enjin has a complete suite of development tools that include a Unity SDK, Java & Go Dot SDK.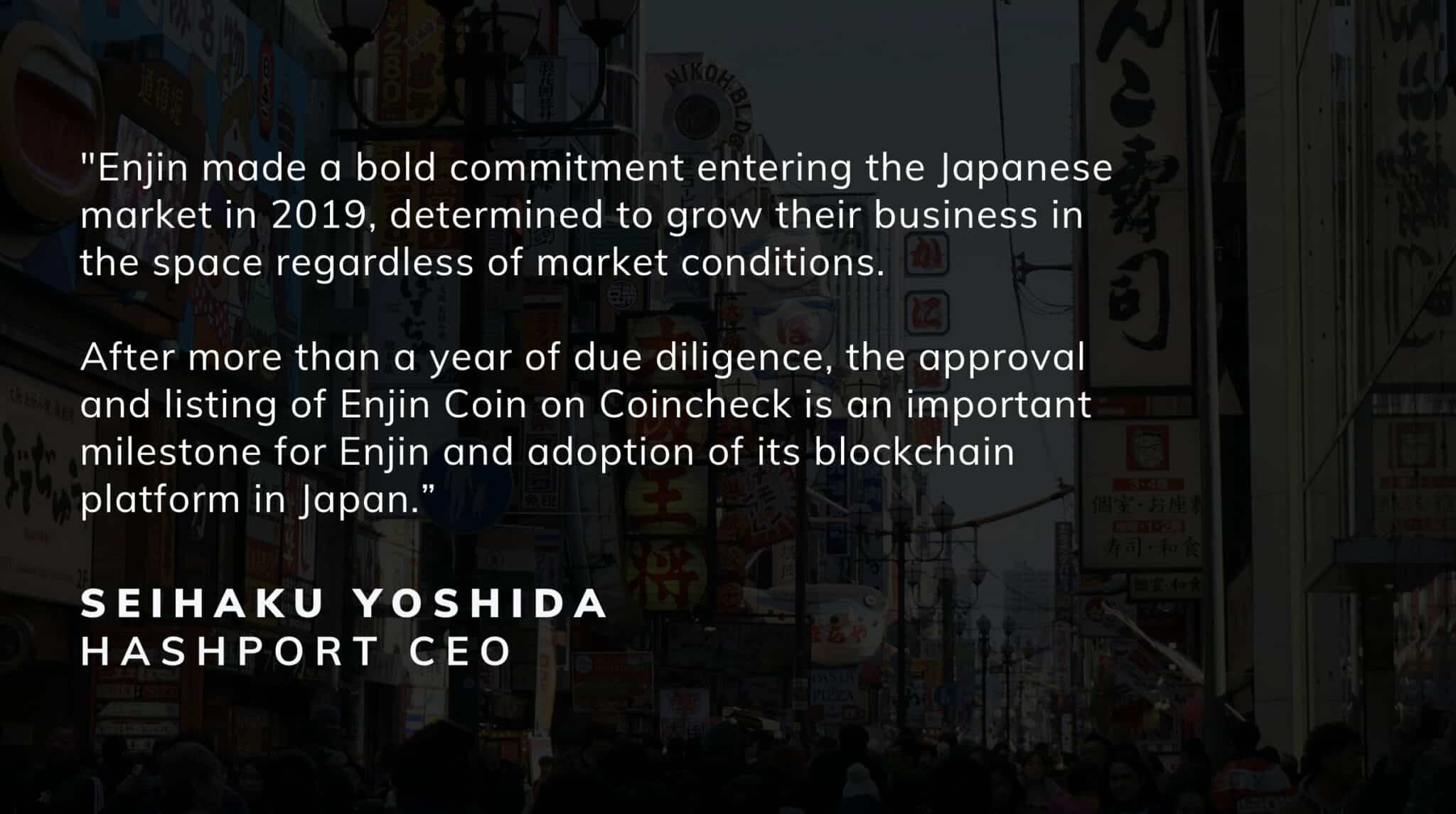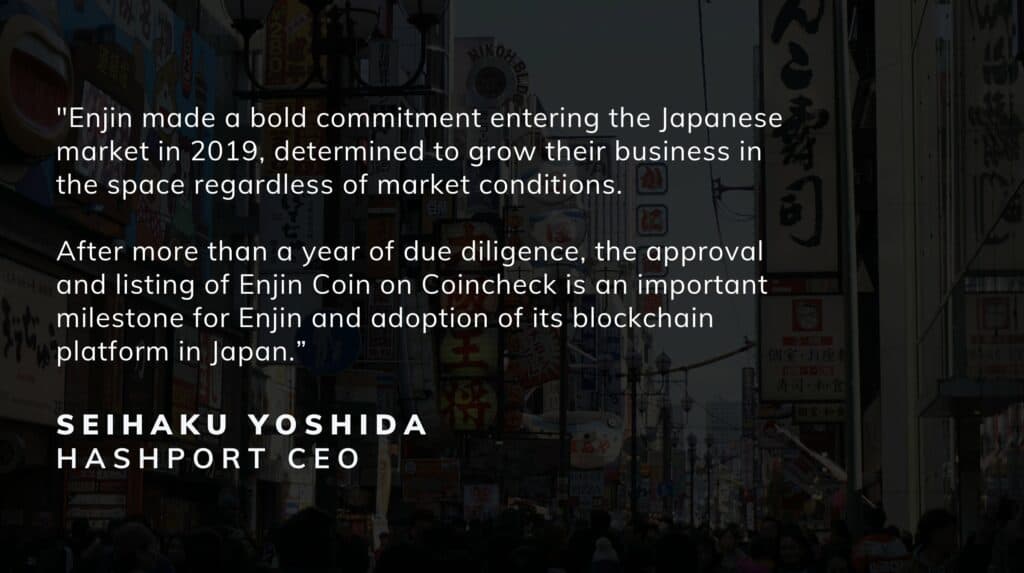 Japan's Crypto Assets Legislation
In January 2018, Coincheck suffered a hack, and 500 million NEM tokens ($530 million at the time) were stolen. The hack led two of Japan's crypto trade groups to merge into the Japanese Virtual Currency Exchange Association, formally recognized by the FSA. (Japanese finance regulator)
The crypto assets legislation in Japan is designed to protect both users and stakeholders while keeping innovation aspects.
All the projects that want to get listed on Japanese exchanges must pass a rigorous examination process. That's why Coincheck has listed only 15 cryptocurrencies.
Nevertheless, the news that Enjin gets approved in Japan brings trust to the Enjin ecosystem.
Enjin recently launched in Japan the first-ever NFT charity project.