The folks at Enjin Coin need to take a day off, once again, the Blockchain Gaming frontier makes it into headlines with the MintShop, a groundbreaking token issuing service which brings us one step closer to mass adoption.
Enjin Coin, released today an out-of-the-box minting service where users are able to create their own custom blockchain assets backed by ENJ.
Mintshop is the first made-to-order blockchain asset creation service enabling customers to create up to 10,000 custom branded ERC-1155 tokens for as low as $0.003 per token.
Until today, there was not an easy way to create fungible and non-fungible tokens, users had to hire a blockchain developer or write and deploy smart contracts on the blockchain them selfs. This complex procedure, thanks to the Mintshop, is now fully automated and easier than anyone could wish!
The Mintshop allows users to easily create fungible tokens (ERC20) and Non-Fungible tokens (ERC-1155) backed by ENJ, all the ERC-1155 assets have a base value, which can be retrieved by melting the item through the Enjin Smart Wallet.
The minted assets are fully tradable, meaning that users are able to receive, send, trade, and hold them for as long they want to.
Watch the Video Demonstration
Advantages of issuing your Own Blockchain Assets
Enjin's Mintshop, by taking advantage of the groundbreaking blockchain technology ensures that all blockchain assets minted cannot be altered or faked, therefore each token is unique, which can serve as a certificate of authenticity.
A whole new horizon of use cases is presented to us across markets and industries, artists can transform their art into limited supply ERC-1155 blockchain assets, validating the authenticity and increasing the collectible value.
While the above example sounds simple, the true power of minting service knows no limits. Companies and individuals are able to issue collectible souvenirs to reward clients and employees, issue certificates and vouchers or even membership tokens on the blockchain with a couple of clicks!
If you would like to create custom branded tokens for enterprise purposes, please apply to the Early Adopter Program.
Enjin Coin in the official Mintshop announcement stated:
All Mintshop profits will be used to buy back ENJ to ensure Enjin holds a steady supply to continue minting items in the future. Enjin is also offering a 25% referral commission to anyone who refers new customers, thereby encouraging further adoption of blockchain technology.
Issue Your Own Tokens Now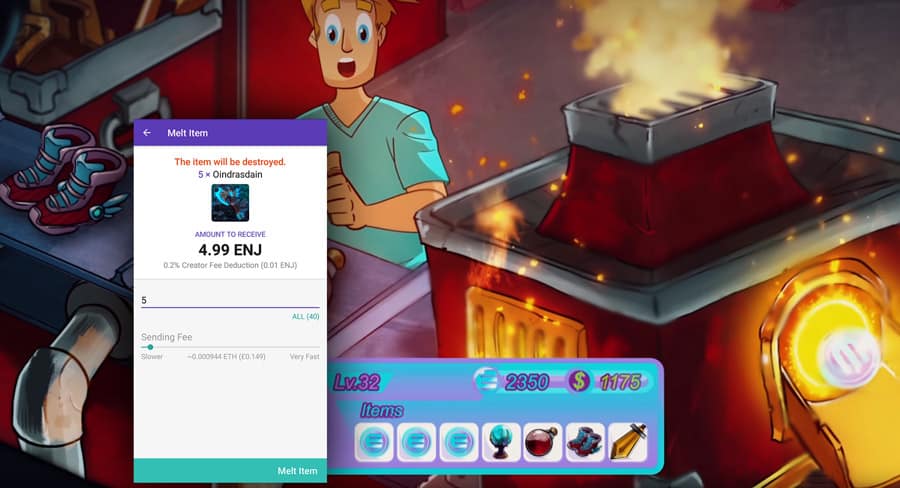 Some example of the already created tokens through the Mintshop are our own Founders Badge, a certificate for the very first blockchain players, which will be present to you within the next days.
Our friends at Cryptoandgamers.com have already issued a Membership ERC-1155 token powered by the Mintshop.
Enjin Coin
Founded in 2009 and based in Singapore, Enjin is an information technology company offering a robust, integrated ecosystem of products, including: Enjin Network, a social gaming community with over 20M users; Enjin Wallet, the world's most secure cryptocurrency and game collectible storage app; EnjinX blockchain explorer; Efinity game-channel network; and Enjin Coin (ENJ), a smart cryptocurrency. Fueled by ENJ, Enjin's all-in-one blockchain development platform enables game developers to create, integrate, and scale powerful blockchain-based assets with minimal effort.
Connect with Enjin Coin: Twitter, Telegram, Medium, Website
Connect with  Egamers: Twitter, Telegram, Instagram, Facebook, Discord, Medium, Steemit
You might also like:
Enjin Creates Parallel Gaming Worlds With Items Sharing Across Games