Parallel, a play-to-earn trading card game based on the Ethereum blockchain, has officially partnered up with Chainlink and incorporated its verifiable random function or VRF in the game to choose random players for their highly-anticipated airdrops. These airdrops, scheduled this October and January next year, feature precious packs that contain rare cards and NFTs that can stack the deck for players, improve their crypto portfolio, and increase the returns of their investments.
The looming reward of NFTs with real world value will surely entice more players to play the game. Therefore, it is the perfect time to incorporate Chainlink VRF to provide transparency and auditable results to assure the entire community that the recipients of the incoming drops are indeed chosen randomly in a tamper-proof manner and out of reach from hackers and cheaters.
The Power of True Random
This partnership with Chainlink comes at the heels of Parallel's grand announcement earlier when they raised $50 million with a $500 million valuation from private crypto firm Paradigm which joined an exclusive club of prominent investors like Focus Labs, OSS Capital and YouTube co-founder Chad Hurley. The integration of Chainlink VRF couldn't have come at a better time because it just goes to show that Parallel is covering all the bases, protecting the interest of their investors, gaining the trust of their loyal community, and keeping cheaters at bay to protect the integrity of the game and the value of the non-fungible tokens that they release.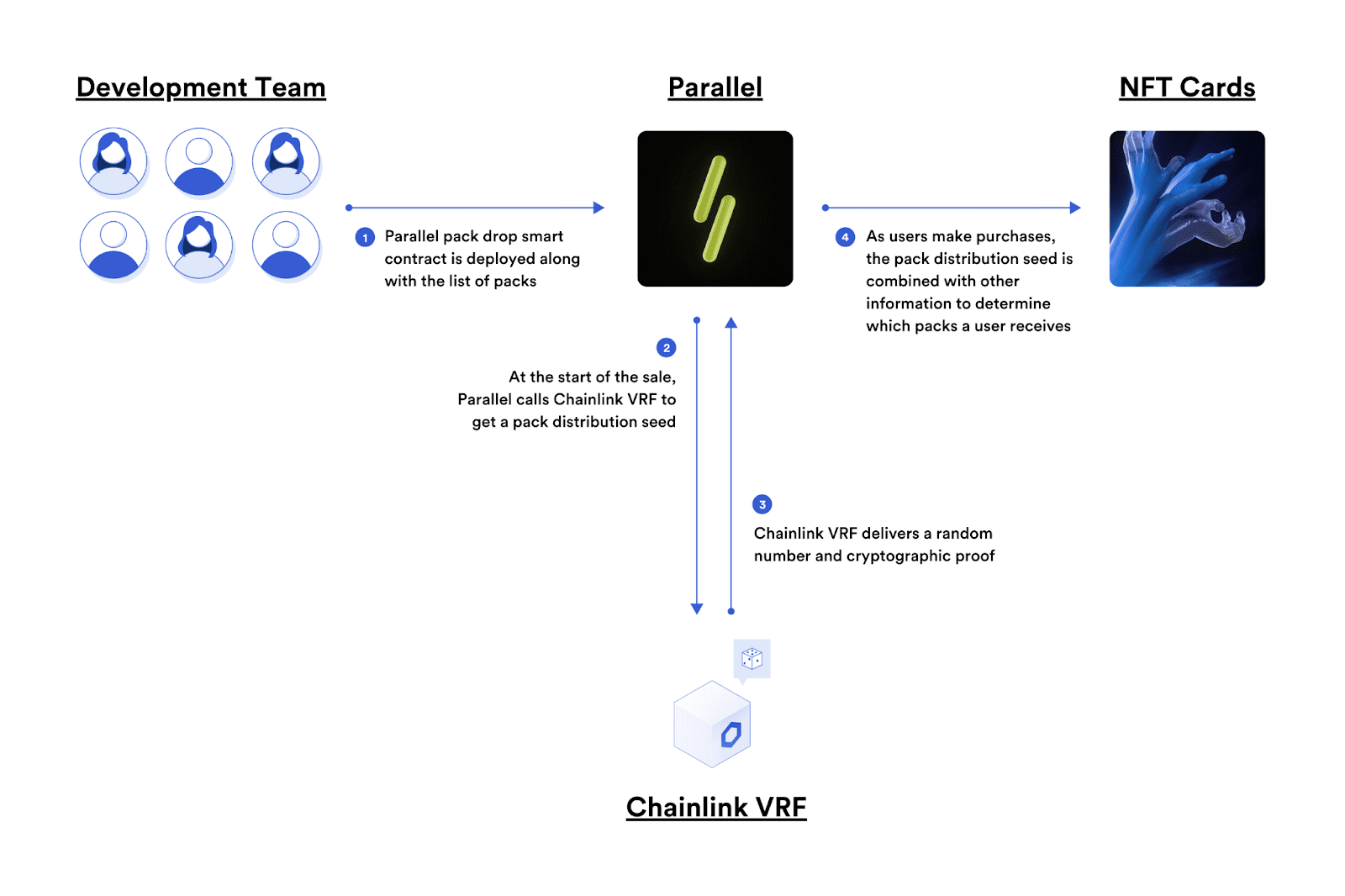 Parallel Project Director Kalos stated that he wants to utilize Chainlink VRF to ensure that nobody can manipulate the distribution process of the cards and that all players have the fair chance of receiving the much-awaited packs and getting rare cards with real world value. This is done through an RNG solution that is specifically designed for smart contract applications as Chainlink combines block data with the oracle node's predetermined private key to generate a random number and a cryptographic proof.
The smart contracts of Parallel will only accept the random number provided if it comes with a cryptographic proof. In turn, the cryptographic proof will only be provided if the random number generated is indeed tamper-proof.
This whole process gives people verifiable and auditable proof that the random number generated is not manipulated by the oracle itself, outside entities, and even the whole Parallel team themselves. This will surely attract more investors and players to check the game out, join the thriving community, and play in a Parallel universe with real world benefits and rewards.
Chainlink's VRF technology has also been integrated into multiple games and dapps such as Wasder, Dreams Quest, Axie Infinity, My Defi Pet, The Six Dragons, Polyient Games, and many others.
When it comes to gaming, Chainlink has many educational articles, such as 16 Ways to Create Dynamic Non-Fungible Tokens (NFT) Using Chainlink Oracles and The Economic Impact of Random Rewards in Blockchain Video Games. You can also check out the extended documentation.