War Riders' weapon sale is now available for everyone. The MMO blockchain game has made tremendous progress in the last months, and the alpha version of the game will begin shortly after the weapon sale. After completing some multiplayer action and test drives, it's time for players to take some serious action. BZN mining will be available during the Alpha version, so get ready for epic fights in the Wasteland.
BZN is the in-game currency, and players can mine it through the game or rob it from other players.
Weapon Sale
During the War Riders Weapon sale, players can purchase loot boxes to claim different types of guns. Some weapons may come with rare skins and barrels, but there is no way to know in advantage what does your crate might contain. Furthermore, the price for loot boxes will continuously increase. Keep in mind that you need a small amount of ETH to cover the transaction fees to buy with BZN. While 30% of the total BZN amount spent will be burned, 70% will go back to the Game Pool.
ETH and BZN are the sale's primary methods of payments. Every weapon is an ERC-721 token and will appear in your wallet right after the purchase. Therefore players can equip weapons on their war machines instantly.
Visit Now The War Rider Weapon Sale
About War Riders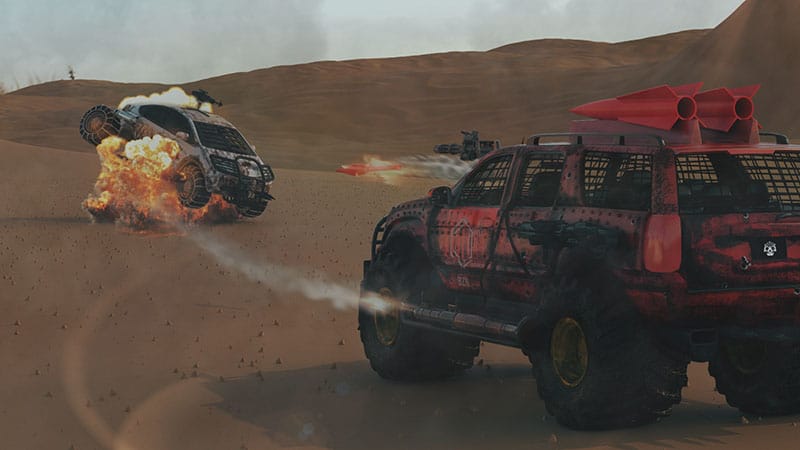 War Riders is a next-generation post-apocalyptic MMO blockchain game where players earn cryptocurrency by blowing up cars. Every asset in the game is owned by players and can be traded in the games marketplace as well as in other decentralized exchanges such as OpenSea.
BZN, is the only form of payment in the game. Players can convert it to other cryptocurrencies such as Ethereum or Bitcoin. In order to secure your in-game BZN earnings, you have to return safely in your garage. You can own as many garages you like and also rent them to other players, using them as hideouts.