In addition to the season1 crate sale, BattleRacers is hosting two special events similar to the previous Axie Infinity Crates Sale. As a reminder Battle Racers is already available to play so any parts purchased now are instantly available in the game.
CryptoKitties crate sale
The first event is taking place today (December 11, 2019, 4 PM PST / 7 PM EST) In cooperation with CryptoKitties. Users can purchase limited edition crates that contain two random parts from the RoboKitty Set.
Only 1,200 parts will ever be available so as a result, only 300 complete cars can ever exist. You must have at least one CryptoKitty in your MetaMask wallet in order to participate. Each CryptoKitties crate will cost 0.1 ETH while there is a limit to three crates per wallet address. Even more CryptoKitties parts will be tagged as Season 1 Edition and there is a 1.5% chance to be Elite.
Neon District collaboration
The Neon District special event will go live on December 12, 2019, at 8:30 PM GMT+8 (7:30 AM EST / 1:30 PM CET). This event will feature the first use of the "OpenSea Chest", the new ERC-1155 Loot Box contract from OpenSea.
This sword will activate a Neon Undercarriage Lighting for the bodies of the special cars in the Season 1 fleet: Binance SafuBolt, Vista Cartel, and Guerilla Cyber. This new lighting will be available if you own assets from both Neon District and Battle Racers!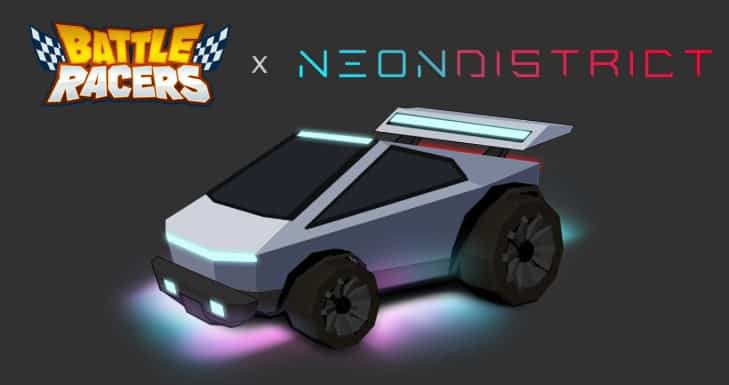 At the cost of 0.17 ETH, each loot box will contain a variation of the Radiant Blade from Neon District. In a total of 50 these swords will differ in rarities:
Common 47.00%
Uncommon 28.00%
Rare 15.35%
Ultra Rare 8.25%
Legendary 1.40%
Even more, a special price is waiting for the first person that will assemble a complete Guerilla Cyber set during the sale period.