Binance Smart Chain is getting ready to celebrate it's 1st anniversary.
The celebration will last 6 days and will take place in Dvision Metaverse.
There will be 30 projects participating.
Dvision – a South-Korean-based metaverse on Ethereum and Binance Smart Chain where you can create, trade, and play – has announced to hold a BSC Anniversary conference in its Metaverse from September 8 to 13.
The Binance Smart Chain was launched in September 2020, and will now be celebrating its 1st anniversary.
The conference will be conducted in collaboration with 30 leading projects on BSC from blockchain gaming, NFT, and GamiFi space. The conference will be joined by some popular games and gaming platforms on BSC including Venly, My Defi Pet, Gala Games, Faraland, Cryptoblades, StepHero, Cryptozoon, , Splinterlands, and many other BSC projects (see the full list of participants at the end).
The virtual conference will be taking place in the Special Binance Hall built by Dvision Network's team. The Metaverse will be opened for 4-5 hours each day for the 6 days that this conference will run.
Participants will not only get a chance to interact with the leading experts from over 30 BSC projects but they also will be able to attend more than 30 different NFT and Token Airdrops.
Many projects from Gaming, DeFi, and NFTs sector will be setting up their propriety booths in the virtual conference and offer their expertise through conference presentations.
Find out more about the conference and timing on the Offical Disclosure page from Binance.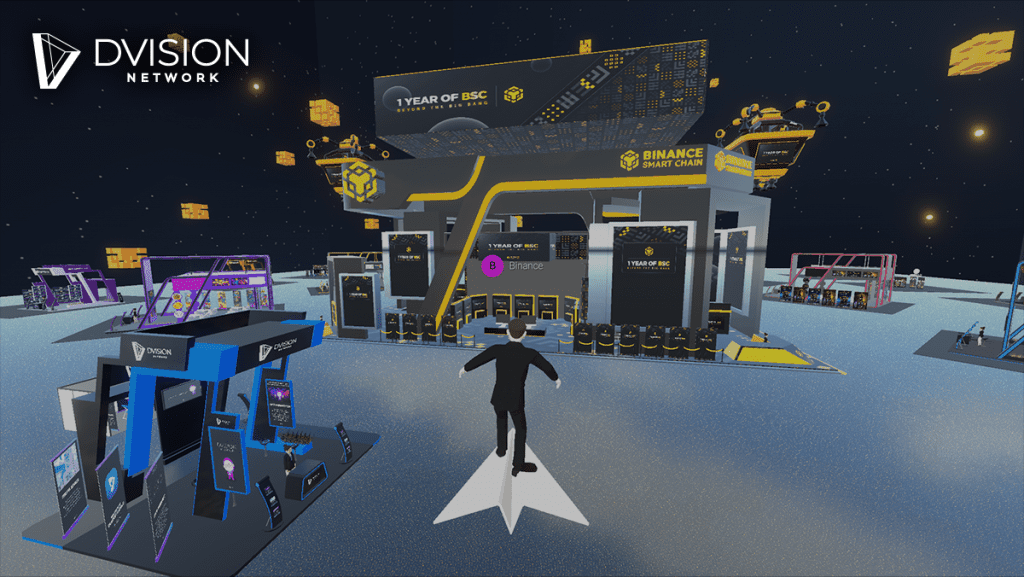 List of Participants
NFTB, Alchemy Toys, Gala Games, RGG, Copuppy, Bunny Park, BabySwap, Cryptotycoon, Liquidifty, Refinable, Faraland, AirNFTs, Venly, Curvegrid, ApeSwap, MixMarvel, Chainstack, Cryptoblades, StepHero, Alpaca Finance, Hodooi, Cryptozoon, Dungeon Games, AlphaQuark, ITAM, XWG, AutoShark, Splinterlands, Wizard Financial, and Dragonary.
Notable Speakers
Changpeng Zhao (CZ) CEO and Founder of Binance
Alexandre Bourget, CTO at StreamingFast
Tri Pham, CEO and Co-founder of My Defi Pet
Chef Hutch, Developer at PancakeSwap
Chip, Community Director for ApeSwap
Sergej Kunz, Co-founder 1Inch Network
Samuel, Co-founder of MoBox Platform
Yat Siu, Co-founder and Chairman Animoca Brands