My Forge, the login portal for Vulcan Forged, Gets Exciting New Features.
Vulcan Forged, a play-to-earn platform games ecosystem, announced in a tweet that they're working hard on bringing exciting new features to their My Forge portal. 
In addition to the announcement, they also teased the brand new Vulcan Social environment in the tweet by sharing snapshots of the new Dashboard and Messaging environment.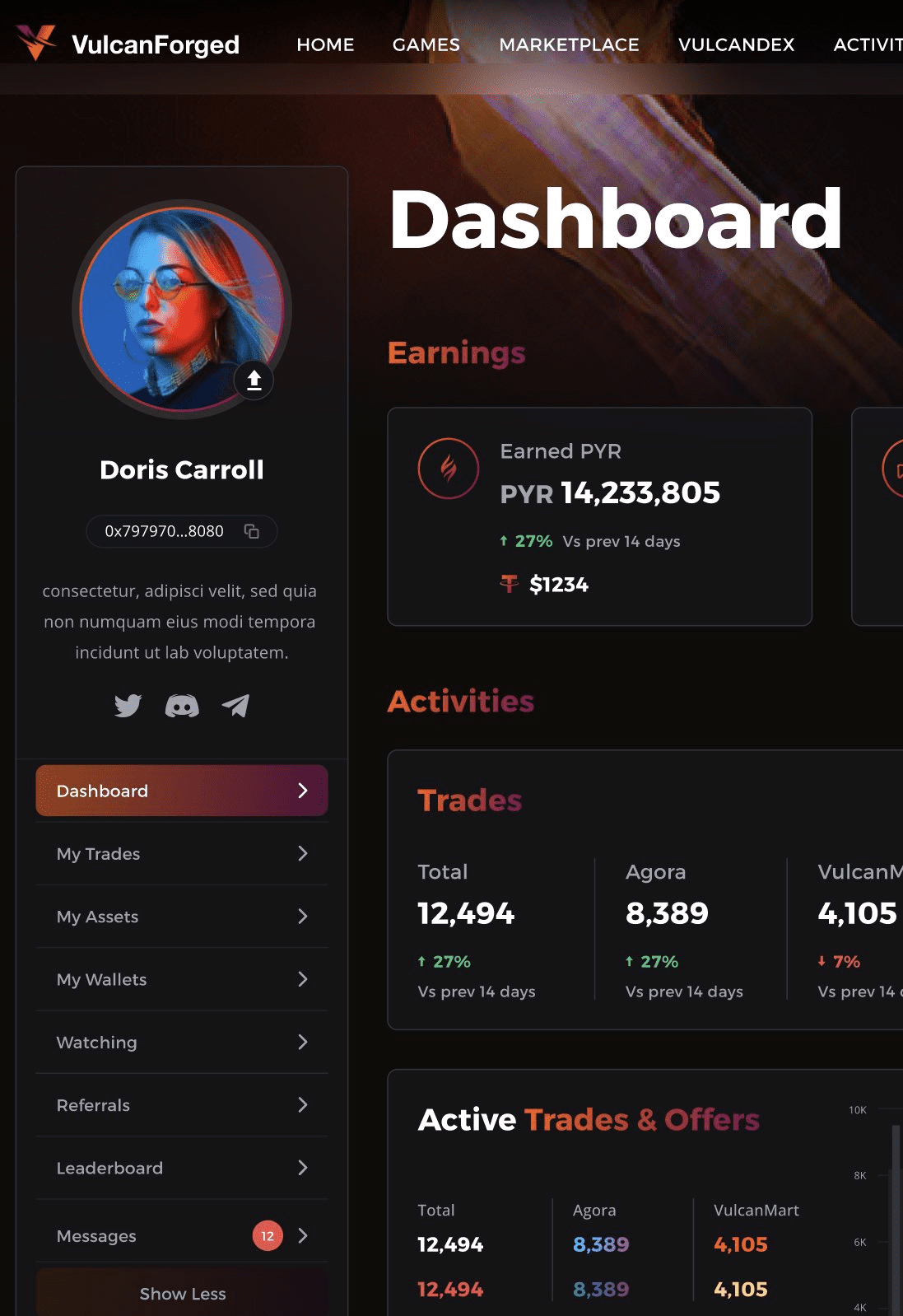 Vulcan Forged
Vulcan Forged emerges as one of the best and industry-leading decentralized P2E gaming studios. VulcanVerse, developed by Vulcan Forged. The flagship MMORPG where they are 10,000 plots of land ready to trade and be built on. Also, VulcanVerse is Getting Ready for More Realistic Graphics.  
The in-house developed blockchain, Elysium, has it's Mainnet released about two weeks ago. 
Vulcan Forged has five play-to-earn games that are ready to bring you unlimited action and excitement. The five games are listed below:
Vulcan Verse
BerSerk
BlockBabies
Forge Arena
Vulcan Chess
In addition to games, Vulcan Forged also has an NFT marketplace, minting portal, and a lot of other services.
Fun Fact: Vulcan Forged uses dual token economy, $PYR, and $LAVA.
In October 2021, Vulcan forged had announced Elysium during the VulCon Conference in the Netherlands. The news was spread across the decentralized gaming community as this new blockchain would now empower the whole Vulcan Forged gaming projects.
Elysium
Elysium Mainnet, a newly developed blockchain by Vulcan Forged, is 100% Carbon Neutral, scalable, and easy to use. The blockchain is completely developed by Rust (One of the most secure programming languages)
The announcement played a crucial role as the community showed excitement and welcomed this news. eGamers.io has a comprehensive article on Everything You Need to Know About the Elysium Blockchain.
Currently, the Elysium blockchain is home to more than 28 projects. The company is set to release more projects in the future.
Vulcan Forged and egamers.io
The VulCon2 event hosted by Vulcan Forged is set to take place on June 14, 2022, in Athens, Greece, where CEO egamers.io, George Tsagkarakis, will be invited as one of the guest speakers.