In Brief:
Maxim Blagov, CEO of Enjin revealed on Twitter that there will be an EFI public token sale.
The sale will take place after EFI token generation.
Enjin's Jumpnet counts over 50 early adopters including Microsoft & Binance.
The revealing news of Efinity last March had two surprises. The first was Enjin choosing Polkadot for the upcoming scaling solution and the second was a private sale that raised $18.9 Million for the Efinity development.
Many questions arose since then, but there was one that everyone kept asking, is there going to be an EFI public token sale?
Maxim Blagov, Enjin's CEO, with a tweet yesterday night, confirmed a public EFI sale! Unfortunately, there are not any more specific details for the price or the date.
Many users in the space, believe that Enjin has the potential to disrupt the gaming industry with its non-fungible tokens and now with Efinity, people are more and more bullish.
Efinity is described as a "highway" for NFTs and as a person who watches Enjin's progress the past years, I know that this team can accomplish almost everything.
Enjin made the big step moving away from Ethereum to Polkadot and whether we agree or not, it's the best solution.
What is EFI?
With a total supply of 2 billion, EFI is the native token of the Efinity blockchain. The scaling solution Enjin is developing will use both EFI and ENJ tokens.
The marketplace and all transactions on the network will take place using the EFI token, while ENJ will be used to back ERC-1155 NFTs and vote for governance.
Efinity will be capable of connecting all NFTs from all blockchain with an initial throughput capacity of processing 1,000 transactions per second based on the proof-of-stake consensus mechanism.
Talking about proof-of-stake, there a percentage of EFI locked for staking. Users can stake ENJ to receive EFI and all NFTs will automaticaly stake for EFI rewards.
Think of EFI as the currency and ENJ as the gold.
In case you don't know it, all Enjin-based NFTs contain an amount of ENJ Tokens inside. This amount serves as a base value of the token, and players can retrieve it by melting it using the Enjin wallet.
The Current Jumpnet Situation.
Enjin's scaling solution consists of two parts, the Jumpnet and Efinity.
Jumpnet is already out, but the public access is not yet open due to pending third-party audits.
We know audits can take some time, so most probably, Jumpnet will open its gate to all users next month, if not earlier.
Although Jumpnet works perfectly and it's open for the early adopters, which count over 50 members as Enjin announced with a press release two days ago, there is a problem with games that have already minted NFTs on Ethereum.
Currently Jumpnet and Mainet (Ethereum) are separate, this creates a situation with existing games, a not-so-elegant solution would be to link the Enjin wallet two times, one for the Ethereum and one for Jumpnet.
Thankfully, Enjin is working on this, but the Ethereum fees are still insanely expensive, making NFTs transfer almost forbidden. So unless im wrong, we won't see that before Ethereum's July upgrade.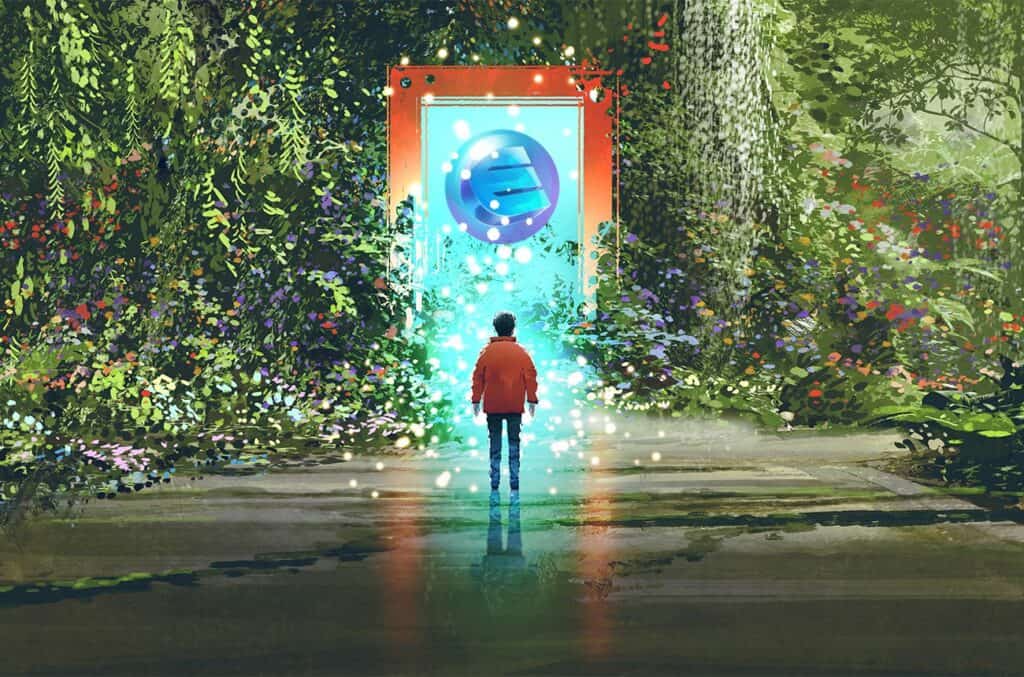 Enjin Above & Beyond.
Since its early days, Enjin is pioneering in the space and has contributed the maxium to the Ethereum ecosystem.
Right now Jumpnet is working like a charm with no fees, fast transactions and the best are yet to come with Efinity.
At the moment, companies like Microsoft, Binance, OkEx, Kriptomat, and many others are utilizing Jumpnet to create eco-friendly Non-Fungible Tokens.
After all, Jumpnet is using 99.99% less energy than Ethereum.
Microsoft recently used JumpNet to distribute 7,000 NFTs via "Beam" QR codes at the Global Azure 2021 event.
In addition, Korea's most popular gaming social media company, Ludena Protocol, successfully issued its first token on Jumpnet and will use the network to bring NFTs to its 3 million users.
While Enjin recently became the first approved gaming platform in Japan, it's not focusing entirely on gaming, there is also a department for Enterprise Solutions and much more going on.
Discuss the EFI Public Token Sale on Discord, Facebook or Telegram.