Opening the Golden Vault of Artistry
Pixel Vault, an intellectual property development firm dedicated to the elevation of cryptocurrency and other blockchain-based assets across a varied selection of mediums, is taking the legitimacy of their projects to another level with the incorporation of the reliable Chainlink Verifiable Random Function or VRF. Pixel Vault Founder Sean Gearin is hellbent on the optimization of the inherent value, shared experience, and fair transparency of their growing community from countries all over the world. Since Pixel Vault is all geared up and ready for their much-awaited NFT giveaway, the integration of Chainlink VRF is a crucial off-chain technology based on the Ethereum mainnet that will ensure that the distribution process of these non-fungible tokens is provably fair because it is tamper-proof, auditable and fully transparent. 
The Value of True Randomness Free of Tampering
The whole system of the infallible Chainlink VRF works like a charm because it combines off-chain block data that is unknown at the time of the request with the predetermined private key of the oracle node to generate a random number with an accompanying cryptographic proof. The smart contract of Pixel Vault will only accept the random number given if it has an attached cryptographic proof and the cryptographic proof will only be provided if the random number generated is free from tampering and manipulation.
Some dubious NFT projects and blockchain games that do not integrate the verifiable randomness function of Chainlink are suspect to some sort of backdoor manipulation from hackers, cheats, and miners who can use on-chain hashes to publish a certain block only when the results generated are favorable for them. Coincidentally, most of the off-chain application programming interfaces are opaque and not accessible to the general public. Therefore, users have no choice but to blindly trust and believe that the centralized data providers are not hedging the results and stacking the deck in their favor so to speak.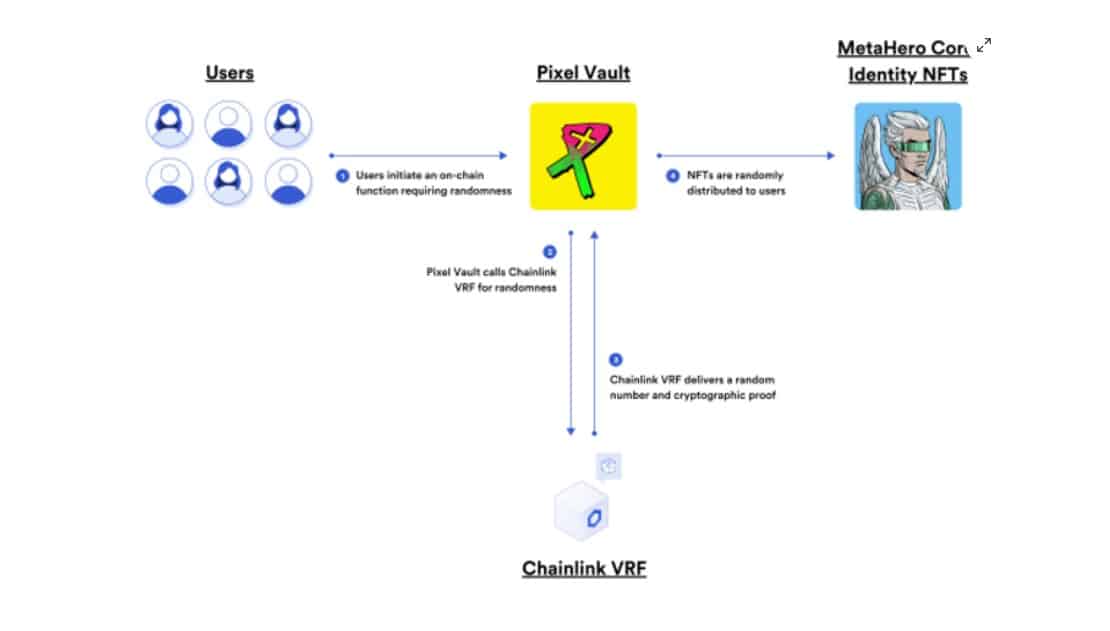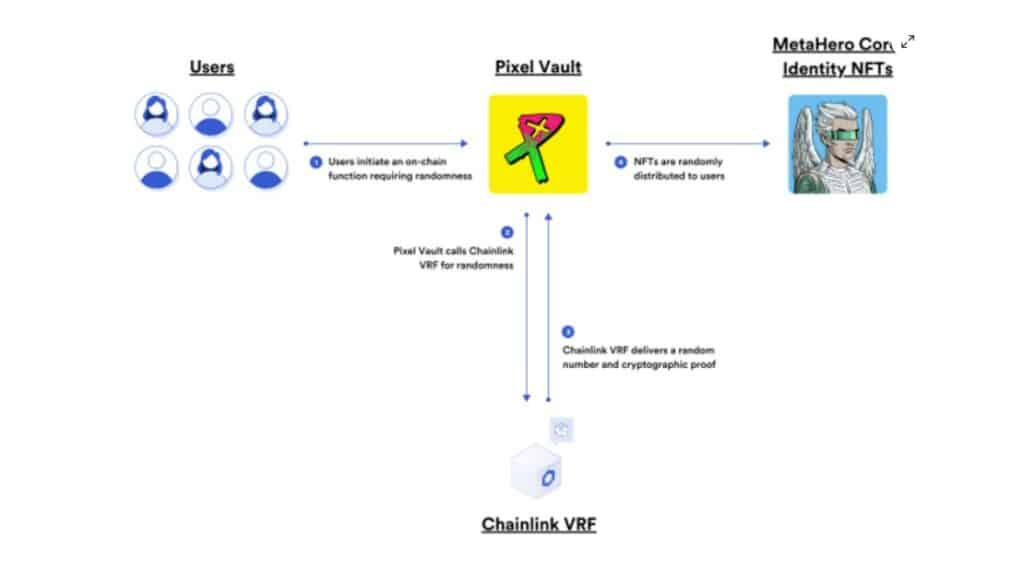 The utilization of Chainlink VRF by Pixel Vault addresses all of these issues in one fell swoop and this strategy is aligned with the company's mandate of fairly rewarding project investors, holders, and community members with giveaways and raffles for their fierce loyalty and undying support. Furthermore, Chainlink VRF is considerably more gas efficient than most of its counterparts thereby making it a cheaper, eco-friendly, and more practical source of tamper-proof randomness. 
All About Pixel Vault
A multimedia group focused on the sustainable and continuous development of avant-garde intellectual property for NFTs and other blockchain-based assets, Pixel Vault is gaining momentum and is poised to end the year strong. PUNKS Comic, its pet project launched earlier this May on the OpenSea NFT marketplace, now has over 38,000 ETH in trading value. Its second project, MetaHero Universe, is home to an impressive collection of superheroes, nefarious villains, and powerful mutants called the MetaHero Identities series and many collectors are aiming to get their hands on these rare NFTs. 
Pixel Vault first used Chainlink VRF to start distributing 144 MetaHero Core Collection NFTs and so far, it has already successfully given 36 MetaHero Core Identities randomly to users. With the Chainlink VRF set in place, people can rest assured that they are getting a fair shake and that they all have an equal chance of getting those highly-coveted and valuable NFTs.
Chainlink's VRF technology has also been integrated into multiple games and dapps such as Wasder, Dreams Quest, Axie Infinity, My Defi Pet, The Six Dragons, Polyient Games, and many others.
When it comes to gaming, Chainlink has many educational articles, such as 16 Ways to Create Dynamic Non-Fungible Tokens (NFT) Using Chainlink Oracles and The Economic Impact of Random Rewards in Blockchain Video Games. You can also check out the extended documentation.