With so many trailers, presales, teasers, and giveaways, many of us have acquired equipment, multiverse founder tokens(MFT), characters and so much more that have yet to be even used in-game. Many of us are itching to try out that legendary weapon or that rare and limited edition character or even some cool gameplay and features that will be released. I'm sure all of you are waiting for a game or two to be finally out but if you are not, you wouldn't want to miss out on any of these upcoming games! 2019 is the year of crypto games! So, we have prepared a list with some of the most highly anticipated crypto games of the year!
The SixDragons
The Multiverse game Six Dragons is an open world RPG that will be available on PC. SixDragons has lots in store for their players and any MMORPG lovers will definitely want to check this out. Before I go on, you should definitely take a look at some of their gameplay and preview.
Feeling excited yet? To build on to your excitement here is one of the features which will be implemented in SixDragons which any MMORPG player will be ecstatic about. There will be a companion system which allows players to have a party of up to 5 AI which you will be able to have full control of their equipment and abilities. This will give players the option to go solo anytime and this eliminates the problem of having a lack of players for a certain dungeon or the lack of power to fight a boss.
The SixDragons also showcases stunning graphics and an interesting storyline as well. They also have plans to release their own founder's token so stick around in their telegram for more information. You can also read about an amazing interview Meltoid did with Savaas, the lead developer of SixDragons, here. Don't forget to check out the Presale of Six Dragons where you can get extremely unique in-game items!
Release date: Q2-Q3 2019.
Free to play: Yes
Available on: PC

9Lives Arena(9LA)
9Lives Arena is a PVP RPG where you actually get permanently deleted if you lose all 9 lives. However, players do not have to worry about game progression when their characters eventually perish as 9LA has a persistent progression feature. All items will not be lost upon death and will even be able to be shared among all of a player's characters. Additionally, your character will not have a fixed class which means any equipment and weapons can be used by any character it is up to you to decide how you want to groom your character. You can read more about 9LA here.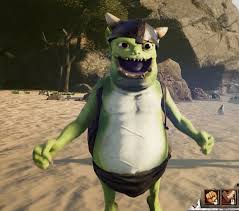 9LA offers some very cool features and one of them is your companion Oogy. Your very own Oogy is your partner in crime and it will help you in resource gathering even when you are offline. 9LA is only playable on PC but they have plans to create a mobile app to be able to interact with your Oogy while away from the game. Players will also be able to dress their Oogy up with different kinds of cosmetics and some of those costumes have been airdropped to 9LA founder token holders as well. 9LA is also the first ever multiverse game to airdrop items to their token holders. You can find more information about their airdrop and their kickstarter here.
Another cool feature is their blueprint system which players will be able to earn money.
Release date: Alpha release in May 2019.
Free to play: No
Available on: PC
War Riders
War Riders offer car battle pvp action where you can go on a rampage using your own war vehicle to destroy others! Players will all fight and scavenge for the planet's only form of currency, Benzene. Vehicles will be fully customizable as well so players will have more than one way to show off their cool ride. Take a look at their trailer and some gameplay as well!
War Riders is one of the most anticipated blockchain games as it's in development for over a year. Cartified Inc, the company behind War Riders is working around the clock to offer the best possible gaming experience to crypto gamers and not only! Definitely, one the games you should check out with low entry fee. You can purchase vehicles for as low as 5$.
Release date: Alpha multiplayer testing in May 2019, full release after
Free to play: No
Available on: PC
Website

Cryptic Conjure
If you are always picking the magician class in any game, then Cryptic Conjure will summon your spellcasting spirit out! This MMORPG is definitely the calling for all wizards to come forth to participate. Players will be able to utilize a huge arsenal of spells to conquer dungeons and blast those bosses down. Mages that craft the rarest of spells will be able to take control of the strongest power and even sell the recipe to others. You can check out more about the game here.

Release date: 2019
Free to play: No
Available on: PC

Relentless aka Zombie battleground
A crypto version of Hearthstone? Yes, please! Relentless, the rebranded version of Zombie battleground is a trading card game full of zombies (not actual zombies) that runs on the blockchain. This means you maintain ownership of your cards forever and you will also be able to trade them on the marketplace.
You can also buy packs from the store to get rare cards before the full release but the game will remain free to play and not pay to win as well. You can also try out their beta mode which is available on both mobile and pc.
Release date: In early release, full release not known yet
Free to play: Yes
Available on: PC & mobile

Cryptofights
Cryptofights is a 1v1 fighting game available on mobile. Cryptofights successful completed their presale with over 3600 chests sold and all milestones hit. They also airdropped community milestone weapons to all their presale supporters and will soon airdrop Founder equipment to all their founder token holders. Take a look at their gameplay trailer!
One sweet feature for players to earn money from will be the wagering system. Players will be able to set their own rules for battle and use their winnings to buy better equipment or cash out. For players who did not manage to participate in the presale no worries as you will be given a set of practice weapons as well and you will be able to work your way up using the wagering system to acquire better equipment. Moreover, with the transparency of blockchain and fair play ensured in matchmaking to prevent higher level players from abusing lower level players, everyone can be sure to be fighting on even ground without fretting about any form of cheating.
Release date: Q3 2019 open beta
Free to play: Yes
Available on: Mobile

Chainbreakers
Chainbreakers is a strategy RPG game where players can earn Mana from. Chainbreakers has also partnered with Decentraland land investors and those land investors will also be able to earn Mana from hosting quests in their land. You can read more about Chainbreakers here.
Release date: September 2019
Free to play: Yes
Available on: Mobile and PC

Crypto Space Commander
Fancy doing business in space? Roam the vast outer space with your ship in Crypto Space Commander. It's up to you what kind of specialization you want to be. Whether it a trader, a crafter or a miner, all action unfolds in space! Crypto Space Commander (CSC) is a game by the popular blockchain games studio Lucid Sight!
Release date: Early Q2 MainNet Live Alpha
Free to play: No
Available on: PC
Website

Taurion
Taurion is a sandbox MMO which showcases an ever evolving world. Players will have to select one of three houses to compete for land, resources and so much more. You will definitely have to check out their videos as words cannot describe how amazing this game is going to be. You can get more info about Taurion here.
Release date: October 2019
Free to play: No
Available on: PC

Alterverse
Alterverse is a multi-world and game creation multiverse that will be playable on PC. There will be 17 games that will be available in Alterverse in the future and they are set to be releasing their first game, Disruption, which will be on Steam. With PVP, PVE, crafting, customisation and so much more to do, there is indeed something for everyone in Alterverse.
One sweet feature of Alterverse is that anyone will be able to monetize their activities using their in-game currency called Aces. In their first game, Disruption, players will be able to be server owners which they will be able to earn money from. Players will be able to raid as an alliance or go single player mode as well. Find out more about Disruption here!
Release date: Q2 2019
Free to play: No
Available on: PC
Website

Gods Unchained
Gods Unchained is a classic TCG with a huge focus on competitive play. They are currently having their exclusive presale with 380 limited edition genesis season cards to be found. They will only be available before the game launch so be sure to get your hands on some. Having doubts about buying a pack? Watch the trailer and you will be sure to to get your hands on some cards after.
Gods Unchained will also be hosting its own world championship with 10% of cards sales going into the prize pool. As of now, the prize pool is over $400,000!
There was even a mystic titan being auctioned off for $62,000USD!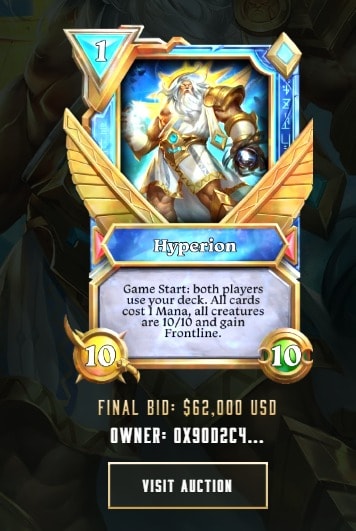 This is not your regular TCG and all TCG lovers should definitely check out this game.
Release date: Beta in Q3/Q4 2019
Free to play: Yes
Available on: PC
Website

War of Crypta
War of Crypta is a PVP game which allows players to trade, evolve and even sell their heroes. Players will strategise and form a team using their own heroes to battle against other player's heroes.
War of Crypta had a super amazing presale with all 1500 characters being sold out within 25minutes. Some lucky souls who purchased those $25 loot boxes managed to snag some characters with a backing of 10000enj. That's already a super big win even before the actual game is being released.
Release date: Q2 2019?
Free to play: Yes
Available on: Mobile

Forest Knight
Forest Knight is a single player turn-based strategy game in a land called Chroneville. Forest Knight has successful completed its presale as well with over 2500 chests sold. Different kind of cosmetics and weapons were available in chests with some backed by 1000Enj. The 2000 chest milestone was reached meaning Forest Knight will have 400k Enj locked in-game. This is an impressive feat from a solo developer and Forest Knight was the first to come up with the idea of MFTs and airdrops to token holders. Forest Knight also issued chest tokens for every chest sold and will be airdropping items to chest token holders as well. They also have huge rewards for their biggest supporters and they really bring about the idea of giving back generously to those that support them. You can take a look at how their 10 top backers will be rewarded. You can read more about Forest Knight.
Release date: Early access in Q2 2019
Free to play: Yes
Available on: Mobile
Cats in Mechs
Cats in Mechs(CiM) is an RPG that features cute but deadly cats which you can upgrade and send into battle. CiM will also support some items from other games and also multiverse items. For example, the shard sword which was unlocked in the Forest Knight chest milestone will be usable in CiM as well.
The presale for CiM hasn't even started yet so you might want to keep a lookout for it. Currently, CiM is hosting a small event where teams will be able to battle each other and also try out some game features and mechanics. The winning team will also be nicely rewarded with their very own CiM MFT. Head over to their telegram for more information!
Release date: Q2 Presale support exclusive closed beta, July 4th 2019 open beta
Free to play: No
Available on: Mobile, PC to follow after
Blankos
Love to party? Love hanging out with friends? Then Blankos is the game for you!Every player will be able to have their own unique vinyl character to send on adventures, complete daily challenges or even just chilling with other Blanko.
You can read more about Blankos here. You can also sign up at their website for updates and early access.
Release date: Late 2019
Free to play: Yes
Available on: PC

Whether you are a casual or hardcore gamer, there is something for everyone. We have given you the details, don't miss out on any of those upcoming 3d crypto games for 2019! There is lots to loot, lots of battles to be fought and definitely lots of money to be made! There are more games than the ones we mentioned above, some will argue that they should be placed on this list and we agree! Let us know in the comments below what other games you are waiting for this year!
Disclaimer: eGamers.io may use affiliate links to monetize the content provided. Sometimes, eGamers.io might get a portion of the sale.