The highly anticipate Enjin Marketplace launched today and now gamers can trade their ERC-1155 assets without having to rely on trading channels. Enjin is pushing further for mainstream adoption with a number of products, and now the Enjin Marketplace provides a hassle-free way for investors and players to safely initiate peer-to-peer trades.
The Enjin community was constantly asking for a marketplace, as a result, numerous self-governed trading telegram group came to the surface in order to for players to unofficially trade ERC-1155 assets, ranging from art collectible to in-game Multiverse items that you can use in multiple triple-A games.
Enjin is celebrating the launch with a huge giveaway containing 4,000 ERC-1155 assets backed by over 30,000 ENJ. Don't miss your chance to participate in the giveaway. Click here to participate.
The buying process is a piece of cake, all you have to do is select the desired item at EnjinX marketplace and scan the QR code using Enjin Wallet. After that, the item will automatically move into your wallet.
The Enjin Marketplace
Natively integrated into the EnjinX explorer, the world's fastest Ethereum explorer available, blockchain gamers can now peer-to-peer trade their ENJ backed items without hassle and profit from their hard-played in-game items.
The Enjin Marketplace marks the new earning era of Multiverse gamers as trading was done before in unofficial telegram channels and the community across all Multiverse games is overwhelmed that it finally arrived.
There are hundreds of items listed already, within two hours of the official announcement and we expect hundreds of thousands to be listed in the next weeks. The process of selling and acquiring is so easy, that even a 5 years old kid could do it.
Buying an Item Using The Enjin Marketplace
Buying assets using the Enjin Marketplace is simple and extremely easy, all you have to do is select the desired item and then click the buy button. To demonstrate how easy it is, we decided to give it a try and purchase a "Flashbang" item. One of the first items listed by Stack UP, a non-profit organization that supports military service members. Flashbang will be playable in six Multiverse games, including Alterverse, Containment Corps, Kingdom Karnage, Age of Rust, Bitcoin Hodler and Shield of Shalwend.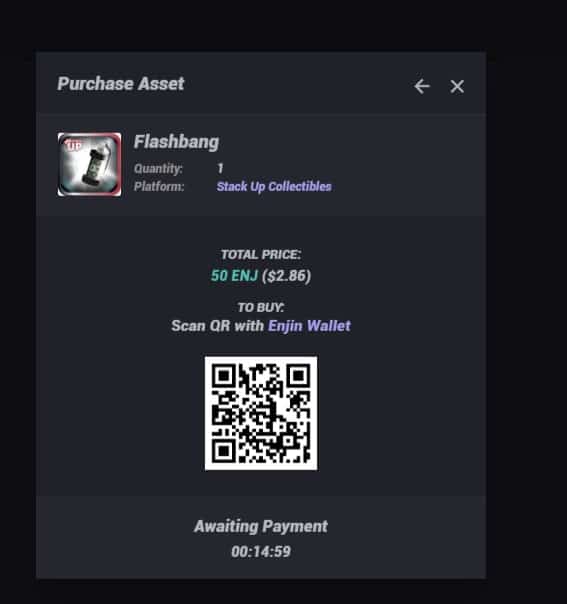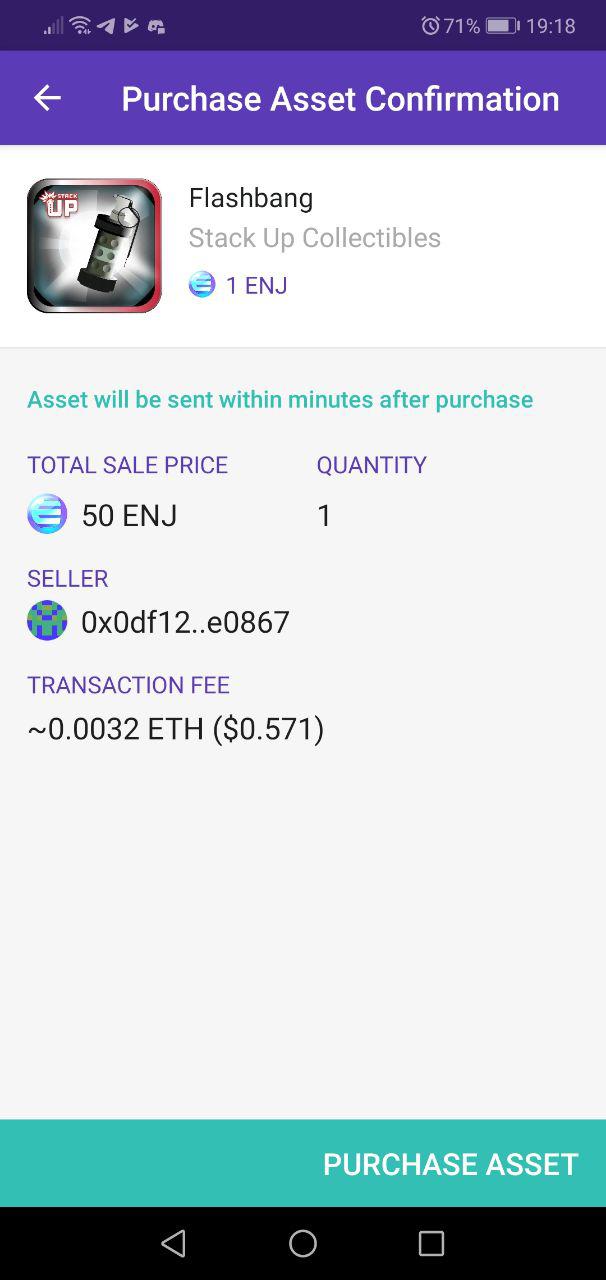 Right after scanning the QR code, you will get a confirmation screen which requires you to type your password and approve the transaction.
That's all! After the transaction is confirmed by the Ethereum network, the asset will be in your inventory.
Enjin knows well how to develop user-friendly products, tailored for mass-adoption and they proved themselves once again with the Enjin Marketplace.
Since Enjin Wallet is an essential part for every Multiverse Gamer, as it serves as the main items and tokens inventory, all transactions should be approved and executed from within it.
We found the process delightful and straightforward. Make sure you grab your own Flashbang or any other item you might want to skyrocket your Multiverse gaming experience.
Selling an Item Using The Enjin Marketplace
For this demonstration, we put on sale a Rare Arena Crystal from The Six Dragons Multiverse game.
Open your Enjin Wallet and find the asset you want to sell, click on the three dots on the upper right corner and the application will guide you through the whole process.
Enjin Marketplace charges a flat 5% fee, as you can see in the image below, the listing and transaction fee is 0.0096ETH ($1.7).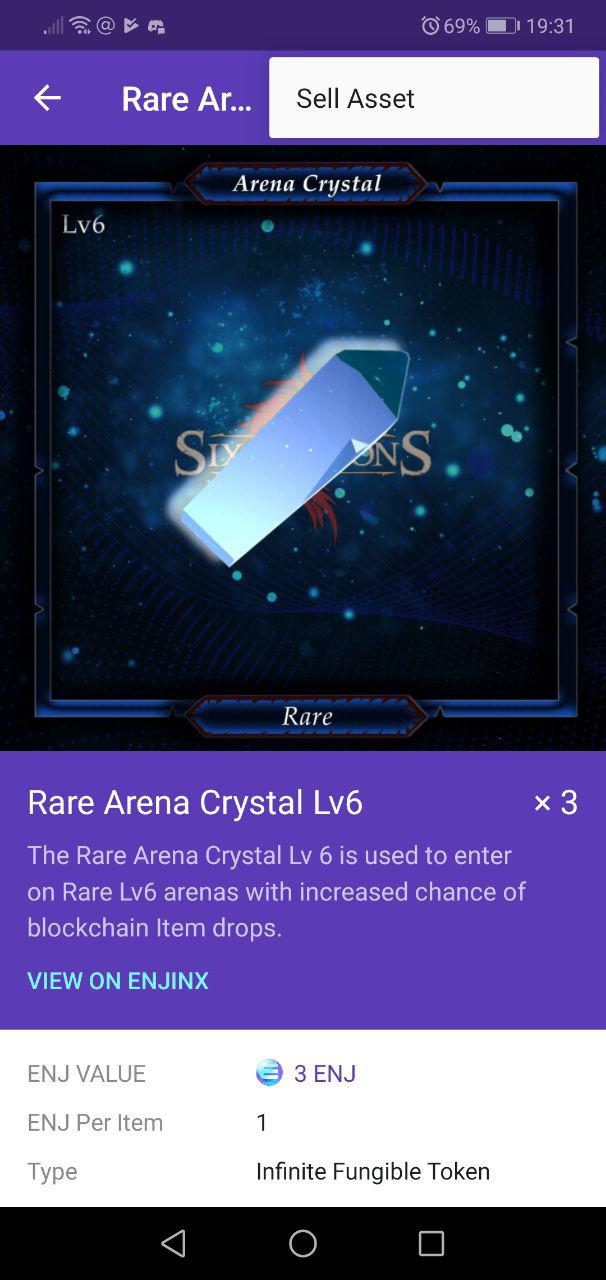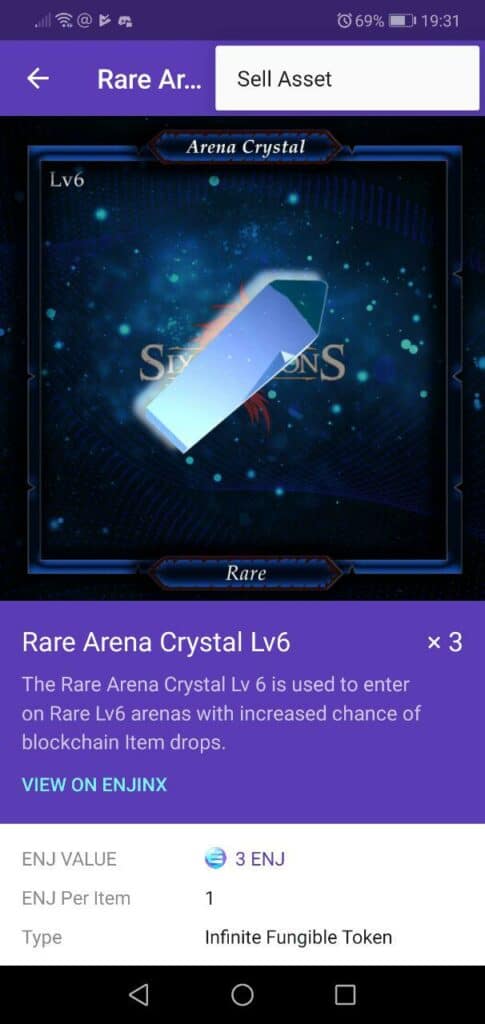 After this, the Rare Arena Crystal Lv6 which offers increased drop rate in The Six Dragons game is now for sale in the Enjin Marketplace.
Enjin – Leading The Innovation in Blockchain Gaming
It's been almost two years of hard work, developing blockchain technology is not a walk in the park, it takes time and expertise to launch such products and Enjin team is well capable to accomplish any task.
Their proven track record includes the officially adopted ERC-1155 standard by the Ethereum community, the Enjin Wallet which is the world's most trusted Cryptocurrency wallet and the home of every blockchain gamer as well as the Gaming Multiverse.
Enjin has released a weapon of mass-adoption, the Unity SDK which allows developers to integrate blockchain economy into their games, hassle-free within a few hours. Not only that, they recently introduced the Java SDK along with EnjinCraft, the world's first blockchain-powered Minecraft server.
With partnerships that include Samsung and Hasport, Enjin leads the space for mass-adoption in a race that many gaming blockchains struggle to follow. The platform contains a dozen of tools and services for tokenizing digital assets to increase acquisition, retention, and engagement of players while exploring new and proven monetization strategies.
Speaking of monetization strategies, a number of Multiverse games conducted sold-out presales such as The Six Dragons ($160,000) War of Crypta, Dissolution and more. In overall, the Multiverse games have raised over $1 Million USD through the past year.
Enjin, before the Enjin Coin is one of the biggest communities in gaming with millions of users worldwide. In 2017, following a successful ICO, Enjin raised $18.9 million USD to bring blockchain gaming at the forefront of the gaming industry.