The Vulcan Forged ecosystem is getting ready for the public beta launch of VulcanVerse MMORPG and its automated Cedalion (scholarship) program with Land plots, Berserk cards and Vulcanites.
The highly anticipated game will open its gates to the public later this month, and the community's excitement has led the price of the $PYR token to a new all-time high at $25.60, a stunning 2098% price increase over the past five months.
Now with the launch of the VulcanVerse Beta and the Cedalion program, $PYR will have far more demand with in-game assets upgrades required to invite new Cedalions.
The interest in VulcanVerse Scholarships is extremely high, with Yield Guild Games, Merit Circle, and two undisclosed guilds investing serious money in VV Land plots and $PYR for their upcoming scholarship programs.
Vulcan Forged is known in the Blockchain gaming space for its insane reward mechanics and two play-to-earn pools that hold 10% of the $PYR token supply. As of today, the value of the rewards is estimated to be over $100 million.
How Will The Cedalion Program Work?
Managers (NFT owners) will be able to automatically rent their assets to scholars for a fixed fee of $PYR or a $LAVA percentage. The minimum renting period is 24 hours.
For example, a land or Vulcanite owner can:
Rent Land or Vulcanites for $PYR without $LAVA rewards.
Rent Land or Vulcanites for free and receive 50% of LAVA rewards.
The Cedalion must play, complete daily quests and tasks that will arrive in a few weeks, and then the system will automatically reward the $LAVA tokens.
Since both $PYR and $LAVA are on Polygon, there are almost zero transaction fees, and swaps between tokens can take place effortlessly using the VulcanDEX.
It seems that Cedalions will be able to profit a lot from VulcanVerse and other Vulcan Forged games such as Berserk as the rewards will be high.
One Time Renting Fee
Managers will have to pay a one-time fee which will allow them to rent out their NFTs. The prices are the following:
Basic: 1 NFT rent -> 2 $PYR
Epic: 10 NFTs rent -> 10 $PYR
Legendary 25 NFTs rent -> 25 PYR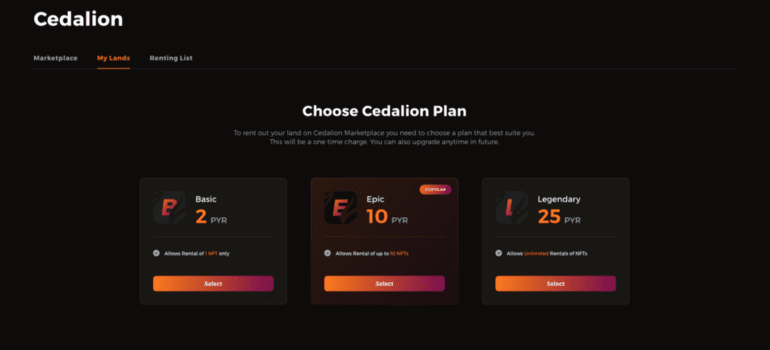 Land Upgrades and Multiplier
Land plots in VulcanVerse come in levels up to level seven; level one Land will allow you to invite one scholar while level two land two scholars, and so on.
Lands after level four become node operators and earn a percentage fee of the Marketplace sales, while on level seven, a percentage of the network fees on Elysium blockchain.
The higher the land level, the bigger the $LAVA multiplier is. Through this mechanic, Managers are incentivized to upgrade their Land plots.
Vulcan Verse Land plots upgrading:
Level 1 to 4. Regular land plot.
$PYR Staking. 350 $PYR max.
Invite up to 4 scholarships, one scholar per level.
Level 4-6. Node operator.
$PYR Staking. 1050 $PYR max.
Invite up to 6 scholarships, one scholar per level.
Percentage of the Marketplace fees.
Level 7. Node Validator.
$PYR Staking. 1650 $PYR max.
Invite up to 7 scholarships, one scholar per level.
Percentage of the Marketplace fees.
Percentage of the Network transaction fees
Below you can find an image with the required $PYR for land upgrades and Staking. Note that staking is not mandatory, but the Sowing cost is.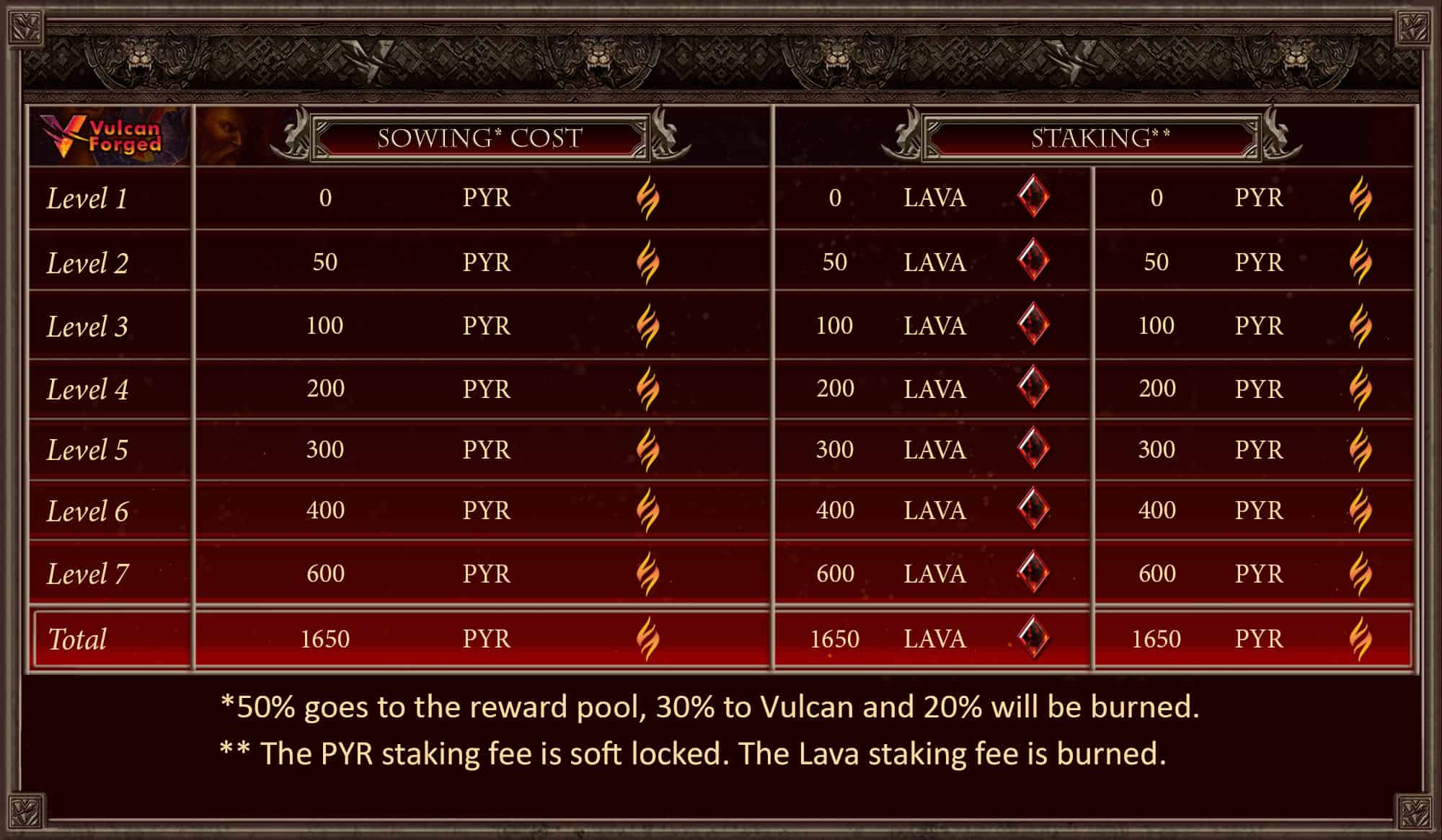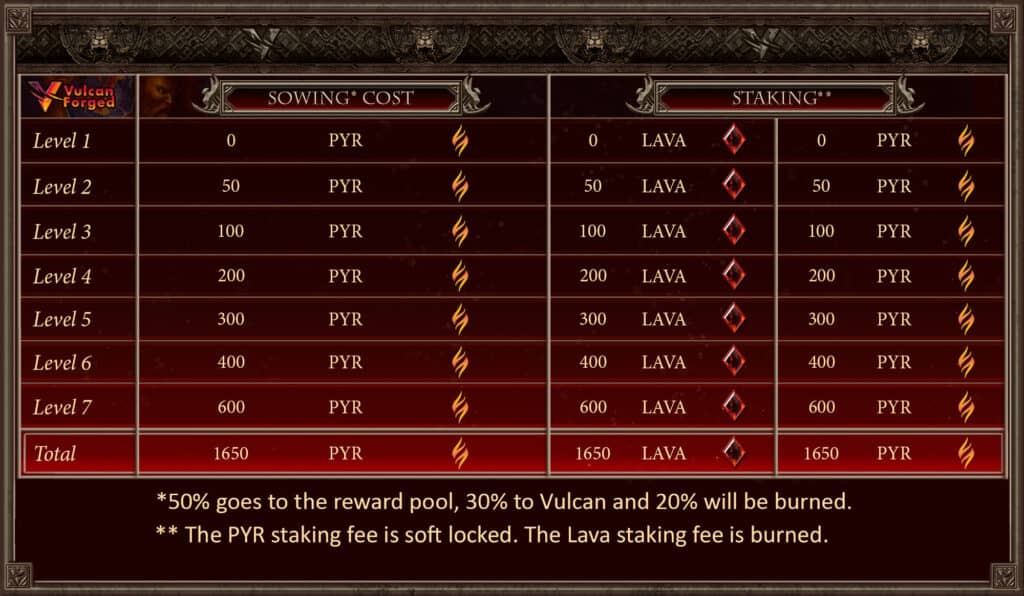 VulcanVerse Land Renting QA
Who will own the land when rented? – The owner does, Cedalions can't sell or transfer the land plot.
Whats the renting price of Land? – The market will determine the prices, either fixed $PYR or $LAVA split, higher level Lands will have a higher renting price.
Who keeps the rewards? – The Cedalion keeps all rewards (XP, $LAVA, $PYR), unless Its rented for free with $LAVA split.
If $PYR is staked in the land, who gets the rewards? – $PYR staking rewards go to the Manager.
Can I invite 2 Cedalions in a level 1 Land? – No, one Cedalion per Land level.
How much does each Land upgrade cost? – Consult the image above, price of $PYR changes.
To get your Land or Vulcanites, head to the Vulcan Forged Marketplace.
A video contest is live this period with $100,000 in $PYR Rewards up for grabs.
Join the Vulcan Forged ecosystem for free, get the Get a 'Class of 2021' achievement badge and receive double $LAVA rewards until December 31st.