So, you have been asking what are the best gaming cryptocurrencies? Don't worry, we got you covered! We experience a wave of new gamers, unfamiliar with cryptocurrencies who discover tutorials such as our comprehensive guide how to play crypto games, so we decided to write about the best gaming cryptocurrencies that you should keep an eye out the next years.
It's no secret that blockchain has a huge impact on gaming, it transforms the industry like in a way that most of us haven't even imagine. For the first time in history, players are able to make a living* by playing games. You don't have to be a professional gamer or a well-known streamer to make some money anymore. All you need is skills, a plan and sometimes, an understanding of the particular in-game economy.
After almost 2 years from the Cryptokities revolution (and HunterCoin long before), there are dozens of gaming cryptocurrencies available, both platforms and in-game tokens that look promising. Obviously, not all of them are going to succeed, but some will definitely perform well over the next years.
Blockchain Games & Adoption Issues.
Most games, especially in the early days, weren't built by game developers. Instead, a wave of "gamified blockchain use cases" that sometimes were Ponzi schemes presented to the public as "games". Thankfully, after almost two years, we have real games that are either fully decentralized (dapp games) or hybrid ones. (economy on the blockchain)
Let's admit it. Teaching your best friend how to play blockchain games is a hard task to accomplish. You first have to show him how cryptocurrencies work, and this might take a while, or even months, especially if he's not tech-savvy. Most of the new users quit because of the complexity, learning how to use Metamask or dapper isn't enough, especially when you move from chain to chain. People still tend to view blockchain games as an alien-tech.
Thankfully, many blockchain games implement new ways to play without having to set up a wallet and all that stuff, simplicity is the key, onboarding players to a crypto game should be as easy as a regular one.
Understanding What Gives Value to Gaming Cryptocurrencies.
There are a few things that every gamer – and investor, should ask himself before buying a gaming cryptocurrency or even playing a game. Does the token have any use case? How is it used in-game? Does the game have any future at all? Is the team behind it capable?
A gaming cryptocurrency must-have a utility. Meaning that there should be a purpose to drive demand for it. Can the player use it to buy in-game items? Unlock the next stages and get power-ups? Does it serve as the main in-game economy token? These, and not only, are the questions you must ask your self before investing in a gaming cryptocurrency. The formula goes like this: The more the utility, the biggest the value.
But is that all? Of course not. We can't have value without demand, and in order to create demand, the game must be a great one. Otherwise, why the player should bother playing – and buying the token? Gaming Cryptocurrencies rely on a product, the game – or gaming platform. If the game is not enjoyable and players don't like it, there won't be any demand for the in-game token, simply because there are no players to play.
The Best Gaming Cryptocurrencies.
Our list of the best gaming cryptocurrencies contains ten brief descriptions of well-known gaming cryptocurrencies, of course, there are a lot of more which you can find out at the bottom of this list.
In this article, we will refer to both general blockchain platforms and gaming exclusive tokens/coins. The listing order does not represent any ranking. Each blockchain is different with its own games and special characteristics. Currently, there is a ton of gaming blockchains and tokens, we just can't include them all in our best gaming cryptocurrencies list, but be rest assured that those included here, will probably have a huge impact over the gaming industry.
ENJIN COIN – BUIDL The Gaming Future.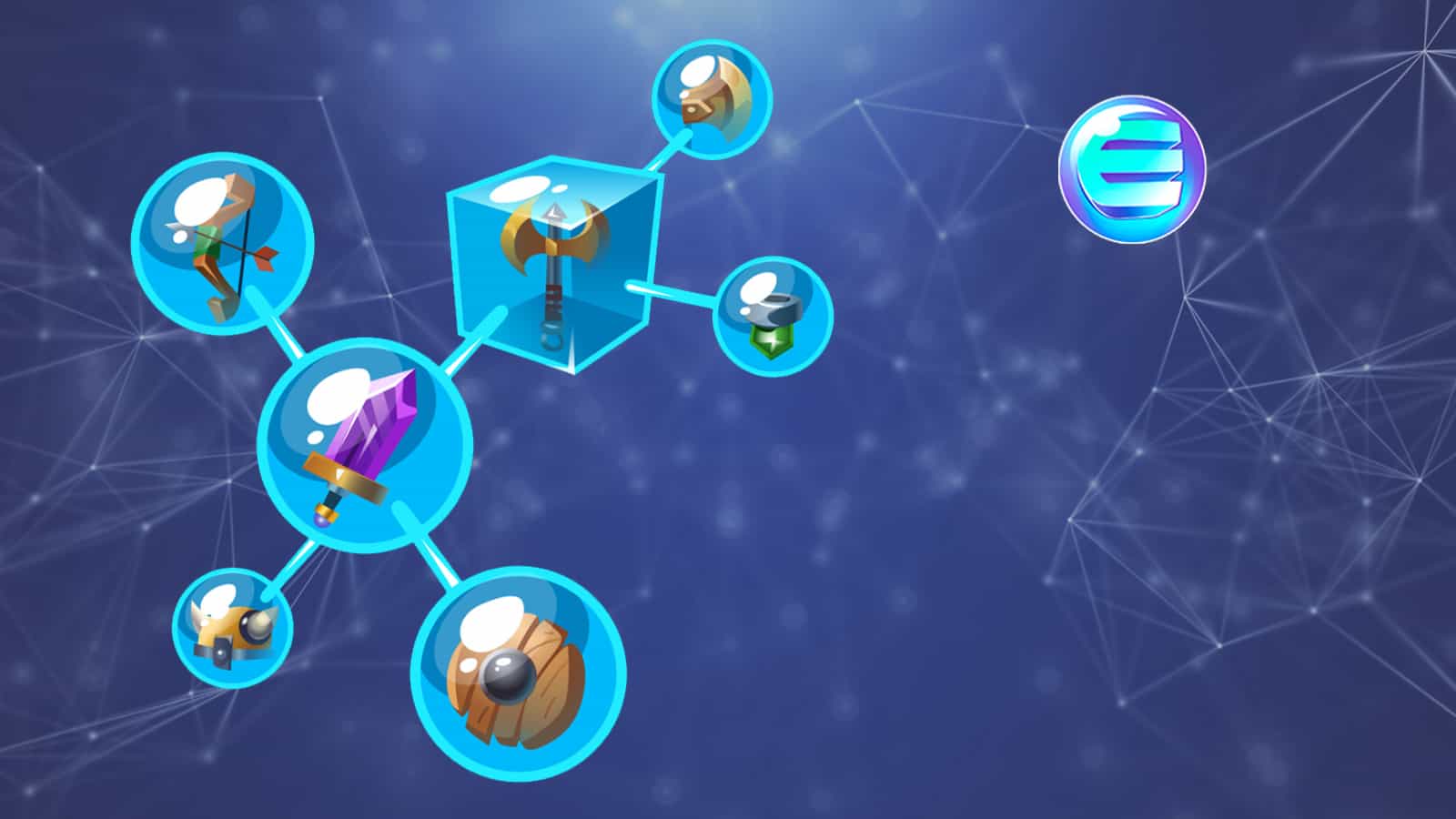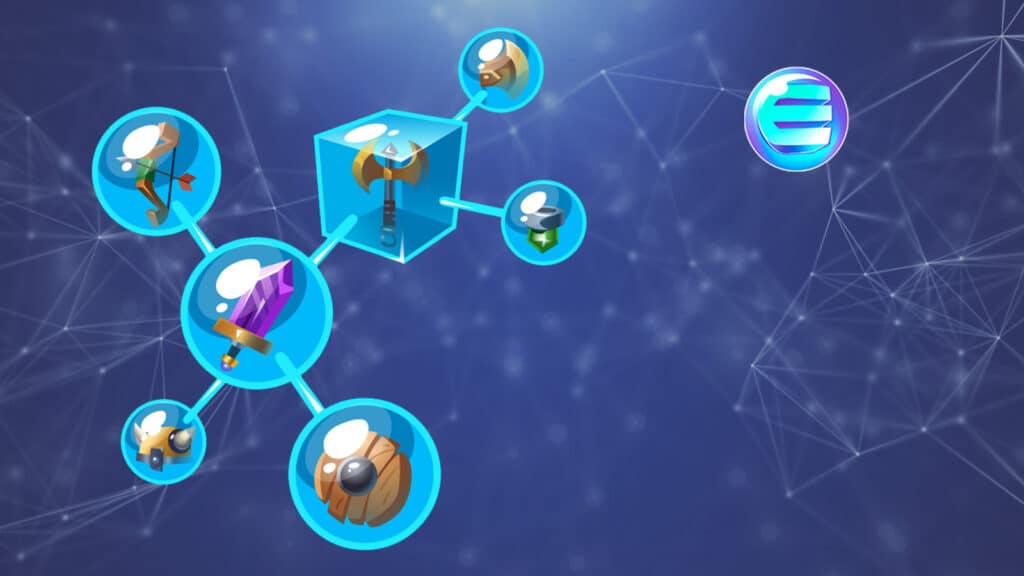 What kind of best gaming cryptocurrencies list would this be without Enjin Coin? Enjin has been a synonym of gaming innovation with dozens of released features and proven technologies that push further for mass adoption in blockchain gaming. Besides releasing the ERC1155 Token Standard and the Enjin Wallet, which is considered the home of every blockchain gamer and the world's most secured cryptocurrency wallet, they are also the fathers of the Gaming Multiverse.
Enjin is not a newly established company, they are one of the biggest gaming communities in the world, with millions of users and a strong focus on Minecraft. They recently introduced EnjinCraft, the world's first blockchain-powered Minecraft server and guess what, EnjinCraft items can be played in various multiple games. With SDK for Unity and Java, developers can build hybrid games, focusing on what matters the most, their game and not the blockchain behind it. Next to come from Enjin camp is the Efinity which is going to revolutionize the gaming experience on Ethereum blockchain. Enjin has signed a partnership with Samsung and the ENJ token is currently trading at $ 0.056. Moreover, Enjin games have raised around $1 Million in in-game items presales, where most of them were complete sold-outs!
What is The Gaming Multiverse?
It's the most amazing thing you have ever seen in gaming, and we mean it. Think of this, you can use the same item, with a single inventory (the Enjin Wallet) in incredible 3D games. The games are about 30 at the moment, most of them under development with Forgotten Artifacts to be the first playable and many more to come.
To better understand the quality of Multiverse Games, where, most of them are considered Triple-A, you should check out The Six Dragons, 9Lives Arena, War of Crypta, Age of Rust and so many more! Some games are also going to be released on Consoles including Playstation and Xbox. 2019 is going to be the year with many Enjin game releases.
All Multiverse assets are ERC1155 tokens with limited supply and backed by ENJ tokens. Players can melt (destroy) their items using Enjin Wallet and receive the base value of ENJ straight to their wallet!
XAYA – Fully Decentralized Autonomous Games.
When was the last time you encountered a blockchain gaming platform that focuses on fully decentralized games without compromising in gameplay? XAYA is well-known among the blockchain gamers for its upcoming titles Taurion and Soccer Manager Elite.
XAYA through its own blockchain aims to change the way players perceive gaming and how they play. Building a fully decentralized game is not an easy task to do, especially when it's not "another gamified blockchain experience". XAYA builds games without compromising in gameplay that runs fully autonomous – meaning that even if the developers drop the game, it will be still playable by the community.
Let's take a look at how XAYA blockchain stands out today. There is no central authority like Hybrid games, each project is serverless with 24/7 uptime and provably fair as XAYA is open source with an SDK for developers. Players earn through the Human Mining process and establish their own prices in free markets. There is no limit on what someone can build and we have already seen Taurion, an MMO game under development by XAYA, introducing some basic functions of what the blockchain is capable for.
Another game worth to mention is the Soccer Manager Elite. The SM Series counts over 50 Million downloads with 1 Million active players. The blockchain version of SM will have the full support of XAYA and the Soccer Manager Ltd, we believe this game is going to be a breakthrough for the blockchain gaming space as it already has a huge player base. In the UK only, 76,8% of football fans like to bet, the concept of earning through a football manager game is likely to gain huge fans across Europe and everywhere else in the world where football is literally worshiped.
Game Channels by XAYA.
Recently, XAYA introduced Game Channels, a major technological advancement for games and dapps that allows them to run off-chain. Game Channels are running parallel to the main chain allowing them to use their own space in a secured real-time decentralized world.
XAYA uses the CHI coin to fuel the ecosystem, CHI is currently trading at $0.017 and it has a total supply of 77.3 Million coins.
DECENTRALAND – A Blockchain VR World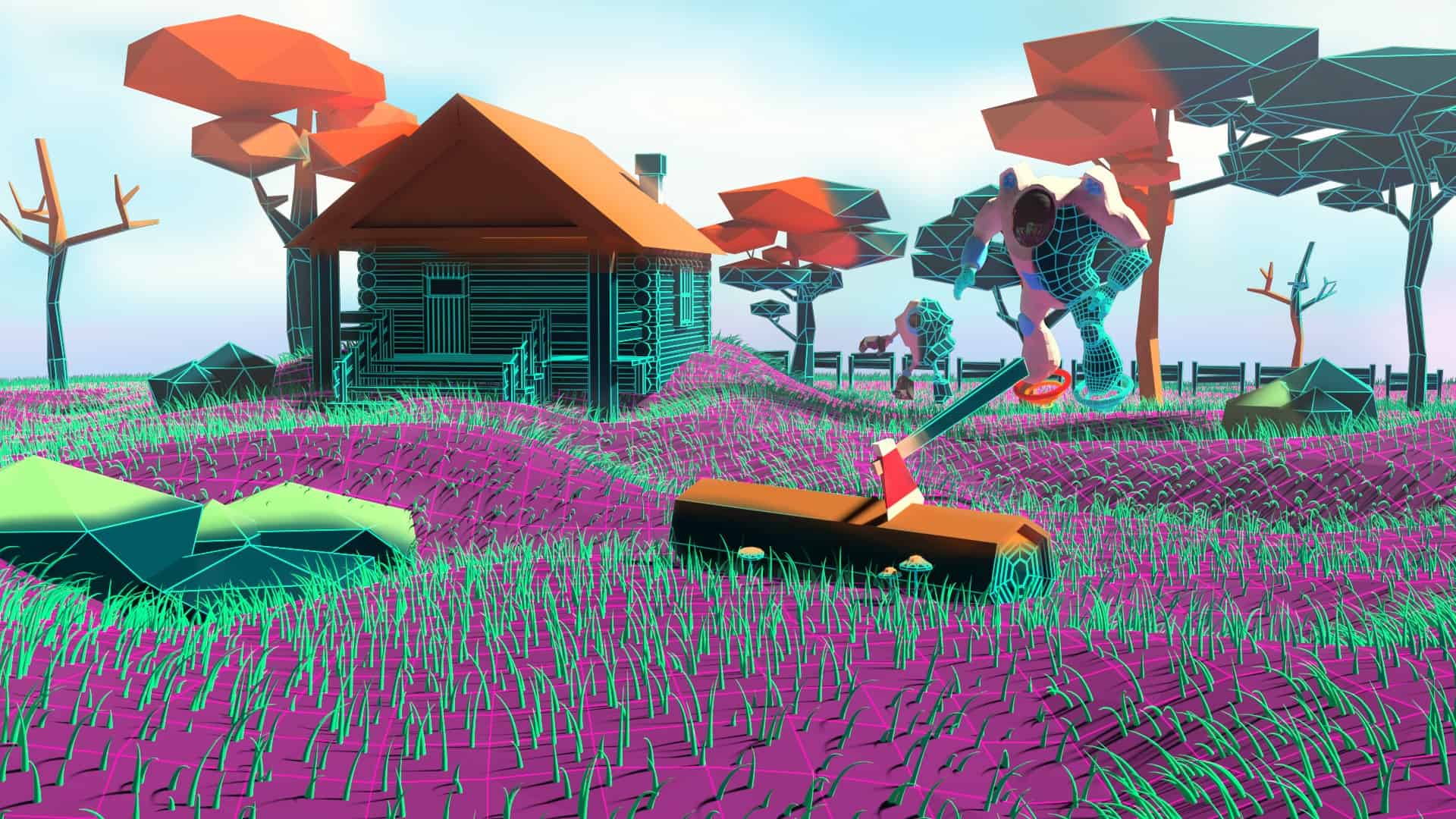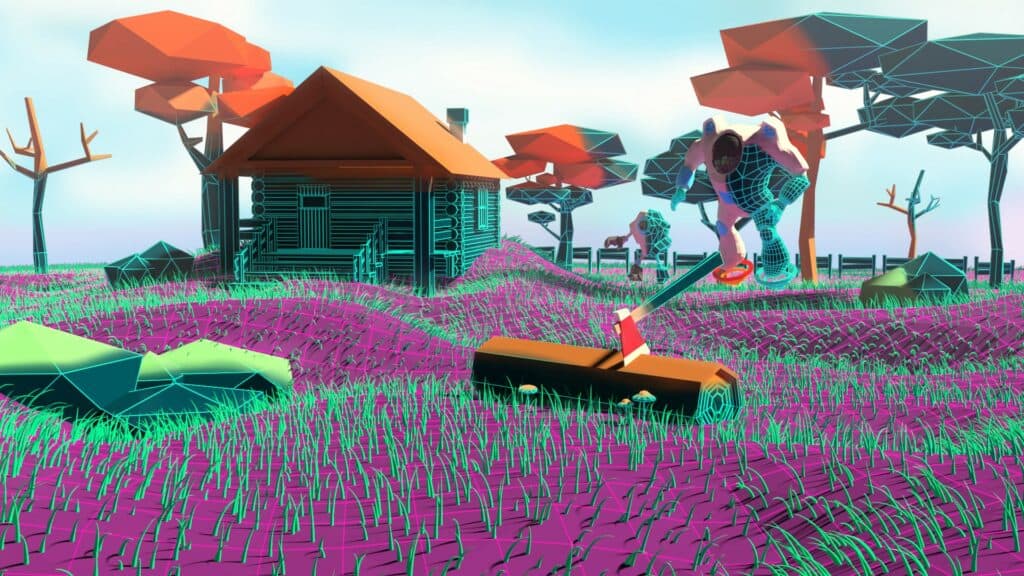 In a new world, owned and developed by the users, what role you should choose? That's what Decentraland stands for. Built on the Ethereum network, the world contains 90,000 land parcels available for purchase to build remarkable experiences! The platform is fully decentralized and focuses on VR technology.
Decentralands offers an SDK for developers and extensive tutorials/documentation to help developers build fantastic games! It's worth to mention that the land parcels are connected, so players are encouraged to explore a massive world of opportunities.
The platform has its own Visual Builder where everyone can create incredible scenes with the only limit to be the imagination, in addition, players can create their own unique avatars. The Decentraland concept has sparked a number of community-made websites offering from land renting tools to analytics and news.
Games on Decentraland.
Some known blockchain games are going to use Decentraland such as ChainBreakers, Etheremon (lack of funds), Axie Infinity and Battle Racers with many more to join in the future.
The Decentraland's cryptocurrency is called MANA, It's a deflationary ERC20 token currently trading at $0.031 with a total supply of 2,64 Billion tokens.
An inside look in Decentralands Closed beta can be found below.
TRON – The King of Gambling Prepares For Triple-A Games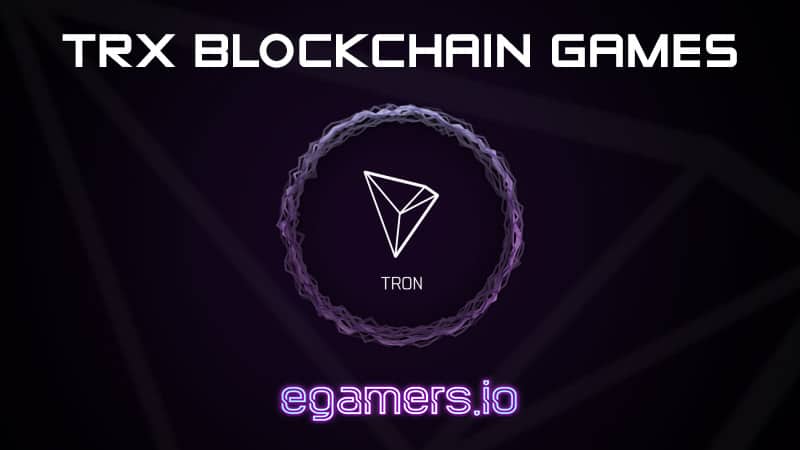 Someone could argue for placing TRON in our Best Gaming Cryptocurrencies list. I have to agree that it's a controversial platform, whether you are a fan or not, Justin Sun with his announcements of announcements promotes well a working product, which handles 2,000 transactions per second and now supports sidechains with Sun Network. Games on TRON are more focused on gambling, some popular "games" require players to bet an amount of TRX, in order to play, per round. But there are exceptions like CropBytes, Knightlands, Pizza Heroes (DAPP Evolution) and others. Take for example Wink, Its the number one dapp across all blockchains with over $2.9 Million in bets the past 24 hours, sportsbook and lucky games.
Not everyone preserves the word "Games" as we do, when we talk about games, we mean real games, the ones you can drive, score, and hopefully kill others, but in the mind of a gambler, you need luck and money, not skills. Developers on TRON seem to understand this as there are way more gambling than actual games.
What About Real Games on TRON?
TRON is ideal for gambling, but it doesn't mean games are not going to be built on it. TRON Arcade is on a mission to bring games onboard with a $100 Million fund and Sky People is developing a Unity SDK for the TRON Network which is expected to make the life of game developers easier and bring triple-A games on the network. Until then, TRON continues building a huge gambling network and when more games arrive, they will definitely boost the scene.
TRX, the native token of TRON Blockchain is currently traded at $0.014.
Below you can see a demonstration of TRON's Unity SDK by SkyPeople, which is also expected to release an RPG game on TRON network the following months.
LOOM Network – High-Performance Blockchain For Games & Dapps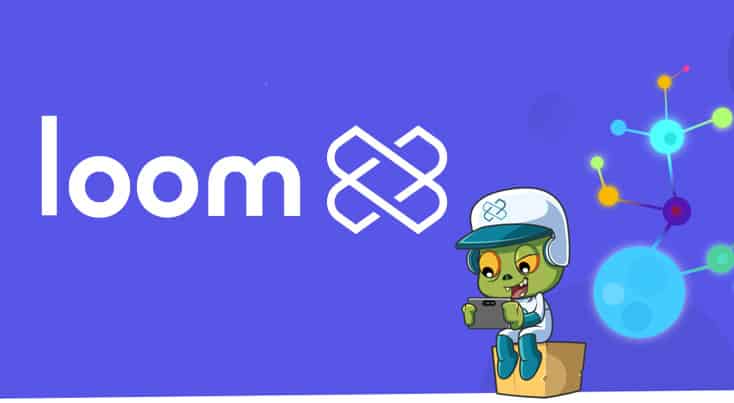 As a layer 2 Ethereum solution, LOOM is a sidechain that works really fast and it has integrations with TRON, Ethereum and in the future, EOS and Cosmos. They are even building DAI gateways in various blockchains with Maker.
The goal is simple, integrate whatever is trending and stay ahead of the market. With that in mind, developers can deploy their games once on the Loom Network and become available in a number of other blockchains. Intoreparibility will take over, that's a fact.
Loom Network offers a course for developing games on the LIBRA blockchain and it already hosts a number of well-known games such as Crypto Wars, Sorare, Axie Infinity, and Battle Racers. The blockchain is optimized specifically for high-performance dapps without compromising in UX and security. It's worth to mention that LOOM games do not require to download any wallet in order to play, a great example of this is the Relentless TCG Game which is one of the best blockchain games as of today.
The Loom Basechain formerly called PlasmaChain is live and it's a one way stop for developers to build games on. Loom has the momentum and the knowledge to deliver an outstanding product, and so far that's what they are doing.
Should I own Some LOOM?
You should! Loom Token, which is also becoming interoperable with various blockchains, is right now trading at $0.021, with a total supply of 1 Billion. Remember to invest with cautions and always do your own research, never spend more than you can afford to lose.
Watch a trailer of the Relentless game, developed by LOOM Team.
NEO – Overseas Power With Strong Gaming Focus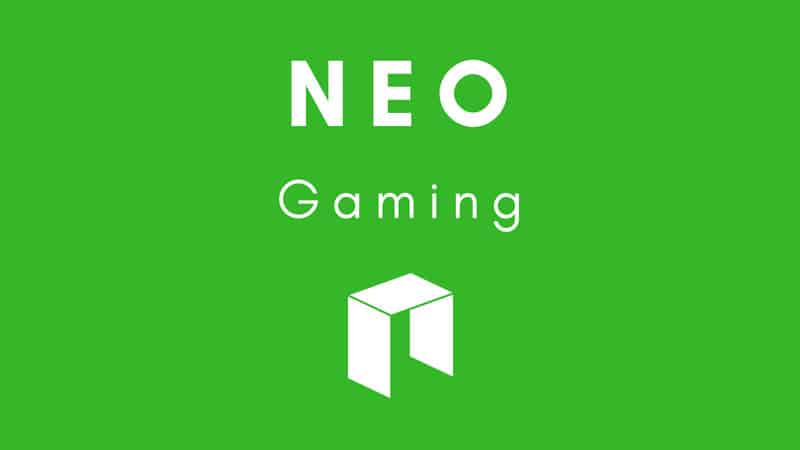 Some of you might remember the AntShares era, since then, NEO has grown and become a leading blockchain in Asia and more specifically, in China. The recent EcoBoost program which is a $100 Million fund for Games and Dapp Development is bringing NEO at the forefront of blockchain game development.
The leading Asian blockchain has invested a lot in blockchain gaming with multiple contests for game development, besides investing in Cocos BCX, they also signed a strategic partnership to develop the BlaCat game platform and its developer ecosystem.
NEO supports all major programming languages as we learned from Devis Suslov in our recent interview with NEO & Arkane Network and they recently launched a Toolkit for .NET offering seamless integration with Microsoft Visual Studio. It's clear that NEO is working hard to make the life of developers easy and get as much dapps on it as possible.
Issuing NEP-5 Token costs around $500, while this cost is high, it ensures that scammy projects are less likely to be built upon NEO.
What about NEO Games?
It looks like Gaming will thrive on NEO Blockchain, some first steps are already made with games such as NeoWorld and Card Maker, some already established and popular games are porting to NEO like Blockchain Cuties, HyperDragons, 0xWarriors, and 0xRacers with more to follow.
There are a number of upcoming 3D Games under development like the Ground Hunter from MixMarvel, an FPS game with realistic graphics, a NEO-issued Token called GHT and Non-Fungible Tokens. Ground Hunter will have a Player Reward Mechanism with 70% of firearms to be allocated in it. Meaning that players will be able to earn rewards by playing and completing specific tasks, beneficial to the ecosystem.
Another game worth to check out is CryptoFast, a driving game with great graphics and tons of customizations that should be ready within the next months. While there is not much information available at the moment, there is a teaser released by NEO on twitter.
KIN – Is 10 Trillion Supply Enough?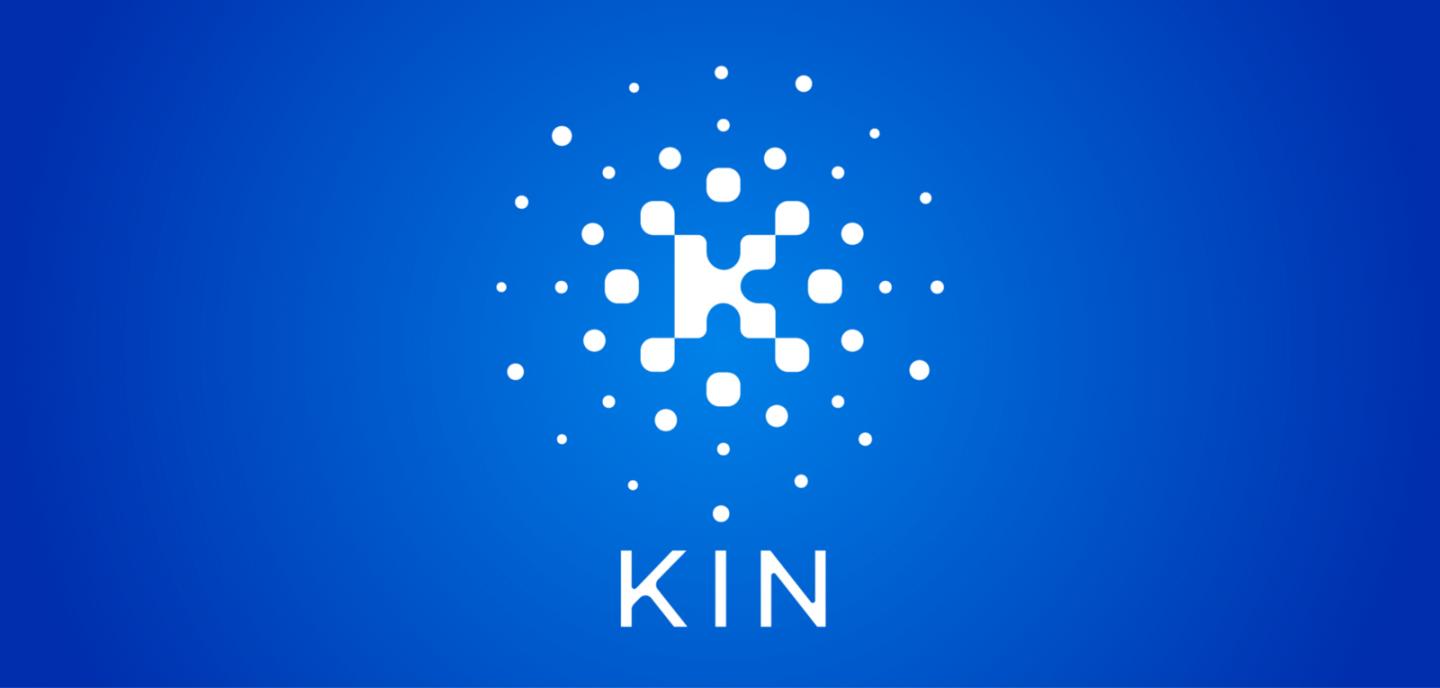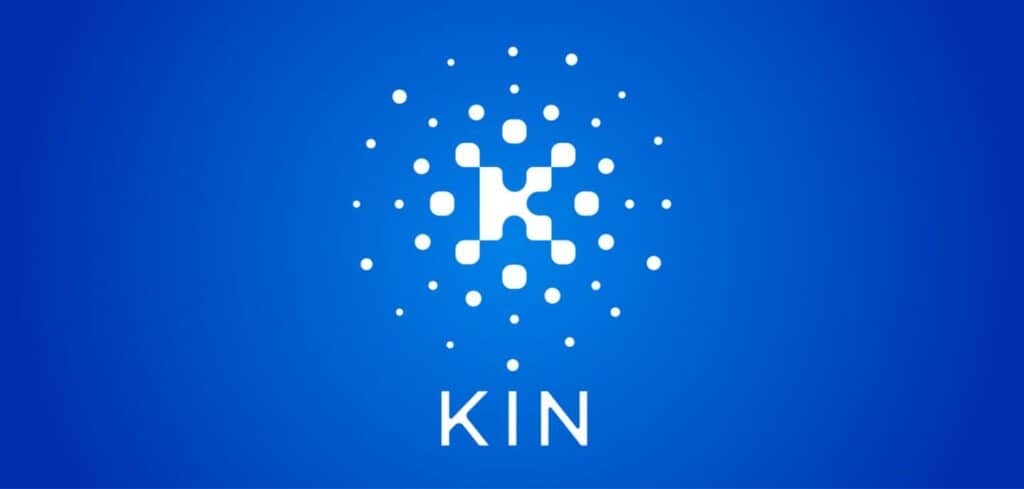 Introduced by KIK, a well-known messenger with millions of users worldwide that eventually won't ut down its doors due to SEC trying to regulate KIN as security, KIN aims to become the most used cryptocurrency in the world with 2 Million active monthly users that use its ecosystem (d)apps to earn crypto through KRE (KIN Reward Engine).
The platform is tailored for every possible use case and gaming is one of them. Besides the numerous chatting, matchmaking, health tracking and pretty much everything related applications, there is a strong gaming presence with games available for both Android and iOS.
KIN offers a Unity SDK and developers can use it to integrate the blockchain into their games, there is also a feature-rich portal for developers to start with.
Gaming on KIN
With more and more games using the KIN blockchain, we have seen some mobile games that are actually simple, yet fun to play. Rentomania, a Monopoly-style mobile game has surpassed the 100,000 Downloads mark on Google Play and Planet NU counts over 10,000 Downloads. KIN used to be based on Stellar, but now it has its own blockchain.
With the Unity SDK live, it is expected that gaming on KIN will rise. The current price of KIN is $0.000007 USD which means you can buy it for cheap, in millions, or earn a ton of them easily through gaming and socializing.
Watch below the Trailer of Rentomania KIN Game.
EOS – Fast, Centralized, Game on!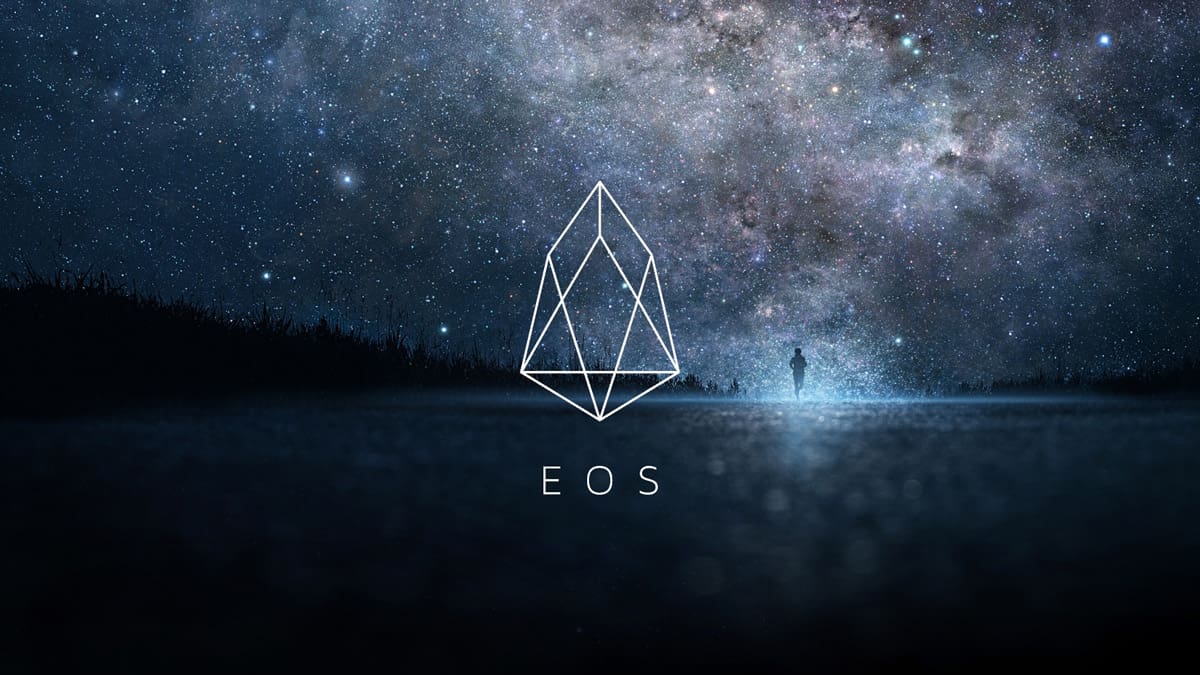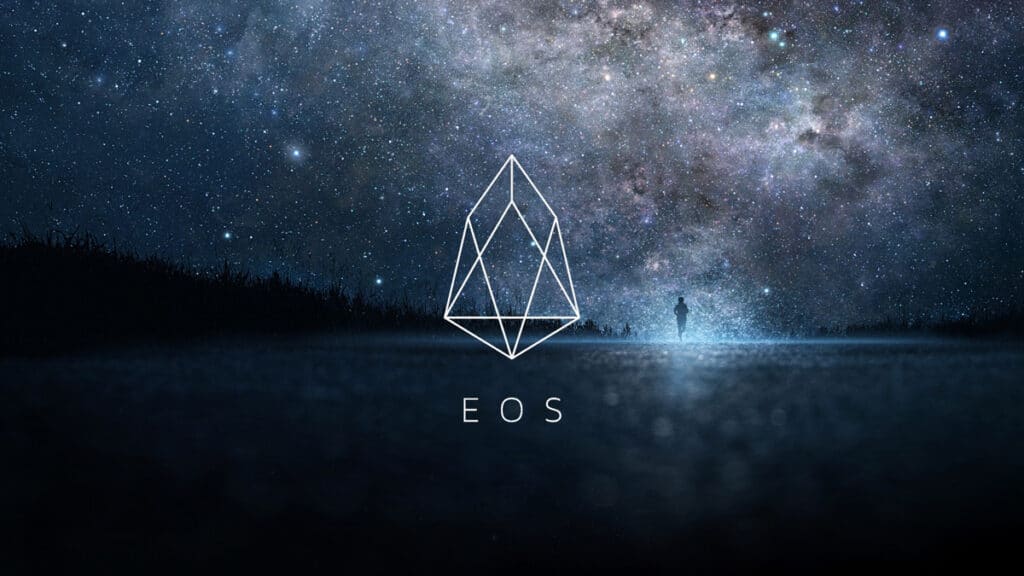 EOS(IO) is a well-developed platform to build dapps and games, it works differently than most blockchains while having a constitution that ensures fair use. Block producers can actually reverse transactions and make no mistake, this had happened in the past. Someone can say EOS is centralized and these practices are against decentralization, but unless you are after scamming people, you don't have to worry about it. The ordinary EOS users are somewhat protected*. EOS claims that can it can process millions of transactions per second using asynchronous communication and parallel processing, making it a go-choice for developers.
One important barrier is wallet creation, you need to pay a small fee like 0.8 EOS for example if you decide to use Scatter. If you don't have any existing EOS wallet, creating one will be a nightmare. There is no exchange that will allow you to withdraw such low EOS amount, think of the newbies with no previous crypto experience, they have literally no chance in creating a wallet. Thankfully, mobile wallets such as Wombat have a free account creation service and you can pay a small amount like 2$ through Google Play to export the private key. You pay because EOSIO accounts need RAM, CPU and bandwidth allocation.
Now, whether you are a fan of EOS or not, we see a number of dapps under development on it with an ever-growing increased rate, gambling, gaming, socializing and many more! Developers seem to like EOS with a lot of projects and ecosystems powered by it like 0xGames & ITAM Games.
What Games Are on EOS?
There are some popular ones! Prospectors, for example, is a game with a big community that recently announced its expansion to WAX Blockchain (EOS Based) which makes it easy to deploy existing EOS dapps. Another game that we are all waiting to play is Blankos, the first announced 3D Game that will utilize EOSIO blockchain with beautiful graphics and a party mood.
There are tons of games like EOS Knights, Crypto Sword & Magic, Chain Clash in private beta and many more. With the momentum on EOS side, get ready to see a lot of games built on it.
At the time of writing this article, EOS Price is $2.90 and it's total supply is 1,029,908,604.
Watch below the incredible trailer of Blankos Game.
THETA – Esports Streaming at its Finest


While there are no games built on Theta Network, it's streaming platform Silver TV focuses on esports with great success. In fact, Theta token is the number one choice of the Altdex's Gaming index (ALTGME) with a $131 Million investment. The content delivery platform allows high-bandwidth delivery using the blockchain.
Currently, Theta's mainnet supports Samsung VR, it's own Silver TV and MBN. The blockchain uses TFUEL, a cryptocurrency similar to Ethereum's GAS to power transactions. Users can acquire TFUEL by staking Theta tokens, a way of passive income for holders.
There are a number of ways to earn Theta tokens like opening crates by predicting matches correctly and daily login rewards. The company organizes weekly airdrops every Sunday and frequent giveaways. Moreover, users earn Theta either by streaming or watching a stream.
Besides the numerous partnerships that aim to expand the network such as Bitmovio's and the recent Android SDK for mobile apps, Theta is developing an application for Smart TVs which will give a huge advantage to the network. Currently, Theta costs $0.086 and the total supply is 1 billion.
Watch a video below of the Theta & Samsung collaboration.
DEC – The Dark Energy Crystals
With more than 2,500 active players per month, Splinterlands is one of the most popular blockchain games and DEC has a place in our best gaming cryptocurrencies list. Based on the Steem blockchain, where gaming is booming, the particular game has a huge fan base in Asia and the rest of the world with over $1 Million in marketplace P2P transactions.
Splinterlands is a TCG (Trading Card Game) with predefined results, meaning that you don't actually use your cards while playing, but you select a deck before the battle and the system chooses the winner. I know this might sound boring, but there are a lot of gamers who prefer this type of gameplay as it's quick and it only requires a card-selecting strategy.
The entry cost in Splinteralnds is around 10$, 6 months ago you should be able to reach high ranking tiers such as Diamond with selected cards worth $300 to $500, but today, with so many players, competing in such leagues requires a lot more money and guess what, people are buying cards in hundreds!
DEC For Everything
Dark Energy Crystals is the in-game currency of Splinterlands with a number of use cases inside the game, players win DEC by winning a match, a tournament, or burning cards, making it essential for the in-game economy and many aspects of the gameplay.
DEC is available as a Steem and TRON token so potential investors and gamers can acquire it with ease. As the game becomes more and more popular, DEC's price surge, although, you have to keep in mind that this token is for one game and only, it's not a platform where multiple games are using a single cryptocurrency, so the risk is higher. The current price of DEC is $0.0011.
Watch below a video of Clove71, a well known Splinterlands player explaining how to make money by playing.
What other Gaming Cryptocurrencies are out there?
With the industry booming, a lot of games have their own token as the in-game economy and a number of platforms are presented every day. In our list of the best gaming cryptocurrencies, we set a limit of ten but there are a lot more to watch out for. Make sure you visit BitGuild, Plair, GameCredits, Unikoin, MobileGO, Dmarket, Referreum, Arena Match, Intergalactic Gaming, War Riders, WAX and Steem.
I hope this list of the best gaming cryptocurrencies is helpful to you. Don't forget to invest with cautious, blockchain gaming is a volatile market and there is no guarantee at all that you won't lose your investment the next second. Always do your own research and always come back to egamers.io We are not reliable for any kind of loss.
Thank you for reading us guys!